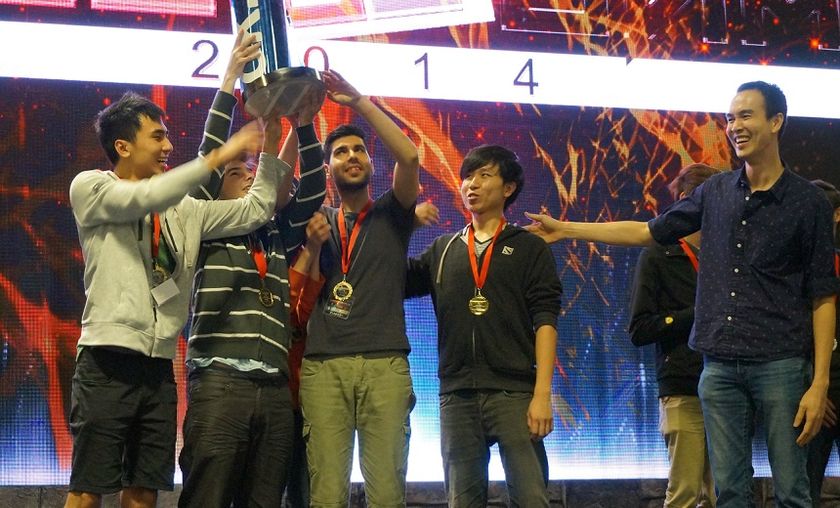 Ok.- Dota 2 Cup: CSW the Champions
After an arduous two day championship, CSW have emerged as the champions of the inaugurual Ok.- Dota 2 Cup held at the GoodGame Convention in Singapore, beating out G-Guard with a score of 3-0, sweeping the tournament with only a single loss. 

Can't Say Wips, the half-Australian, half-Singaporean team came out tops at the inaugural Ok.- Dota 2 Cup today, the largest tournament held in South East Asia to date. CSW triumphed over other star studded teams, such as G-Guard and KS to take the top prize at the Suntec City Convention Centre in Singapore. 
Throughout the course of the two day tournament, CSW dropped only a single map during the group stage to KS, and then swept the rest of their best of three and best of five matches. This includes sweeping G-Guard, which features internationally renowned players like Kyxy and Net in both the winner's bracket finals and the grand finals. 
This is CSW's first LAN Championship, and brings their record at LAN events to one championship, and a second place at the MSI Beat-It Global Finals in Taiwan earlier this year. In the meantime, other well-known teams in South East Asia failed to impress, with the Singaporean teams First Departure and Insidious Idol failing to make it into the latter half of the brackets, and with Mineski finishing an overall fourth in the tournament.
Upper Bracket
Round 1 - Best of 3
Round 2 - Best of 3
Lower Bracket
Final
Final Standings:
1st:
Can't Say Wips
2nd:
G-Guard
3rd:
KS
4th:
Mineski
5th-6th:
RRQ &
Aces
7th-8th:
First Departure &
Insidious Idol
Our man on the ground has provided us with a large collection of photographs from the event, check out the album below. 
Photos by Mervyn Tan, GosuGamers 2014