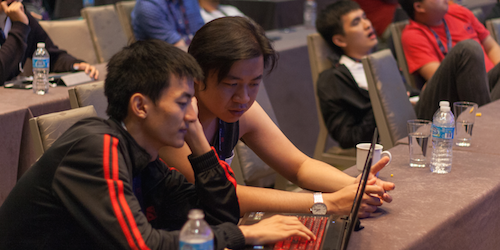 Former Team DK coach 71 talks new Ehome with Mushi and picking up Invasion
In an interview with Esports Magazine, former Team DK coach 71 has disclosed information that he is looking to rebuild Ehome. Two teams shall play under that banner, including a brand new team with Mushi, Ohayio, inflame and DDC. In addition, he discloses additional information regarding the old DK roster, coaching and developing talents in China.
This is a translation provided by Edooley. The original can be found here. 
Post ti4 you left DK. From that time till now, a lot of time has passed. What have you been doing?
I have started to work out. I ran 10km 3 to 4 times a week. I bought a lot of books. I have been doing a lot of reading, thinking, planning for my next move.
What made you want to create a new team?
Mainly because of Mushi. I have a chance to work with him and I want create a new team. Another issue is when DK decided to break up, originally it was Icex3, Inflame, and I all going to LGD. Then LGD worked something out with VG and the 3 of us didn't get to go to LGD. I felt the results did inflame wrong. (Editor's note: Inflame did not end up with a tier 1 team)  Inflame is a very talented player.  Ever since last year I thought highly of him.  Even before TI4, I told him if the opportunity existed, I wanted to mentor him.  At the end, LGD signed inflame.  I am a man of my words.  I have made a promise to inflame in the past.  The new team will also be able to fulfill this promise.
On the other hand, the owner of Ehome has taught me many lessons on team building. I have talked with him about rebuilding Ehome. But this has yet to be settled. There is the problem of funding. The former boss of Ehome doesn't want to do eSports anymore. He is looking to sell the brand. But the new investors haven't made up their mind yet. Therefore, I have never officially said Ehome is coming back. But to me personally, emotionally, and in term of branding for the new team, bringing Ehome back would be correct choice. 
Under what conditions would Ehome be brought back?
It depends on if the investors want to buy the brand.
What makes you think that inflame has potential?
It is of my personal experience. I judge a player based on their actions. The way they talk, act, and carry themselves. I look at their attitude towards gaming. I look at a player's ceilings. Inflame is a player with a very high ceiling. I have emailed him before telling him he is best Chinese talent in 2014. He was really surprised. Afterwards, maybe because of my words, he wanted to prove himself. He started playing really well. I think he has proven to be a real talent.
Next part is on developing youth teams.
At DK your role was being the players' coach. Why did you want to create an eSports club?
At our new club I would still be the coach. I have been doing this for more than 10 years. At the beginning there will be a lot of things that I'll have to take over. But in reality, I really want to have nothing to do with the business side of things. I like the competitive atmosphere. After everything is settled, my role with the team should be that of a consultant. I would want to give young people the opportunity to work and grow. This applies to players as well as the management side of things.
What is your plan for the new team?
There will be two main teams. Our roster should be Mushi, Ohaiyo, Inflame, DDC, and one more. This is our first team. Our second team will be Invasion form Malaysia. I have started to pay attention to them last year. Mushi have introduced them to me and I think they are a team worth trying out for.
Our youth academy will have at least 40 people. I will divide the 40 youth into 6 teams. We will also have subs for those teams. Those youth teams are not going to be an online team. They will live and train together in a real Lan/team setting. 
Why have you decided to engage in talent develop on this big of a scale?
Because I thought about a lot of things post ti4. I feel the real problem with the eSports scene in China is the lack of talent.  (Editor's note: He applies this to both players and club management) Therefore if we really wanted to get to the root of the problem, it should start with talent development.  
In the short term, talent development will not yield any results. But in the long term, I wish the players and coaches on my team will become the flag bearer for China and the world. As a professional, I have a sense of responsibility and duty to do real things for eSports.
At the moment many teams are building youth squads.  But those youth teams feels a bit like "chicken rib cage" (Editor's note: Chinese slang for something that is not that interesting, but too valuable to abandon). How do you view this issue?
This is an ideological issue. From the management point of view, one must be clear of the reasons behind building a youth team. Every year after TI many players will transfer or retire. If you have to spend a lot of money to buy new players then it would make sense to have a second team ready to step up once the first team players were to retire or poached by other teams. I feel most teams are building the second team for this purpose. They are not thinking of the second team as a contributing factor to the overall greater good of eSports.
Your new club will be part of ACE?
Part of ACE? I don't know. You ask me if we will be part of ACE…  I have no idea because I don't know how ACE will feel about us joining them.
Have you considered facing issues regarding scheduling scrims and joining official competitions if your team is not part of ACE?
Official competitions and scrims are two different things. As far as scrims are concerned, yes it would be a problem. DK had this issue in the past. At that time, LGD wouldn't scrim with us, IG wouldn't scrim with us, Newbee also didn't want to scrim with us. How bad did it get? Our scheduling assistant would contact Newbee to organize a scrim. Newbee would say no and right after we get off the phone our assistant would find Newbee posting in the qq chat group asking if anyone would be available to scrim at night.  I have no idea why they did this.
At ESL One, there were no teams left in China. Newbee played 7 BO3 with us. If I remembered correctly, they didn't even win once. At TI4, when Newbee was about to win, 430 and ChuaN told us if they knew earlier it was going to be like this, they would have just scrimmed with us. That way the champion would have been DK. I feel they didn't want Newbee to win as well.
Speaking of DK. It was the team with the highest hopes of winning TI4. Why do you think did DK fail to win?
DK didn't play their own game. First of all, the prize money was too high. The pressure was too great. We desperately wanted to prove ourselves. At the groups, we just wanted to get a better record. We didn't focus on improving our play. It is not scary that we wanted to win. It was really scary that we were afraid to lose. When you are afraid to lose, it is hard to be yourself. I was emphasizing this before TI. DK's strength is versatility. The only thing that doesn't change is change itself. If we get scared at TI, starting to play it safe and think what other teams' strategy is good, then we become brainless copy cats. This would result in us abandoning our training and preparation and play to the tones of others.  At the end we were afraid to loose and didn't play our own game.  
I have heard a lot of rumors that there was internal conflict within DK. Can you talk about this issue?
We really didn't have any internal issues. DK's boss is truly a great person. When we were about to go to TI, he told us it doesn't matter what your results were. I wish you guys can leave as a team and come back as a team. As a result we had great team chemistry. I can tell you one fact. DK often argue when they have won a match. When DK lost, there were never any arguments. At TI4 we defeated C9, after the victory the team argued viciously. We have argued many times after a victory. No one had any bad intentions. It was all for the team.
After BurNing and LaNm retired. They both said their last year at DK was the most memorable year of their professional career. What about you?
For me, it was also memorable. When I came back to DK, I had already left the Dota scene for more than a year. When I was first asked to come back I wanted to prove myself. Not only prove myself to the players and the public but more for personal reasons. To me this was very important. I have always thought my way was the right way. I have never doubted myself, but I still had to go out and prove myself worth.  
Currently many coaches were former pro players. But you don't even play dota 2 with your spare time. What are your strengths and weaknesses in comparison with those retired pros?
After I left DK, LGD asked about me, EG have also approached me many times. I feel when it comes to coaching, professionalism is very important. Recently, there is a movie called Interstellar, there was a line within that movie surprised me. "A lot of great windsurfers don't know how to swim."  If this is true then you must think about coaching from a different paradigm. There is a LOL Korean coach named Choi. He is 37 years old. He came to China to work this year. His salary is 3,000,000 RMB. He doesn't understand LOL. His two former teams were SSW and SSB. Those two teams got first and second place at S4. Doesn't this tell you professional experience isn't necessary? The idea that only former players can become great coaches is simply false.
Some have called me a psychiatrist. I really don't want to explain myself. You think I don't understand strategy and playing style?  I have never truly thought about strategy? I didn't make the team better? Of course I have made the team better. I have spent a great deal of time comparing Dota's strategy to that of a poker player. I have used NBA center strategy in Dota. How did we come back from 3 games down to win? At that time I told them we need a complete reversal of the first 3 games. To give our team a point of reference, I told them about the Snooker world championship. I told them about the final game between Henry and O'Sullivan. Henry needed that game and he scored 147 with one stroke. I taught them about the ability to anticipate winning. Knowing what it took to win. How can you say that is not coaching?
As a coach, the most important element is knowing how to discipline your team. It is not about telling your team how or when to use a spell. My weakness is I am not the best at micro managing. But the best Korean LOL coaches were all SC2 players. What does that say about coaching? What does that say about the former player becoming the best coaching model?   
Coaches need self cultivation. When your team has won, it is hard to question yourself. The hardest thing to do is to improve up on winning. I have studied how Pep Guradiola, Marcello Lippi, Jose MourinhoPhil Jackson coach their teams. I have done a lot of thinking and I have asked a lot of questions. What are the characteristics that make a great forward in football? What make up does a great sprinter have? I am interested in all competitive sports, even curling. When should a coach enter to offer advice? I am interested in all things sports related. Those interests and work sense will need to be cultivated by coaches themselves.  
What do you feel is most needed by the coaches in eSports clubs?
First of all, how much money of the winning prize should the coach take. What type of contract should a coach should? How do coach develop new strategies? How can a coach develop a new strategy over and over again? How can a coach self improve? When I first started to recruit talents for the new teams, many asked me what type of people was I looking for to fill what roles?  I told them: (Editor's Note: An old poem which can mean) I am looking for talented people, not looking for people who are talented at fulfilling stereotypes. If coaches are only concerned with fitting in to stereotypes, they tell the players if you drafted a certain way then they must lane a certain way. Then at the end Dota 2 will be a game with 20 viable heroes. If that is the case I'm not sure Dota can still be a fun game.
Secondly, coaches need to be positive, fair, just, and calm. The coach must think about the big picture. If you can think about the big picture, then your team's strategies will focus more on the big picture and less on the individual match ups.