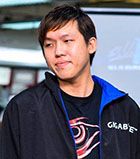 Team Malaysia takes down Mineski to win Thailand DotA2 Championship
The Grand Finals of Thailand DotA2 Championship are over, and Team Malaysia will take home the $10,000 first place prize after their 2-0 victory against Mineski. The Philippine squad will settle for $3,000, while First Departure also earned $1,500.
Today marks the conclusion of the Thailand DotA2 Championship, with the tournament taking place at Paragon Hall in Bangkok, Thailand. Team nxl, Mineski, Malaysia and First Departure managed to reach the playoffs after their solid groupstage performance, but it is Team Malaysia that will be taking home the $10,000 first place prize.
The Malaysian squad had an easy task against Mineski, as they entered the best-of-three final with a WB game advantage. The Philippine team showed admirable resistance against the tanky cores of Team Malaysia, but Johnny's Terrorblade did not get enough time and space to get out of control. Slowly but steadily, MuShi's boys raided and eventually breached their opponent's base, forcing the GG by Mineski.
Upper Bracket
Round 1 - Best of 1
Round 2 - Best of 1
Lower Bracket
Round 1 - Best of 1
Round 2 - Best of 1
Final
1st -
Team Malaysia - $10,000
2nd -
Mineski.DotA2 - $3,000
3rd -
First Departure - $1,500
Headline image by Mushi's Facebook page.