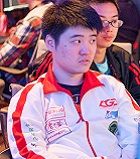 LGD wins match against C9; Empire, Fnatic and Na`Vi.US eliminated

LGD wins an important match against Cloud9, efficively eliminating Empire, Na`Vi.US and Fnatic who all cannot reach seven wins anymore. Na`Vi and Titan also secured a trip into the next phase as they won their respective matches.
After a dissapointing start in the TI4 groupstage, LGD managed to defeat Cloud9 on their last match of the round to secure at least a tiebreaker slot for the a qualification into the next phase. Their seven wins record is tied with NewBee's, and could possibly be tied up by two more teams - Alliance and Mouz.
Their victory has rendered Empire's victory against Arrow useless, as the Russian team now finds themselves eliminated with no more games remaining. The same goes for Na`Vi.NA, whom with five wins after thirteen games cannot reach seven wins anymore. Fnatic is also out of the competition, after a crushing defeat against Malaysian team Titan. With their success, Titan has now secured their place in the next phase of the competition.
Finally, Na'Vi put up a solid performance against NewBee. The champion of the first International still has the potential to finish between the 3rd and 6th spots, while NewBee finishes the group stage with a rather mediocre 7-8 standing considering their impressive winrate prior to the event.
Team
M
W
D
L
P

15
12
0
3
12

15
11
0
4
11

15
10
0
5
10

15
9
0
6
9

15
8
0
7
8

15
8
0
7
8

15
8
0
7
8

15
8
0
7
8

15
7
0
8
7

15
7
0
8
7

15
7
0
8
7

15
6
0
9
6

15
6
0
9
6

15
6
0
9
6

15
5
0
10
5

15
2
0
13
2
Matches and results
Cloud9 has one more game remaining against Fnatic. A win will put them on at least a tiebreak for the third to sixth place, which is a guaranteed top 8 finish. A loss, on the other hand, can possibly put them into a precarious seventh place finish.
Despite being eliminated, Na`VI.US and Fnatic still need to play their upcoming matches. They both want to win their matches as they would not want to finish in the bottom two, as that position lacks any cash prize. With their win, Empire gets at least a tiebreak match to battle for the 13th/14th place.
Alliance and Mousesports can still force a tie with LGD and NewBee for a slot into the next phase. For them to do this, they would have to win their two upcoming matches. Alliance's matches are against EG and and Na'Vi, while mouz will be squaring off against Team Liquid and Na'Vi.NA.
It's the holy grail of The International 4 coverage!

Highlight cliips are aviailable on our YouTube channel. You can also visit our wiki page for more information on The International 4.