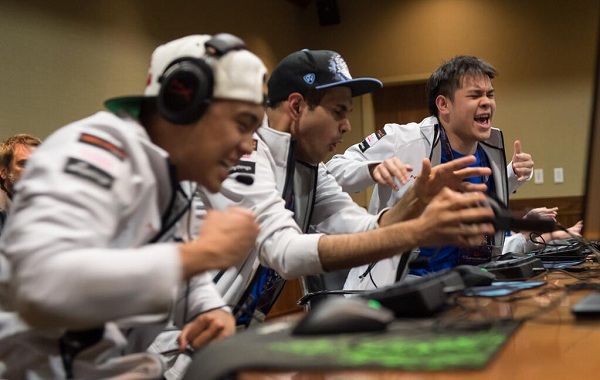 Cloud9, Liquid among group leaders after hectic day 1

Western teams Cloud9 and Team Liquid are among the front runners of the group stage after a busy 36-game day 1, which ended with four of the top six slots being held by western teams. A similar number of games will be played tomorrow.
All the teams have already played at least four games, and western teams have ended up occupying four of the top six slots. Holding the pole position alone is Cloud9, who finished the day with a 4-1 record. Interestingly, their only defeat came in the hands of mousesports - who only won one out of four games yesterday.
The performance of the day, however, belongs to Team Liquid. After being totally dismantled by Na`Vi.US on their first game, they bounced back and stringed three consecutive wins against pre-tournament favorites. Behind an amazing day by qojqva, they have defeated Chinese giants in DK and NewBee before defeating the invited American team, Evil Geniuses.
The sister teams from the Natus Vincere organization also had a strong day, both finishing with 3-1 records. These two teams have been performing poorly prior to this tournament, and the performance of these veteran teams today was a pleasant surprise for their fans. Joining them with a similar record are Chinese teams Invictus Gaming and Vici Gaming.
While those teams played better than what most expected, a number of teams fared worse. Among those are team DK and Alliance, who are 2-3 and 1-4 respectively. It can be worth noting that all teams have already suffered a defeat. Also, Arrow Gaming is the only team who have yet to score a win on the group stage.
The group stage will be of big importance to the teams. The top two teams will already be guaranteeing themselves of at least a joint 5th/6th finish, which is already good enough for a $630,000 cash prize. Meanwhile, the middle eight teams will play on for playoff slots and the bottom six teams will be eliminated outright.
You can also read our event blog for the first day of the group stage.
Team
M
W
D
L
P

15
12
0
3
12

15
11
0
4
11

15
10
0
5
10

15
9
0
6
9

15
8
0
7
8

15
8
0
7
8

15
8
0
7
8

15
8
0
7
8

15
7
0
8
7

15
7
0
8
7

15
7
0
8
7

15
6
0
9
6

15
6
0
9
6

15
6
0
9
6

15
5
0
10
5

15
2
0
13
2
Matches and results
Day 3 Schedule and Stream
July 10 is the tournament's third day and the second day of the group stage. As the previos day, 36 games will be played today. Among the sought out match of today are the match-up of Cloud9 and NewBee, and the game between Evil Geniuses and Invictus Gaming.  All matches on the group stage are best-of-one.
The games and their respective casters can be found below. The stream can be accessed by clicking on the match link. Aside from that, you can also follow the multi-cast.
Rotator photo from Dota 2's Twitter
---
It's the holy grail of The International 4 coverage!

Highlight cliips are aviailable on our YouTube channel. You can also visit our wiki page for more information on The International 4.