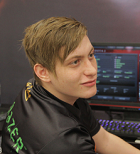 Team Cede Nullis crowned champion of Balkan Championship after 3-1 victory
Despite starting the best-of-five series with a 1-0 Loser bracket deficit, the Romanian squad TCN managed to take down the Serbians mYinsanity.Sensei to earn the gold in the first season of the Balkan Championship. Through their success, the team will earn about $500.
The first edition of the Balkan Championship is now over, and the crown will be going to Romania. Team Cede Nullis survived the every round of the Lower Bracket after suffering a 2-0 defeat against the Greeks Imba Battle.net. Their final obstacle was the Serbian squad mYinsanity, the team that dropped only one game in the whole playoff bracket and entered the Grand Final with a game advantage. In the end, TCN emerged victorious with a comfortable 3-0 victory. 
Upper Bracket
Lower Bracket
Final
The Balkan Championship administration hopes to make the tournament a yearly event, giving the chance to teams from the Balkan region to show their potential to the Western DotA2 scene. For more information on their project, check out their official website here.
Headline image by joinDOTA