Vici Gaming victorious on second season of Sina Cup

Vici Gaming, minus Sylar, at WPC-ACE. Photo from 2p.com
Vici Gaming continued their hot streak as they won the second season of Sina Cup with a  3-0 victory over LGD,  earning for themselves 50,000 RMB (8200~ USD) in the process. This is the biggest tournament that the team has won so far.
The top four seeds of the tournament proved their worth, as they ended up taking up the top four podium positions of this season. VG, the newest team of the four, advanced to the finals after defeating iG and LGD on the winner's bracket semifinals and finals respectively. LGD, on the other hand, advanced after defeating iG 2-0 on the loser's bracket finals. VG did not have any winner's bracket advantage.
Upper Bracket
Lower Bracket
Final
VG has been enjoying intelligence-based heroes recently, and this is no exception as they went with a trilane of Rubick, Leshrac and Necrophos on Game 1. LGD, on the other hand, is using one of their frequently-used heroes in Bristleback and Lifestealer. VG took the first blood after Alchemist used the Haste rune to track down the Crystal Maiden. LGD did a good job to bounce back, and they found themselves on an even kill score at the eight-minute mark. It went sour quickly for LGD though, as the next ten kills went to their opponents. It was a quick snowball for VG, and LGD called GG with still two of their three tier-2 towers intact.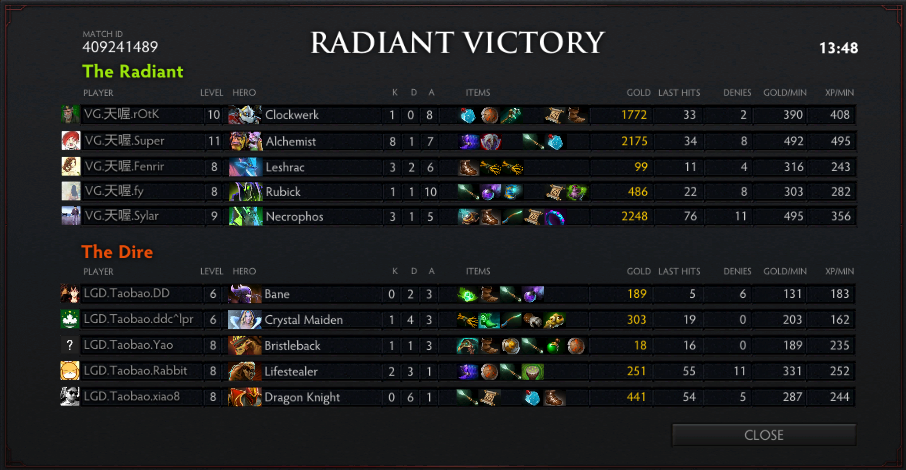 LGD tried something different in the second game, this time going with an offensive trilane of Lifestealer, Visage and Vengeful Spirit. VG's Storm was more than content on just getting levels, with Crytal Maiden and Chen dual jungling and successfully dewarding the sentry wards of the enemy. A good engagement by VG when the creep equilibrium was heavily tipped on their side granted them the first two kills of the game. The levels boosted the three intelligence heroes of VG's top lane by a lot, and they are effectively forcing out kill exchanges and TPs every time they engage. VG eventually was able to make three force staffs on their team, and coupled with Storm's mobility, Bristleback's tankiness and Chen's Heal, it was very hard for LGD to engage on team fights. Lifestealer infested on a Chen creep which was immediately sent back to base, and LGD called GG not long after.
Sylar had a Weaver in the third game, which broke his streak of four intelligence heroes against LGD on this tournament. VG also used heroes on which they saw success on the previous games in Alchemist and Bristleback. LGD went with a strong mid-game line-up in Kunkka and Clinkz, with a Lion support. The game was a stand-still up to the three-minute mark, but LGD had a gank-gone-wrong at the middle lane which saw them losing three heroes. By the tenth minute, VG was already ahead 8-1 on the kill score and was enjoying a 5,000 gold lead. They have effectively won all lanes, and LGD resigned not long after. For the third straight game with all their tier-3 towers still standing.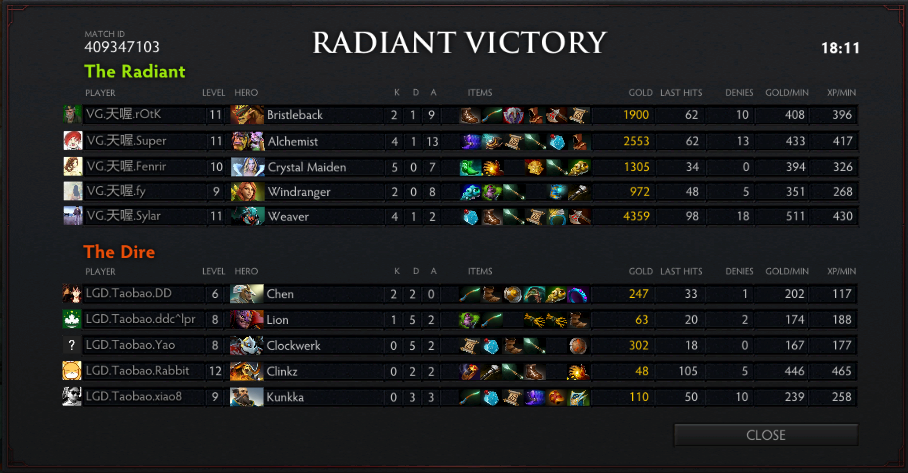 ​
---
With the win, VG is rewarded  50,000 RMB (8200~ USD). They have been very stellar, winning the finals on an average of less than 18 minutes and dropping only one game throughout the whole tournament. They have also managed to score series wins over both the second and third place finishers of the tournament. This is by far the team's biggest accomplishment to date. The team's next tournament will be EMS One Fall. LGD is awarded 10,000 RMB and iG won 5,000 RMB for finishing second and third respectively
This twelve-team tournament is the second season of the Sina Cup, and it boasts a prize pool that has nearly doubled that of the first one. Rattlesnake and RisingStars were supposedly included in the tournament, but they withdrew. The first season was held just last September, an eight team invitational on which Invictus Gaming was victorious.