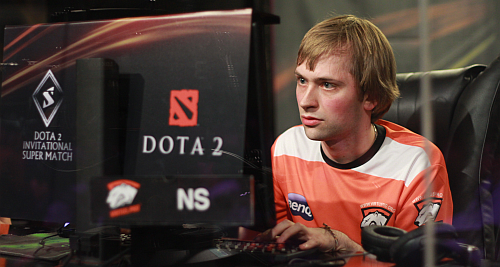 NS retires from competitive Dota 2
Russian legend NS has decided to retire from the competitive scene due to loss of motivation. On the other hand, blowyourbrain will also leave the team after failing his trial. JOTM and IllidanSTR will be playing for VP under trial conditions.
Yaroslav 'NS' Kuznetsov, long time captain of Virtus.Pro, announced mere minutes ago that he will be leaving Virtus.Pro and retire from the competitive Dota 2 scene. In Kuznetsov's statement on VP's website, he stated that his reason for retirement is not due to the recent results of the team and more towards a lost of motivation which he claimed, "should happen to any players with 10 years of experience.
"I am not getting any emotions for playing in tournaments, it doesn't matter to me if I won or lost. There is no point in continuing my career, because I don't have any emotions, passion, it's a dead end for a player," Kuznetsov affirmed his retirement plan.
Kuznetsov mention that in his one and half year stint in Virtus.Pro, he did try very hard to bring his team a championship but was unfortunately unable to do so. He also hope that with his departure, Virtus.Pro is able to fix their roster with fresh blood and bring forth great performance in future tournaments. However, he will continue to stay in Esports for the meantime and if it don't work out, and only then, he will leave completely.
Apart from Kuznetsov's departure, Vladislav 'blowyourbrain' Morozyuk, recently brought into the team as a stand-in, will also be leaving the team because he failed his trial. In place of Kuznetsov and Morozyuk will be former Virtus Pro player Ilya 'IllidanSTR' Pevcaev and his teammate in Poseidon, Egor 'JOTM' Surkov. Both of them are under trial and may be added or removed depending on their performance in the upcoming week.
Virtus.Pro will debut their new roster in Starladder Star Series VII
Virtus.Pro team roster:
Dmitriy 'LightOfHeaven' Kupriyanov

Sergey 'God' Bragin

Sergey 'ARS-ART' Revin

Ilya 'IllidanSTR' Pevcaev

Egor 'JOTM' Surkov
Source: Virtus.Pro
Image credit: Hyungjin Ahn from ThisIsGame