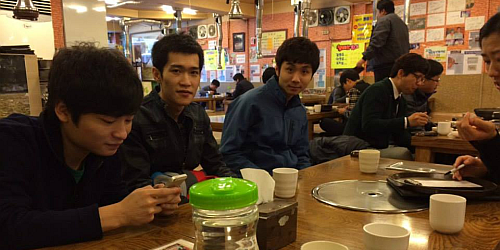 Tongfu 3 and Startale to battle in Super Match tomorrow; VP suffering from visa issues

LongDD and Yaphets dining in Seoul, Korea. Photo from Yaphets' fanpage Facebook.
Week four of the Nexon Invitational Super Match begins tomorrow featuring TongFu 3 and the winner of Nexon Sponsorship League S1, Startale. Virtus.Pro on the other hand, ran into visa issues.
The fourth round of the Nexon Invitational Super Match begins tomorrow with TongFu 3 and StarTale to do battle against each other on the first day.   While TongFu has been reported to have arrived in Seoul, we were told that Virtus.Pro has ran into some visa issues for their trip. Virtus Pro's team manager confirmed to GosuGamers that the team is currently waiting for Nexon to assist them in getting the visa so that they could make it to their game against Startale on the 22nd of November.
Due to the delays, Nexon has also replaced their previous three best-of-one per day format to one best-of-three match daily, much like week three's format in GStar. 
Week four schedule (11:00 CET):
21st November - Tongfu 3 vs StarTale
22nd November - Virtus Pro vs StarTale
23rd November - Virtus Pro vp vs Tongfu 3
Regardless if Virtus.Pro make it or not, the match between Tongfu 3 and Startale will proceed as usual tomorrow. Playing for Tongfu 3 will be the legendary Shadow Fiend player Yan Jun 'Yaphets' Bu as well as several Chinese free agents like Xiang 'LongDD' Huang and Kai 'Kabu' Zhao. Assuming Virtus.Pro do make it to Korea, they will be bringing along former Team Empire's carry player Valdislav 'BlowYourBrain' Morozyuk to fill their four-man roster.
The prize distribution will be the same as week three with first place to receive $15000 and second place to get $7500 in prize money.
 
NISM prize distribution
Score
Prize money
2-0
$15,000
1-1
$7,500
0-2
$0