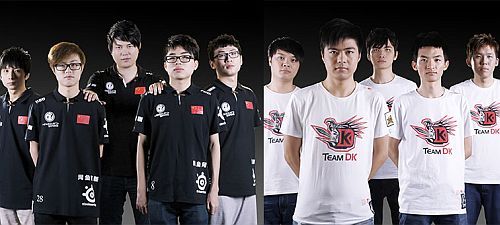 Top six of WPC-ACE League decided; DK tops standings
With the end of WPC-ACE League groupstage fast approaching, RisingStars, Rattlesnake, Cupid's Heart (HGT) and Team Adidas (Tongfu.Wanzhou) have been eliminated and will not be competing in the playoffs of the tournament. The six teams who have guaranteed themselves in the playoffs are DK, Invictus Gaming, Vici Gaming, Tongfu, LGD.cn and LGD International.
The final week of WPC-ACE League will commence today with DK, the current first placer taking on TongFu and LGD International later today. The reason why the schedule has been moved in playtime #17 is due to DK's upcoming trip to MLG Columbus which will be held from the 22nd to 24th of November. The outcome of the matches today should not matter for DK considering there is no way Vici Gaming, the current third placer can overtake them for the free pass to the semi-finals of the playoffs.
Second placer Invictus Gaming however, are still not out of the danger zone considering Vici Gaming, TongFu and LGD.cn are still in close contest with iG assuming they drop matches in the final week. The second placer at the end of the groupstage will also be receiving an auto-seed to the semi-finals of the playoffs alongside DK. Judging from their performance in the past couple of weeks, it is unlikely that iG will be dropping any games against RisingStars and Team Adidas respectively who are placed at the bottom of the standings.
All the qualified teams will only be playing for seeds this week. With every teams apart from DK having an one point lead over one another, all the games in the final week will be extremely crucial. DK needs to draw one match to secure the first position while iG needs to win one match to finish second.
 
Current standings
Team
M
W
D
L
P

18
13
4
1
43

18
12
2
4
38

18
11
4
3
37

18
10
5
3
35

18
10
4
4
34

18
9
1
8
28

18
6
4
8
22

18
2
3
13
9

18
2
3
13
9

18
0
0
18
0
Matches and results

GosuWiki: WPC-ACE League 2013

 

Check for news, results and the latest VODs