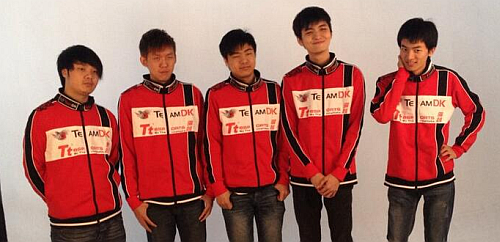 DK, Alliance, fOu face off in Super Match Week 3

G-Star at Busan Bexco. Image by Judah.
According to social media websites such as Facebook and Twitter, DK and Alliance have both safely made it to Korea to compete in the Nexon Invitational Super Match, starting tomorrow. Both the international giants will be joined by the runner-up of Nexon Sponsorship League S1, team fOu in the third week of the four- week event.
Due to restrained time, Nexon has switched their format from the usual two rounds of best-of-one format to a best-of-three match everyday. Week three will kick off with Alliance first taking on fOu, followed by DK taking on fOu on the 16th and the much anticipated DK versus Alliance on the 17th.
Schedule (CET):
15/11 06:00 - Alliance vs fOu (Gosubet)
16/11 06:00 - DK vs fOu (Gosubet)
17/11 06:00 - Alliance vs DK (Gosubet)
DK and Alliance's encounter will be the first clash between the east and the west since The International 3. Judging from recent performances, Alliance is the clear favourite to blaze out of week three victorious, considering DK has been struggling after the implementation of the 6.79 patch. Although they did show signs of dominance at times, Alliance did not seem to have been affected by the patch at all.
The prize distribution for week three of the Super Match event had also been altered. Prizes will be handed out on a "match-won" basis rather than "game-won". Details of prize distribution is as the table below:
 
NISM prize distribution
Score
Prize money
2-0
$15,000
1-1
$7,500
0-2
$0

We have also received reports that Toby 'TobiWan' Dawson had flown to Korea, courtesy of OnGameNet, to cast live from G-Star in Busan Bexco.
Online viewers are able to catch the livestream on AfreecaTV at 06:00 CET. The English stream will be available on OnGameNet's Twitch channel while the Korean stream will be streamed on Youtube. GosuGamers highly recommend viewers tune into the Youtube stream for production value and video quality.
Below are some pictures of Alliance and DK in Korea.

DK photoshoot. Image by GodBlessMali.

Loda is eating some street food. Image by Kellymilkies.