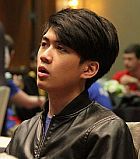 xFreedom joins Impervious as stand-in and coach
Former Zenith player xFreedom will be joining Impervious as permanent stand-in and coach. Chibix3 will be playing for the team on and off due to army obligations.
As Joel 'Chibix33' Tan Jian Yong goes inactive for compulsory military service, two time International participant and former Zenith player Nicholas 'xfreedom' Kelvin Lleto Lim will take over his role as a stand-in. Joining Team Impervious in another capacity, xfreedom will be be their team coach as well.
Announcement by Team Impervious:

We would like to announce Xfreedom ex-Zenith player as our team Coach and stand-in player. The young talented superstar Chibix will mostly be away because of his duty in the army for 3 months, Xfreedom will take his role for the team.

The addition of Xfreedom to the team will further improve the development of our team and we will continue to persevere and try our best to be one of the top teams in South-East Asia
With Team Impervious lacking the services of Chibix33 till at least the end of the year along with those of a coach, a decision has been decided to initiate him into the team. With his inauguration, they will be effectively killing two birds with one stone; obtaining a coach and a stand-in in one fell swoop. As this would mean having their coach with them at all times in game, they will be having two leaders in total at all times.
Team Impervious will be playing in the RGN League against the new roster of RisingStars later today.
Team Impervious roster:
 Michael 'ninjaboogie' Ross, Jr.

 Yap 'Raveplue' Chin Jie

 Su 'Kiosai' Wei Han

 Jon Lim 'lsmurf' Xu Kai

 Joel Chan 'chibix3' Jian Yong

Nicholas 'xfreedom' Lim (Coach and stand-in)
Source: Facebook, Team Zenith Wordpress