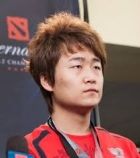 RoTK and Super to Vici Gaming
2P confirmed RoTK and Super joining Vici Gaming. VG now has a six-men roster in which they will rotate their players to test out the best combination.
Rumours of Fan 'RoTK' Bai and Jun Hao 'Super' Xie signings to Vici Gaming has been confirmed and the team will debut their new roster in 17173's small scale V Games tournament. RoTK will continue his role as the off-laner while Super will proceed to the middle lane as usual.
To make space for the two former DK players, Jian 'ZSMJ' Gong has announced his retirement for a second time and will very likely become the coach for Vici Gaming. Tian Yu 'Cty' Chen also left the team a few days ago due to personal reasons.
-Update-
According to VG's statement, they will be testing out a rotating roster for the time being with ZSMJ.
RedBull ECL 1v1 champion Lin Sen 'Fy' Xu stated he is undecided on whether he should leave Vici Gaming but he has decided to stay.
Vici Gaming team roster:
Chao 'Fenrir' Lu

Lin Sen 'Fy' Xu

Fan 'TuTu' Bai

Fan 'RoTK' Bai

Jun Hao 'Super' Xie

Jian 'ZSMJ' Gong
 
Source: 2p