LGD stops Na`Vi in Alienware Cup, moves on to grand final

LGD showed the world today that history (The International 2) will definitely not repeat itself as they take a difficult win against Na`Vi in the winner bracket final of the Alienware Cup.
Earlier today, iG defeated DK in the semi-finals of the loser bracket for their spot in the loser bracket final, eliminating Burning and co. at fourth place. DK will settle for $5,000.
With the matches done for the day, LGD is now guaranteed a second place finish in the Alienware Cup while Na`Vi will have to go against iG in the loser bracket final for the single spot left in the grand final.
Upper Bracket
Lower Bracket
Final
The loser bracket final of the Alienware Cup will start at 13:00 CEST tomorrow. The last time LGD and iG met in an official match was almost two months ago in the groupstage of the Dota 2 Super League. In that face-off, LGD was able to annihilate iG to claim second place finish in the groupstage. The loser bracket final will be played in a best-of-five.
Alienware Cup

Placing

Teams

Prizes

1st place

 

 $25,000

2nd place

 

$12,000

3rd place

 

 $7,000

4th place

DK

$5,000
DK versus Invictus Gaming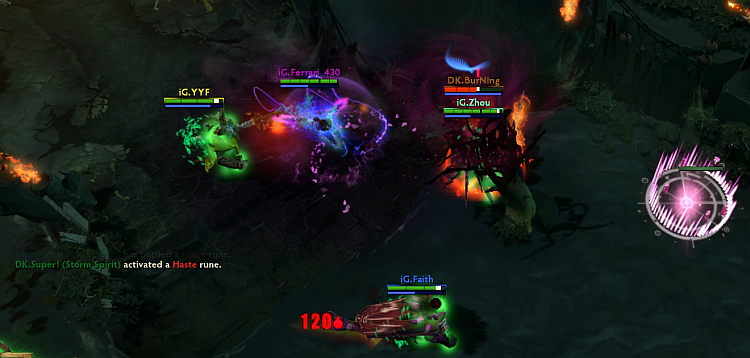 iG opted for a push heavy line-up to go against DK's fight forcing set of heroes. Despite having the stronger initiation, DK could not dominate the mid-game due to the bad start they had which was very obviously reflected on their item purchase, especially on the Storm Spirit. iG relentlessly pushed all over the map and although DK did try their best by split pushing the other lanes, iG always made it back in to to stop their towers from going down. Knowing that there was no way DK could ever make a comeback in this game, DK called the gg after iG took down the Roshan at 15 minutes.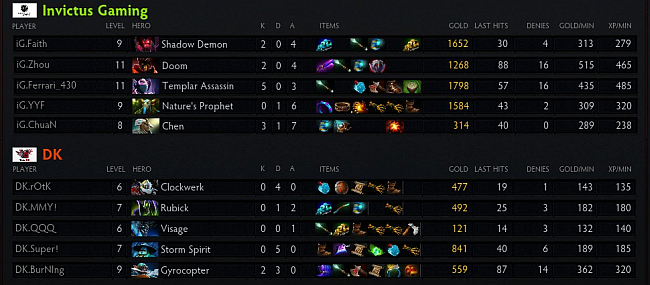 DK picked a very tough hero composition to play in which they have to force fights and chain their skills off perfectly for it to work. Although DK was off to a good early game, they could not bring that momentum into the mid-game and allowed iG to repetitively pick them off. However, DK did put in some effort trying to push the towers but Treant Protector was there to make sure iG's towers were at full health all the time. After taking down the Roshan, iG pushed top and as previously mentioned, the perfect execution was too tough to do as DK lost another team fight. The gg call was inevitable since.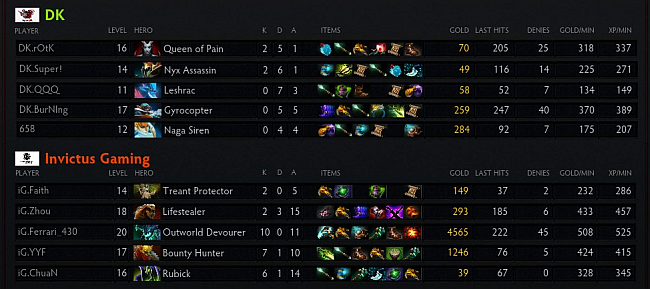 LGD vs Na`Vi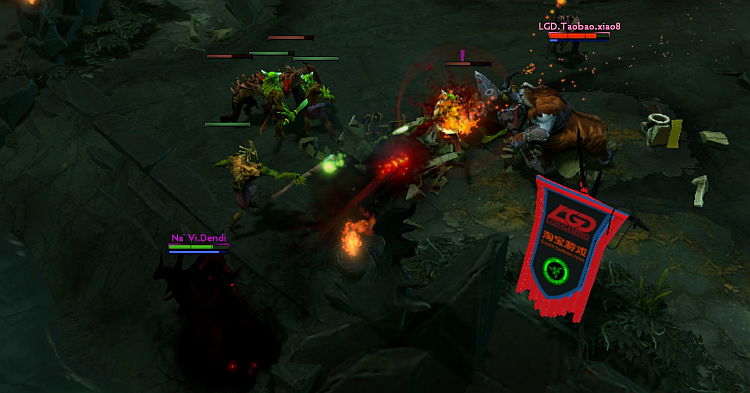 Both the teams assembled themselves a four-man ganking squad with a carry on the side. With hopes to take an early lead with their superior gank abilities, both teams engaged each other a lot in the first 15 minutes of game one and while the kill score was even in most cases, Na`Vi came up slightly on top. The advantage was not very apparent early on but once the game went into mid-game, LGD realized that they could not continue running into Na`Vi and was forced to stay behind their towers under the Ukrainians' constant threat to take it down. Na`Vi eventually built up enough lead for a push and although LGD defended with all their might, it was way too tough to continue fighting the uphill battle.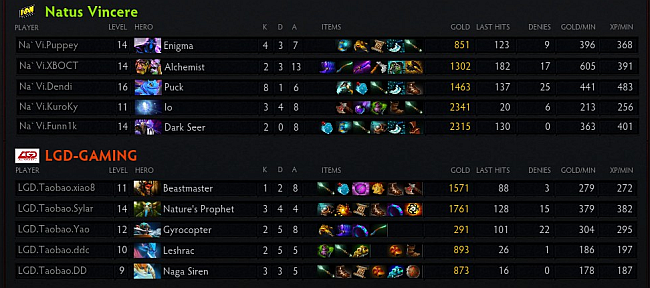 Na`Vi was obvious in their intention to push and/or split push their way to victory but LGD responded to that with a very unique strategy, to push harder than Na`Vi. The Lycan picked definitely worked wonders for the Chinese and they could not have asked for a better start, 5-0 up by 12 minutes and also taken down several outer towers. Na`Vi switched their game plan to bring this to late-game, picking up the Midas on the Phantom Lancer but it was of no use. LGD's sheer pushing power breached Na`Vi's high ground at 20 minutes and shortly after, the Ukrainians called the gg.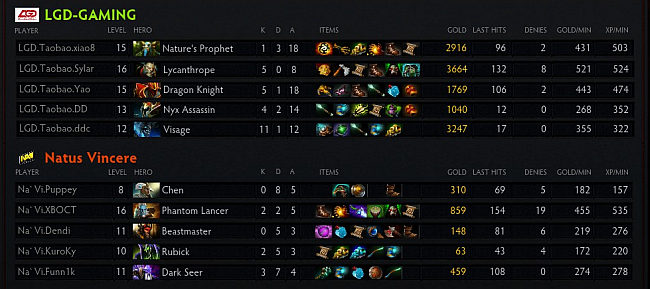 Na`Vi boldly ran the Shadow Fiend on the middle lane against the Magnus and Dendi was able to farm up a storm due to no harrassment or teleport support from LGD coming to gank him. Na`Vi had a small lead heading into mid-game but found out that they couldn't engage into LGD and ended up just standing outside their tier-two, threatening to push. LGD's big break came when Sylar picked up a Double Damage rune and the whole team just rushed into the Rosh pit to secure the Aegis. With the Aegis in hand, LGD pushed down two of Na`Vi's outer towers.
Once the Aegis expired, Na`Vi went on the offense and took down a few towers before LGD.cn pulled off a spectacular fight on the middle lane which reversed everything back to square one. 5 minutes after the fight, Roshan respawned and LGD was quick on their feet to get to the pit. Na`Vi attempted to contest for it but Roshan was down right before Na`Vi got there. However, the Ukrainians eventually took the fight due Xiao8 blowing his RP on nothing but did not manage to take the barracks. LGD smoked into Na`Vi's jungle with their full arsenal and took down Dragon Knight and Lina, and subsequently the middle barracks.
Na`Vi rushed the middle lane but Xiao8 showed Na`Vi why that was a big mistake by pulling off two huge RP that won his team the fight. LGD throttled mid and with no buybacks in hand, Na`Vi called the gg.