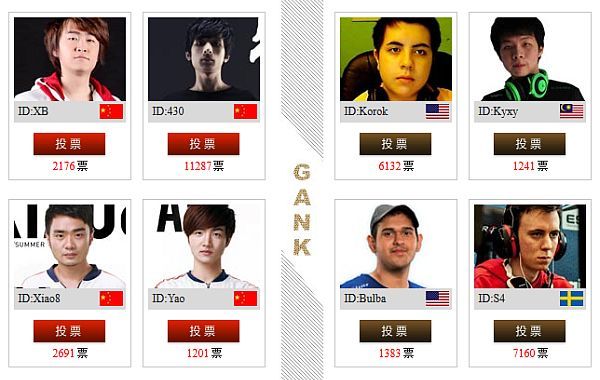 Vote for your All-Stars in G-1 League offline finals
An All-Stars between the best in China and the rest of the world will take place in offline final of the G-1 League. Viewers can now vote for their favourite players on G-1's page and the highest voted by the end of the 20th of May will get to play in the exhibition game.
The organizers of G-1 will be hosting an exhibition All-Stars match between the best from China and the best from the "rest of the world" (NeoES.Orange, Alliance, and Liquid). The showmatch is set to start prior to the first official games.
Viewers can vote for their favourite all-stars on G-1's official site here after a simple registration. From the ballots, G-1 will choose one carry, two gankers and two supporters with the highest votes to participate in the exhibition game. During the time of publish, votes for some of the fan-favourites were already reaching 1,500.
 
G-1 All-Stars lead at time of publish

Position

Chinese

Non-Chinese

Carry
Burning (1519 votes)
Loda (1327 votes)     
Ganker
YYF (1937 votes)
Ferrari_430 (1850 votes)
S4 (996 votes)
Korok (802 votes)
Support
ChuaN (1821 votes)
Faith (1640 votes)
Akke (851 votes)
Net (606 votes)
The registration link can be found on the top right of the site albeit written in Chinese. The voting will end on the 20th of May. G-1 League offline finals will run from the 24th of May till the 26th of May.
Source: G-1 League