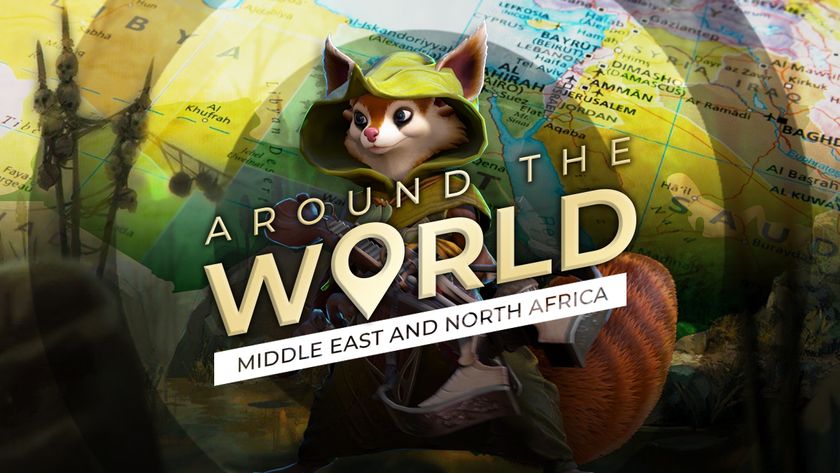 Around the world; Dota 2 in MENA region
Curious about the Dota 2 coverage and attention the MENA region has been gaining lately?  We've got you covered. 
The Around the World series is designed to explore Dota 2 in various regions across the globe. It aims to highlight the individuality of each region's history, current status, challenges, and progress. 
Previously we explored Dota 2's presence in South America, Korea, and Japan. The next stop in our Around the World series is the MENA region. 
MENA is an acronym for the Middle East and North African regions, corresponding with the Greater Middle East region. Typically it includes Saudi Arabia, United Arab Emirates, Kuwait, Qatar, Bahrain, Oman, Iraq, Jordan, Lebanon, Egypt, Morocco, Libya, Tunisia, Algeria, Syria, and Palestine. Just to clarify, it usually does NOT include Pakistan, Turkey, or Afghanistan -- based on boundaries. 
MENA and esports
As a whole in the gaming industry, the MENA region's potential remains largely untapped despite being one of the fastest-growing esports ecosystems in the world with approximately 100 million gamers in 2020.
According to a recent study by YouGov, the Middle East is quickly evolving from casual gaming to virtual reality games and competitive esports. The United Arab Emirates ranks among the top 10 global markets for YouTube Gaming, based on awareness and engagement, which is even higher than some countries in Europe.
Companies, brands, and organizations in MENA have become more aware and educated about the esports industry and have started to understand its potential — including the value it brings to companies' overall marketing and brand strategy. 
Galaxy Racer --the biggest esports, content, and lifestyle organization, based in the Middle East, North Africa, and South-East Asia was the first to ever do an inter-school esports tournament with the approval of the Ministry Of Education in Dubai. The FIFA 2020 tournament boasted a prize pool of $70,000 which was granted as scholarships to the winners.
By introducing these tournaments to the youth of Dubai, we are opening doors that could set up exciting futures. The esports and gaming industry is the future of sports and entertainment.

Paul Roy, Founder and CEO of Galaxy Racer
In 2020 Galaxy Racer organized the GIRLGAMER Festival World Finals, held in Dubai awarding a prize pool of $100,000.
MENA Region and Dota 2
But until recently, the MENA region has been one that seemed like an afterthought in Dota 2.
Stuck in-between Europe and Asia, players from the region often gravitated towards one or the other for pubs and professional careers. While there were many localized and small events, there was little-to-no presence of top-tier events and minimal representation on a larger scale in the competitive scene outside of talent Mira "Ephey" Riad and a handful of players (24 to be exact in Tier 1 and 2)—and the TI7 championship roster including Amer "Miracle-" Al-Barkawi, Maroun "GH" Merhej and Kuro "KuroKy" Salehi Takhasomi.
But some of that is changing and as of lately, the region is beginning to make its mark on the Dota 2 map. 
For only a short period of time, this region enjoyed its own server for ranked matches, which was located in Dubai. However, with a low number of high-rank players queuing it would often take an eternity to find a match and it usually was the same handful of players in the game each time. It was then removed. 
Besides the ping and server frustrations, MENA has a negative reputation for its intolerance and harsh laws toward those in the LGBTQ+ communities. 
Both BLAST and the LEC ended their partnership with NEOM, a Saudi Arabian state-sponsored city development, just hours after it was announced due to backlash from the overall communities, fans, players, and teams.
Although the controversies have not seemed to affect Dota 2 events or teams traveling to the region in order to compete as of yet, it is still a potential tinderbox, and investors and Valve will need to address concerns and issues accordingly. 
Be the change you want to see
With 4/5 (at the time of the decision) of Team Nigma having roots in the MENA region, the team created an initiative to give a nod and boost to the region. They not only had fully relocated to Abu Dhabi and entered a partnership with Abu Dhabi Gaming (AD Gaming), but then partnered up with Galaxy Racer (remember the brand earlier mentioned).
Previously Mohammed Morad, manager and co-founder of Team Nigma said 
(...)this merger is a major boost to the region and the potential future for aspiring players and recognition. 

We are thrilled to announce our merger with Galaxy Racer. Galaxy Racer has a brilliant understanding of the entertainment business and together we share a mutual passion for supporting and nurturing talent within the MENA region. There is also a lot of natural synergy between our brands with Nigma meaning "star" in Arabic. Before this merger, Nigma was a single star. By becoming Nigma Galaxy, we will have a Galaxy full of stars.
But that isn't all this team has done since turning their focus to the MENA region. 
In March of this last year, Nigma Galaxy hosted their own tournament. 'Rising Stars' was aimed at promoting Dota 2 in the MENA region and showcased their desire to support the competitive scene by injecting a $10,000 prize pool into boosting local talent. 
As indicated in a content piece by Nigma Galaxy, Ivan Borislavov "MinD_ContRoL" Ivanov hopes for the region's progression in the Dota 2 competitive space, and Kuro "KuroKy" Salehi Takhasomi would love if the region was included in the DPC and would push for it. He stated that he feels that this is significant because the South American region also grew in the same way, and as a result, they consist of some top-tier teams now.
GAMERS GALAXY: Invitational Series Dubai 2022
GAMERS GALXY Invitational Series held in March 2022 was a landmark event for Dubai. The partnership with UAE Nation Brand - an initiative by the United Arab Emirates to share its inspiring story of development and progress - was aimed to help highlight the country as a growing hub for global esports.
Hosting international digital events in the UAE boosts digital economic transformation opportunities and instills a culture of programming to reach the 100,000 coders within the country's workforce, an objective outlined under the Projects of the 50. This also contributes to the achievement of the objectives of the UAE Centennial 2071, including enhancing economic pillars through diversification, innovation, and continuous exploration of opportunities.

Today, many international cities organize tournaments and large-scale events for e-sports, which hundreds of millions of varying age groups play daily, whether on their smartphones, tablets, or computers. Gamers are so widespread, to the extent that global social media companies announced plans to offer unprecedented virtual technology that opens new areas for users to create communities in the digital, virtual, and augmented worlds. These concepts have limitless capabilities and will distinguish future opportunities in new technology- and innovation-based economies.

- Alia Al Hammadi, Director of the UAE Nation Brand Office
Today, we are seeing continued growth of the gaming and e-sports audience and the organization of specialized events and tournaments, as well as an expansion in the applications and coding of game design and development. Our support of the international tournament that Dubai is hosting enhances creative industries in the UAE.

Gamification technologies are now used across several sectors, including virtual and digital education, simulation training, fitness, robotic surgeries, and telemedicine. Events related to electronic games and sports have become global in nature, with millions around the world tuning in to watch. Our support of the DOTA 2 Invitational Series Dubai 2022 is in line with New Media Academy's focus to empower the new generation of digital content creators.

- Rashid Al Awadhi, CEO of New Media Academy
With the potential of increased finances and vested interest from the government and companies in MENA to showcase the region, one can only hope that Valve will take note and look at ways to promote and grow the competitive scene. Ways that will respect the rights and safety of all.