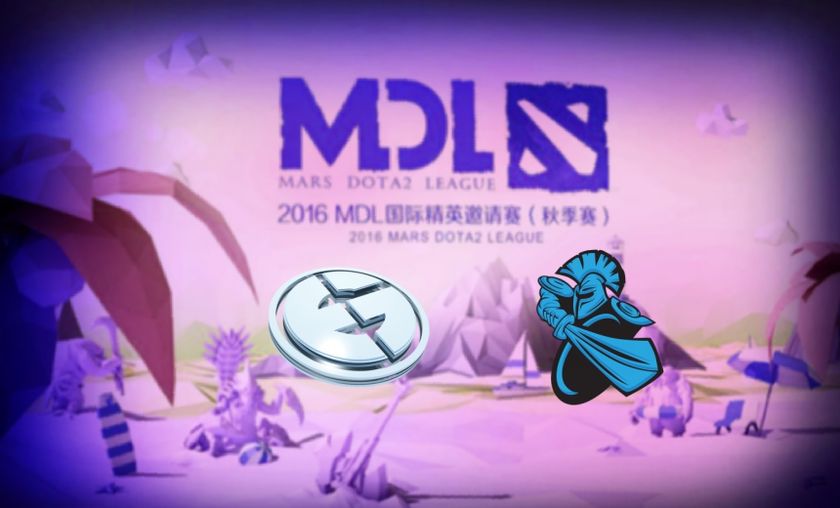 Mars Dota2 League Autumn 2016: The proving grounds for Newbee and Evil Geniuses
Regarded as the best teams in their regions, the two TI Champions, Newbee, in 2014 and Evil Geniuses in 2015, underwent big lineup changes in the post TI6 shuffle. Living legends, Clinton 'Fear' Loomis, Chen 'Hao' Zhihao, Zhang 'Mu' Pan, Wong 'ChuaN' Hock Chuan, and the captain of EG, Peter 'ppd' Dager, have all decided this year it's time to step back from the pro scene and announced their retirement. With Hao and Mu in their team, Newbee won The 2014 International while ppd's leadership placed EG top three at three consecutive Internationals and fulfilled the old man's dream to take the Aegis trophy home. So, taking in consideration the  track records the two teams had with their former rosters, all eyes were on them in China last weekend when they played their first official matches after the shuffle.
Replacing the big names with young players, both teams look fresh. Their performances in China from last week comes to support my affirmation here and I'll take each team individually and explain why we should expect Newbee and Evil Geniuses to be the two dominant forces in all future tournaments.
Newbee

Image credits: Newbee
It's no secret that the Chinese scene is based on a meritocracy system where all the organizations have two to four varsity teams where they nourish the future stars. Both new players of Newbee, Song 'Sccc' Chun and Xu 'uuu9' Han are the result of this system and their explosive break out from MDL Autumn 2016 comes as no surprise for the Chinese fans. Maybe uuu9 and Sccc's incredible performances against some of the best teams in the world shocked the Dota2 fans from Europe, but let's take a look at the starting points of their careers to understand why their LAN debut with Newbee was so successful.
Sccc started his career at the end of 2014 with Newbee Young, captaining the team ever since from the mid lane position. His first LAN appearance was registered in December 2014 at National Electronic Sports Open in Qingdao, China where Newbee Young didn't shine at all. Grinding his place into the main Newbee squad, Sccc remained on the secondary team for over 18 months, time in which he brought the squad to its first Valve event by qualifying for the Frankfurt Major. Regardless of his achievements at Newbee Young, for many of us Sccc before MDL was known only as the second Chinese player to reach 9k MMR and this is why his perfect performance from MDL left us all speechless as there are not enough words to describe for instance, his Invoker plays against Evil Geniuses in the second game of the upper bracket finals. To be perfectly honest, any of the matches played by Newbee last weekend at MDL are worth re-watching if you missed them or at least check the VOD for that game two against EG.
With his extremely flashy plays Sccc took all the spotlights at MDL, however, Newbee's success has also a lot to do  with their new carry, Xu 'uuu9' Han performance. Same as his new teammate, uuu9 might have come into everyone's attention only now but his career is actually starting in November 2013 at the secondary team of Tong Fu. Yes, you guessed it, Tong Fu has no less than three varsity teams and they have been a constant provider of exquisite Chinese players. Over the years Tong Fu delivered names like Hao, Mu, Banana and LaNm who all have kick started their careers there.
Now, after three years in which he's been playing only for the Tong Fu organization, uuu9's time to take the big pro scene by storm came as a natural step and his breakout alongside Sccc is the expected result of the aforementioned Chinese meritocracy system. At MDL uuu9 carried Newbee with spotless executions. More than once he finished the games without a single death and his teamfight decisions and coordination with Sccc were on spot, making Newbee look better than ever. With such impressive first appearances against the likes of OG, Secret or EG, I believe it's safe to say that the young guard will maintain Newbee among the top five teams world-wide this year if not even higher.
Evil Geniuses

Image credits: Wykrhm Reddy
The NA scene dynamic is totally different from all the others and in its many ups and downs only one team has always been the strong pillar of NA Dota. Ever since the post TI6 shuffle started, one word is haunting me, regardless of what matches I'm watching or what story I'm reporting. And that word is legacy. That's all Clinton 'Fear' Loomis had to say on the evening of his retirement, on September 15. On that day, EG didn't only lose the most respected player from the entire Dota scene, but also their most successful captain and drafter, Peter 'ppd' Dager. Some might say that EG will not be the same without them and that might be true, but that doesn't mean that the new Evil Geniuses will not be ready to protect the legacy Fear left behind.
Leaving no room for their fans to speculate or to make assumptions on who from the entire pro scene could replace the two EG pillars, the NA organization announced their new roster on the  very next day with the fourth return of Artour 'Arteezy' Babaev and a very young player with no prior experience at captaining a team, Andreas Franck 'Cr1t-' Nielsen taking ppd's role. EG-Arteezy is not exactly a surprise, but Cr1t moving on the US soil to lead EG is definitely a  bold move. However, after two weeks of watching  Zai's and Arteezy's streams, it became very clear to me that the new EG will rock this season.
What can you make of Evil Geniuses' first place finish in China last week when you've seen three of their players spamming Battlerite for over 6-8 hours per day? The answer is simple: the new EG acts more like a brotherhood, a college fraternity if you will. EG's roster has now five young extremely talented individuals with great chemistry between them and all capable of carrying the game from their own positions. The new EG can allow themselves to lose a lane or to even have Arteezy in a very grim scenario because all other four players can save the day. Ludwig 'zai' Wåhlberg is there and as he did it before, he can win his team a game from the fourth position, Cr1t's super aggressive support play style never let his team down while there's no words needed for Syed 'SumaiL' Hassan and Saahil 'UNiVeRsE' Arora's capabilities to carry if the situation is demanding so. 
Without an outstanding authority figure near them in the booth or without a clear leader to switch their heads to when things are going downhill, the five EG players are now more focused than ever to make it work. Every single match became a team effort for them from the drafting stage, to the last second of the game. Without feeling the need to challenge or prove themselves in front of someone, they've shown in China what a handful of talented and relaxed individuals can do.