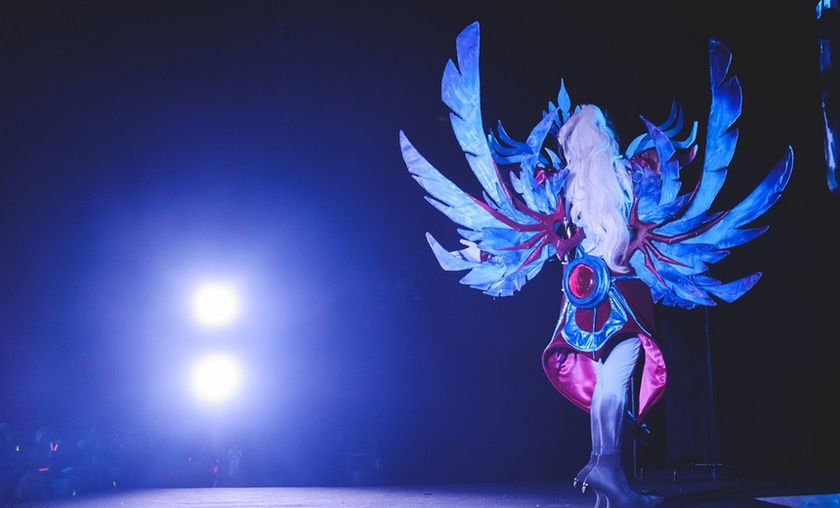 Marugitto Cosplay Interview: "We cosplay because we love it"
Last year we saw some incredible cosplay at ESL One Frankfurt, from an ingenious Enchantress to an eye catching Lycan and culminating with a breathtaking Tibersaw, a costume that actually won the grand prize.
Some of the competitors will return this year at the Commerzbank-Arena, but there are also a number attending for the first time in Frankfurt.
One of the new participants will be Marugitto, a female cosplayer with ten years of experience and a lot of titles to showcase. Already well-known in the cosplay word for her incredible costumes, she won a DreamHack Cosplay competition with an amazing Spectre and is now preparing a super hot costume for ESL One Frankfurt 2016.
---
Hi Marugitto, and thank you for taking the time to talks to us. I know you are very busy finishing your new cosplay costume but let's start with a brief introduction.
Hello there! Happy to talk to you! I'm a Swedish cosplayer, and other than being a happy nerd, I recently graduated with a MBA and now work for the municipality where I live.
When and how have did you start to cosplay? What was your first costume?
I have been cosplaying since 2006, so this summer is my ten year anniversary as a cosplayer. I have been a proud nerd my whole life; loved sci-fi, fantasy, anime, manga, comics and games. When I was in high school, I was involved in a "manga-club" in town. My friends decided to have a Fullmetal Alchemist (manga/anime) cosplay group, and suggested that I'd be Riza Hawkeye, because I looked a bit like her. Of course I said yes, because I loved the series, and the character, and it was such a great experience! We were 12 people in this group, and we all made our own costumes, from scratch. Every other weekend I would drag all my cosplay stuff on the bus (including my sewing machine!) to my friends, who lived over an hour away from my home, just to sit and craft together.
You've been "in the business" for quite some time now, are there any big changes to how the cosplay competitions were organized ten years ago compared with today?
Competitions were pretty simple when I started; organized by local kids who wanted to go to conventions so we started our own. There was no prize money, at least not in Sweden. You might win a diploma and a keychain if you were lucky.
The scene has really evolved; with an overall higher standard considering both organizers and the cosplayers competing. Also, people are more aware of what cosplay is, and it's getting a higher status as a sport as well. Not only concerning that some contests has prize money, but also how cosplayers are treated at events and by the general public.
There is no doubt that eSports competitions are profitable for the players, but is the cosplay financially advantageous? Bluntly put are the money prizes enough for cosplayers to cover the costs of making a costume and going to events?
cosplay is an art form just as much as a sport, and a social activity
No, cosplay is not a profitable sport. Cosplays are expensive to make and transport, the fees to compete are usually high and to travel to events as well. Also, the competition is very hard; out of 50 contestants, maybe three will be granted prize money. We cosplay because we love it. For me, cosplay is an art form just as much as a sport, and a social activity. The competitive part is really only a small part of what cosplay is all about.
Let's talk more about your Dota cosplay, although you have some amazing costumes from other games as well, I'll ask about your incredible Vengeful Spirit. How much time did that costume take to create?
Thank you! Venge is one of my bigger projects. She took me about three months to make, but really I should have started earlier. The last month of crafting, I started working full time, so to finish on time I really had to push myself. It's never fun to "crunch" to finish a costume, but it happens. I often end up re-making parts, and for Venge I re-made most parts at least once. The hardship of being a perfectionist! ;)
Where have you exhibited the Venge costume, and what prizes did you win with it?
I made Venge for Cosplay-SM, which is the Swedish National Cosplay Championship. It was my dream to compete in this contest, and worked really hard to qualify. I did not win, but I am very proud to have participated and finished such a big project on time.
Only ten cosplayers get to compete in the final, and the competition is really strong! The level of Swedish cosplay has really skyrocketed the last few years! It's amazing! The cosplay-SM is live-broadcasted on Swedish national television, which is really cool! All my family, friends and colleagues watched, and all the support and love is an incredible feeling!
I know you're a close friend of Meruna, the Vengeful Spirit from last year's ESL One Frankfurt. What are the friendships and the community like in the cosplay scene? Are you guys extremely competitive with each other, do you share your opinions on how to improve a costume or it's more like in a modeling business where everyone tries to get all the attention no matter the costs?
I most likely wouldn't still be doing this after ten years if it hadn't been for the great, encouraging community!
As I mentioned earlier; cosplay is a very social activity for me. I most likely wouldn't still be doing this after ten years if it hadn't been for the great, encouraging community! Of course it's competitive in the sense that you hope to win after putting money, time and effort into a costume. But I've met most of my close friends through cosplay, so of course I am happy to see them win.
The cosplay community is very supportive. I have posted several tutorials (instructions on how I have made things) online, and gotten amazing feedback from people who have been helped by this. So I'm not afraid to share my knowledge and neither to ask for suggestions. I often turn to other cosplayers with questions. Also, even if I don't have questions, sometimes it's just nice to discuss my process with someone who shares my interest, and ask how my friends are doing as well. Seeing others' progress pictures is a great source of inspiration!  
Do you make all the costumes by yourself or do you have someone helping you with the process?
I make all my costumes myself, but there are some things you cannot do yourself, such as pin the back of a dress when you're wearing it. Also, getting into costume can be tricky sometimes.  Therefore I'm very grateful for my friend Sofie. We help each other with such things, it's a give and take. She assisted med throughout the whole weekend of cosplay-SM, I would not have made it onto that stage without her! Imagine trying to put on those wings while standing in those heels! XD
Last year you missed the ESL One Frankfurt but you were at DreamHack Sweden with a Spectre costume. It's something we actually don't see cosplayed too often, why do you think that is?
My Spectre cosplay actually started out as a challenge! I couldn't decide on what to cosplay for DreamHack, and my friend Erik kept suggesting DOTA2 characters to me. This was before I really got invested in DOTA2 myself, so I didn't really know the heroes that well. Then he sent me a picture of Spectre, and I remember thinking "Bah! He's just trolling now! That cannot be done! She doesn't even have a human face or any legs!" But, then I started thinking about it and got ideas on how to solve things, and I got excited about really engineering this cosplay; making things work!
When making a cosplay, a good way to start is to search for other cosplayers online who's made the same costume, to get suggestions on which fabrics to use etcetera, but really I couldn't find a single one of Spectre! So, correct me if I'm wrong, but mine is most likely the first ever. As to why that is, I can't really say.
When you choose a new hero to cosplay are you influenced by what you play, or is it purely about what would look better on the stage?
There are several reasons to why I pick certain characters to cosplay. But, I think the most important thing is whether I get excited about the design or not; is this something I want to make? Crafting a cosplay takes time; I need to still be excited about it two months later.
To cosplay implies a bit of acting skills as well, and you guys are actually scored by the judges on how well you impersonate the character. Have you taken any kind of acting lessons for this ?
I have never taken acting lessons, although acting and being on stage is something I really enjoy. 
So, you are in the process of preparing a Lina cosplay for ESL One Frankfurt 2015. How is it coming along?
This spring has been quite busy for me, so I wish I was further along than I am. For Lina, I will be using a few new techniques for me, such as leather tooling, so I've taken some time to research these things. Also, finding a fabric with the right shade of red took quite some time! But, I'm on my way and not worried about finishing on time.
How is your fiancé dealing with all the changes you're going through for the Lina cosplay?
He is quite used to me changing appearances for cosplay by now. The only time I really wear make up is when I cosplay; and I've used different kinds of wigs and colored contact lenses as well. It is fun to experiment with different looks. But, I must say, my poor fiancé really is a trooper! Sometimes, when making costumes, I end up turning our whole apartment upside down! He has impressive patience, and has always been very supportive, even though he does not cosplay.
Will he travel with you for ESL One Frankfurt?
Yes, we're both looking forward to the event!
What are your expectations for the Cosplay competition in Frankfurt?
I have only heard good things about ESL, especially from cosplayers, so I'm really looking forward to experiencing it myself! And I can't wait to meet my cosplay friends from different parts of Europe, who I only meet at events such as this. I've seen others' progress pictures, and the level of craftsmanship will be high at this competition, so the judges will most likely have a hard time picking a winner!
Alliance is the first team invited for this year's ESL One Frankfurt and you being from Sweden I can't help but asking which is your favorite Dota 2 team?
Alliance is my favorite team. They've had such a journey and they really have their own style of playing together, it's amazing to watch!
Alright Marugitto, I won't keep you from working on the Lina costume much longer, and we wish you best of luck for the competition. Any shoutouts to end the interview?
Thank you for your time! I would like to thank my friends and family, for being so supportive of me. It really means a lot. And all my online followers; I read and cherish every comment!
Also, I'd like to give a special shout out to my fiancé, Sofie, Charlie, Tokah, Meruna and Tanakht for being such great friends; encouraging and supporting me when I was working hard to finish Venge this spring <3
I am really looking forward to ESL Frankfurt and I have no doubt it will be an amazing weekend! See you there!
[editor's note] For all those interested to find out more about the Cospaly competition at ESL One Frankfurt 2016 click here.