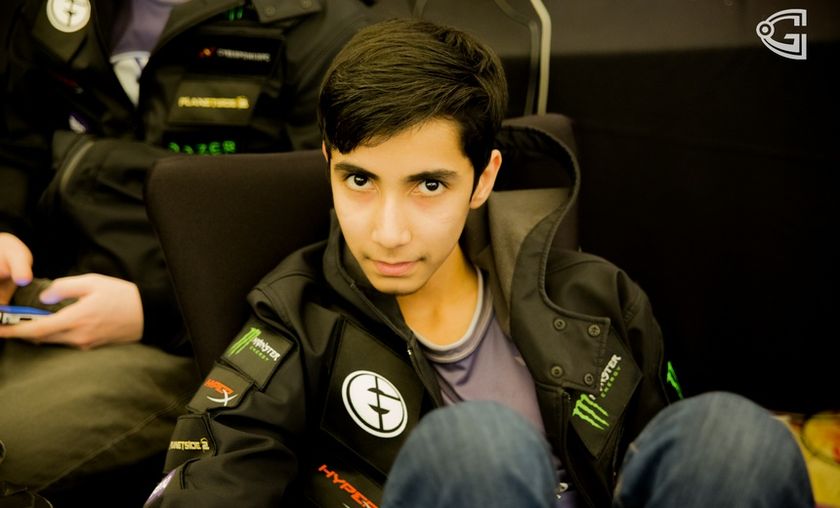 Evil Geniuses: Will Frankfurt bleed blue?
Evil Geniuses. Bleed Blue. These are two short, sharp words combinations, ringing with strength and confidence. This echoes the playstyle of the American powerhouse themselves. Their players act with confidence and complete faith in their own abilities and each other. Evil Geniuses (EG) have managed to strike a fine balance between flashy aggression and calculated, methodical Dota. While 6.85 has not been their most successful patch, EG will most certainly be considered one of the main contenders for the title in Frankfurt.

The inimitable Throe. From t_vidotto's website.
In years gone by, the EG moniker was synonymous with the potential to take games that were in the bag, pick them up, and throw them to the wind. They even had a courier named to this effect. This is not the EG that the Dota community has the pleasure to witness now. Under the calm, measured captaincy of Peter 'ppd' Dager, EG managed to silence all of the critics and be the first American team to win The International in August this year.

EG fans ecstatic at their team's win in Seattle. Image from Design By Humans.
A factor key to this success was the meteoric rise of Syed Sumail 'SumaiL' Hassan. His story is one that could very well make a movie more successful than Clinton 'Fear' Loomis' own Free to Play. A 16-year-old wunderkind from Pakistan who moved to America to pursue his passion for Dota, and soon etched his name onto the Aegis of Champions itself. SumaiL plays remarkable Dota. He is able to farm items rapidly when given even the slightest space and outplay opponents who have been on the professional scene for years.

Image from joindota
Since winning The International, EG released their support player, Kurtis 'aui_2000' Ling, from the team. This made space for Artour 'Arteezy' Babaev to return to America from his stint on Team Secret. Once the memes had died down, one question remained – could ppd, Fear, and Saahil 'Universe' Aurora make enough space on the map for both Arteezy and SumaiL? The answer, so far, has been - sometimes.

EG at ESL One New York. Image (c) ESL from dotablast
Considering their position as the current TI champions, EG have had a relatively underwhelming time in 6.85. ppd and the rest of the team chose to have an extended break following TI to recover from the intense experience. They have only competed in two tournaments in the current patch – ESL One Frankfurt and the MLG World Finals. At ESL One, they were routed by eventual winners Vega Squadron. EG were shaky and lacked fluidity as a team, and were punished for it.
At MLG, however, they were an entirely different beast. They showed the power of their new line-up, reaching the Grand Finals against Team Secret. Even though they were defeated 1:3 in the end, they impressed throughout the tournament. EG showed that they were not to follow the trend of previous TI winners and fade into irrelevance soon after their victory in Seattle.
Evil Geniuses' roster is as follows:
Peter 'ppd' Dager

Saahil 'Universe' Arora

Syed Sumail 'SumaiL' Hassan

Artour 'Arteezy' Babaev

Clinton 'Fear' Loomis
EG features standout players across the entire roster, all of whom are considered to be at or near the pinnacle of their role. Universe creates space and finds farm like no other offlaner. SumaiL is, well, SumaiL. Arteezy BabyRages like no-one else, and is also a versatile player who can find farm in a matter of moments. Fear is an old hand, and has done and seen it all. ppd is one of the most self-sacrificing supports in Dota, and is constantly competing with Clement 'Puppey' Imanov for the title of best drafter in the world.
Whilst they may not be on home turf for this event, EG will be amongst the favourites to win the Frankfurt Major. They have been building momentum in 6.85, and have the talent and team cohesion to go the distance. If they are allowed to play their game, they will take any hope away from their opponents. Keep an eye out for the men in blue – you might well see them on the winner's podium in Frankfurt, as they were in Seattle.