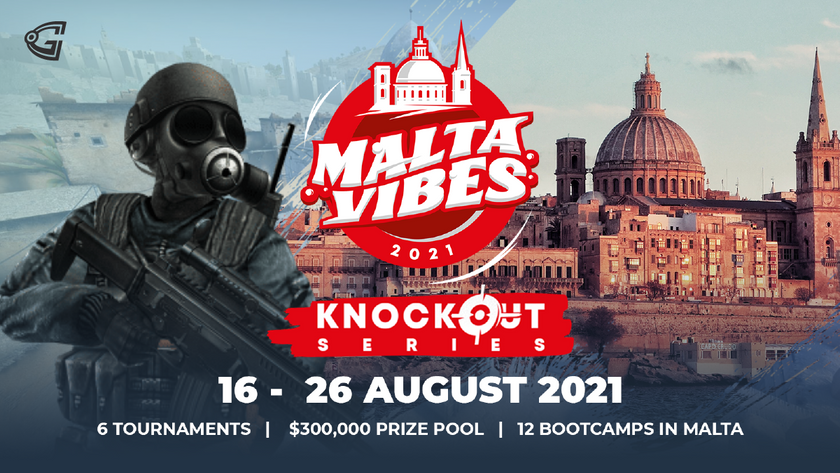 Eden Esports announce Malta Vibes Knockout, a $300,000 six tournament series
Malta based organization Eden Esports launches Malta Vibes Knockout Series online CS:GO event featuring a hefty $300,000 total prize pool spread across six tournaments and premium bootcamp packages for all finalists.
Partnering with GRID, who are the official data provider for the Malta Vibes Knockout Series, and with VisitMalta, Eden Esports aim to provide with this six tournament series, a chance for all lower tier teams across Europe and CIS, at getting full support in their growth.
Each of the six tournaments part of the Malta Vibes Knockout Series will feature a $50,000 prize pool and additionally will offer to the two finalists of each tournament a premium bootcamp package with a stay at the 5-star InterContinental Malta hotel.
More so, each team that will win the bootcamp package will be able to use it anytime they want in the span of a year after winning it. The Malta Vibes event has also become a part of Elisa's Champion of Champions circuit and will distribute additional points for the teams to play for.
I am very excited to announce the return of the Malta Vibes series in 2021! This time with a new and refreshing knockout format, a wider distribution of the prize pool, and being a part of the Elisa Champions of Champions ranking circuit with further invites to the recently announced new series of LAN events.

We believe that with every new opportunity created for the CS:GO scene, we are slowly but surely moving towards our ultimate goal — shortening the gap between Tier 1 and Tier 2 organizations and growing our niche of the industry.

Sergey Bidzan, CEO of Eden Esports
The first tournament of Malta Vibes is set to take place August 16 - 26 with a total of 32 teams being initially invited to duke it out through single-elimination matches. They will then play the round-of-sixteen matches for $1000 per winner. Eight additional teams will then join them for a second round of RO16. The prize pool will increase from there on out until a $16,000 all or nothing style final takes place.
Eden Esports is a longstanding partner of GRID and known for their great innovation in esports event experiences. The Malta Vibes Knockout Series is a great competition format and we are happy to be a part of it.

Moritz Maurer, CEO of GRID Esports.
Malta Vibes Knockout Series #1 Schedule
Round-Of-32
(all match times are in CEST)
16th of August - 10:00, 13:00, 16:00, 19:00
17th of August - 10:00, 13:00, 16:00, 19:00
18th of August - 10:00, 13:00, 16:00, 19:00
19th of August - 10:00, 13:00, 16:00, 19:00
Round-Of-16 #1
20th of August - 10:00, 13:00, 16:00, 19:00
21st of August - 10:00, 13:00, 16:00, 19:00
Round-Of-16 #2
22nd of August - 10:00, 13:00, 16:00, 19:00
23rd August - 10:00, 13:00, 16:00, 19:00
Quarter-Finals
24th of August - 10:00, 13:00, 16:00, 19:00
Semi-Finals
25th of August - 16:00, 19:00
Grand-Final
26th of August - 16:00
All matches will be played in a best-of-three format. The teams will win prize money at every round of the knockout, starting with round-of-16.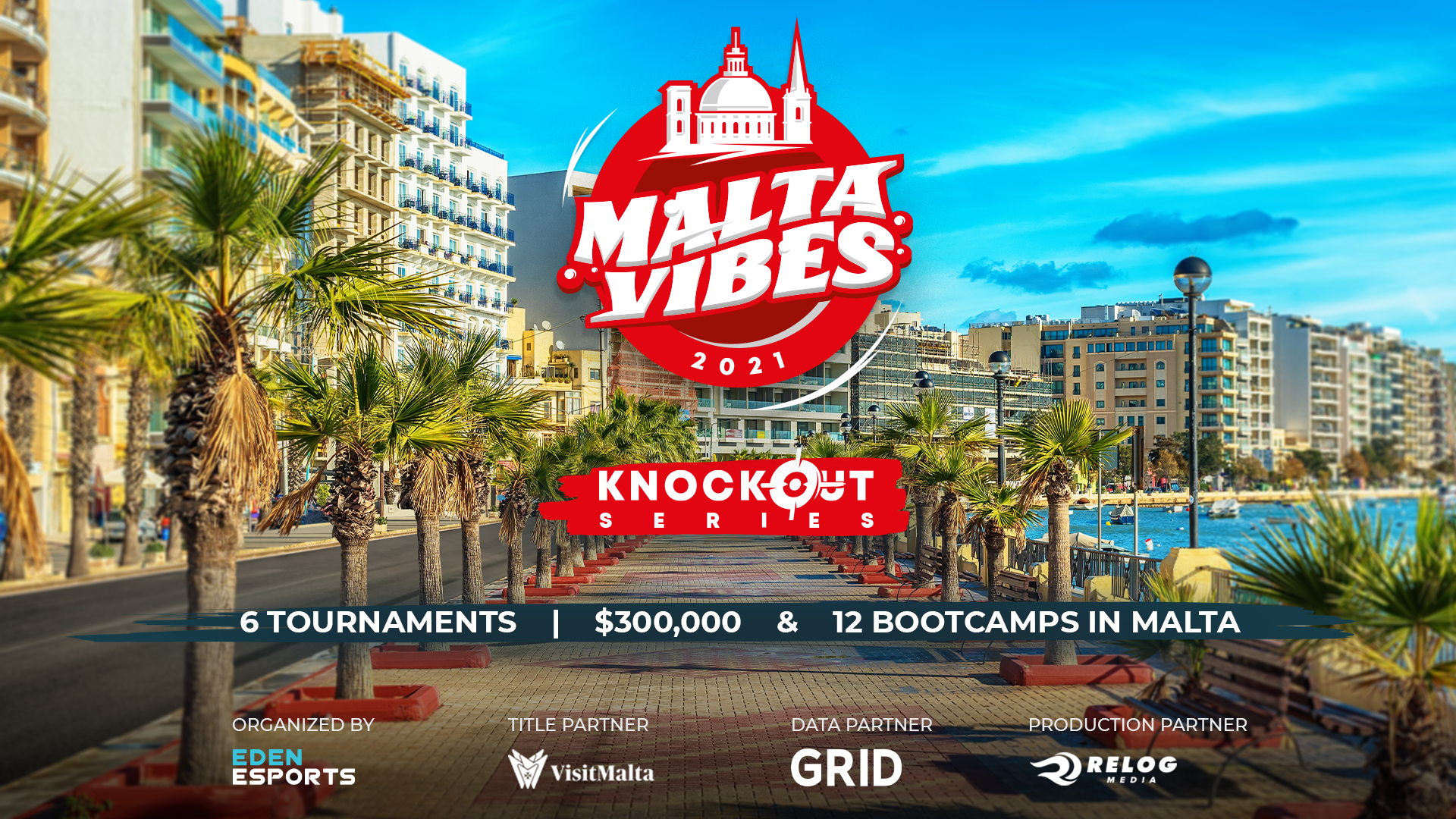 Organizers and partners additional info:
About Eden Esports
Eden Esports is a Malta-based esports organization founded in 2017 by the Eden Leisure Group, an entertainment and hospitality leader in the country. Eden Esports organizes online and offline international esports competitions with the most known titles such as SuperNova Malta 2018, Champions Cup 2019, and Malta Vibes 2020, featuring high prize pools and top teams. Eden Esports' goal is to make Malta one of the esports hubs through hosting events, live streaming, and relocating businesses from the industry to the islands.
 
About GRID Esports
The leading provider of data solutions for the esports industry leverages revolutionary technology to embrace data in the digital nature of competitive gaming and overcomes sports specific data challenges. Established in 2018 the company looks to tackle the data market and provide data services for monetization and fan engagement for tournament organizers and game publishers.
About VisitMalta
The mission of the Malta Tourism Authority is to advance the economic and social activity of tourism in the national interest, by working with all stakeholders to develop a sustainable industry for current and future generations. Our vision is to achieve a healthy, sustainable and equitable tourism sector for the Maltese Islands, attracting regular inflows of quality visitors throughout the year from a diverse range of source markets, whilst ensuring that those who choose our destination are served with professionalism and care.