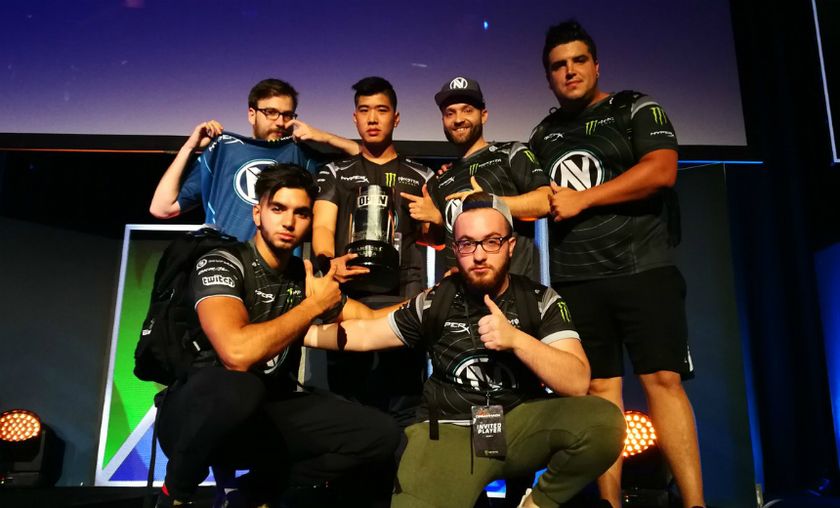 DreamHack Atlanta 2017 - Team EnVyUs secure Champions title

Team EnVyUs were successful in outperforming Heroic during the grand final of DreamHack Atlanta 2017, securing a 2-1 map score and consequently the tournament trophy.
Team EnVyUs were pronounced Champions of DreamHack Atlanta 2017 following their grand final victory over the Danish roster of Heroic. The team accrued $50,000 in prize money, in addition to the coveted trophy.
Below is the distribution of the $100,000 prize pool:
1st place -
Team EnVyUs 
2nd place -
Heroic
3rd & 4th places -
HellRaisers,
Renegades
5th & 6th places -
Misfits,
GODSENT
7th & 8th places -
Binary Dragons,
NRG Esports
The journey to stardom for the Frenchmen started in group B, where the team kicked off to a spiffing start, securing a victory over NRG Esports in 16:5 fashion on de_cobblestone. Their next match-up was against Heroic, where they fell to the Danes with a 9:16 score line on de_inferno. With a 1-1 match record the Frenchmen were looking at elimination in their third match-up, on this occasion against GODSENT. No such developments were seen however, as the Swedes were unable to secure a single map in the deciding best-of-three, conceding both de_cache and de_cobblestone to the Frenchmen with a 16:19 and 7:16 score respectively. 
Following the conclusion of the group stage Team EnVyUs were set to face Renegades for a placement in the grand final. All three maps saw play, with the Frenchmen besting Renegades in two. The Australians kicked off with a 16:14 start on de_cache, followed by consecutive losses on de_train and de_inferno, of which both maps saw fairly close score lines, namely 11:16 and 8:16, respectively. A 2-1 victory over Renegades secured the French roster a straight road to the grand final. 
Parallel to the Frenchmens' storyline the Danes of Heroic were ascending their bracket, defeating HellRaisers with a 2-1 map score. The team was unable to best the European mix in map one, as they fell 12:16 on de_mirage, only to bounce back on de_inferno and de_overpass, securing 16:8 and 16:3 scores, respectively. The aforementioned results for the French and Danish rosters meant a grand final face-off for the two teams. Heroic commenced the grand final with a map victory on de_overpass, where the Danes secured a 16:11 score on de_overpass, just a single victory away from taking the series. No such map was seen, as Team EnVyUs retaliated on de_cobblestone with a 16:8 score of their own, leaving de_inferno as the decider map. Contrary to the fairly even fashion of the prior two maps, de_inferno was an absolute stomp for the Frenchmen, knocking the Danes out with a 16:2 score, subsequently securing the tournament title.
Image courtesy of Team EnVyUs Twitter