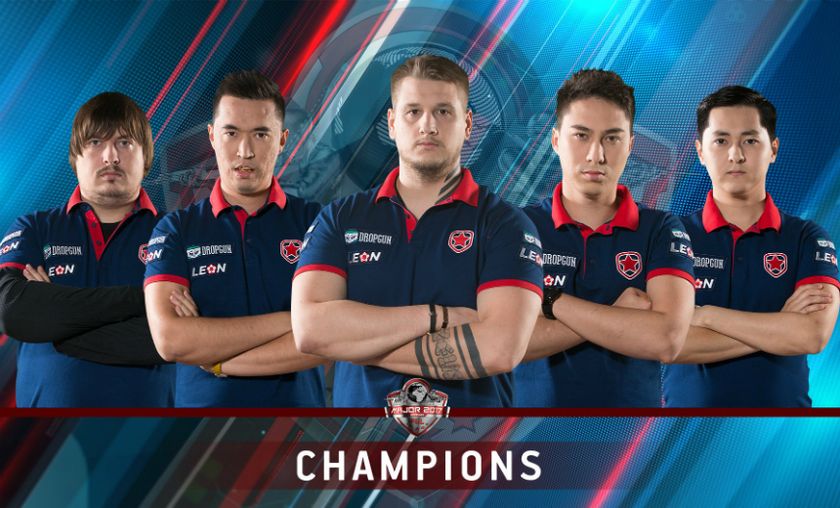 PGL Major Kraków 2017 - Gambit Esports are your PGL Major Kraków Champions!

Gambit Esports come out on top of their grand final match-up against Immortals 2-1, securing the Champions title of the PGL Major Kraków 2017!
Gambit Esports vs.
Immortals - 2-1
GAME ONE: IMMORTALS de_cobblestone - 4:16 (3:12, 1:4) by Aleksei Louchnikov
The grand final of the major saw a full B stack for the T side of Immortals. Three kills from Vito "kNg" Giuseppe exposed the site for a bomb plant, one that was secured following the expiration of the defence. Gambit Esports forced pistols in the following round, able only to frag Ricardo "boltz" Prass. The remaining Ts made quick work of the defence, landing a 2:0 score. The third was also accrued by Immortals, as a full eco for the CTs fell through.
Finally the time for rifles was nigh for Gambit, as the CIS mix was able to just about secure the fourth round following a scary advance from the Ts onto the A site. The round came down to a 1v2 for Henrique "HEN1" Teles, who fell to crossfire from the remaining two CTs.
Nothing short for a nail-biter for Gambit in round five, as a successful B hit from Immortals left the team in a 2v3 situation. Mikhail "Dosia" Stolyarov dispatched two members of the aggression with his favourite UMP45, subsequently culled by Henrique "HEN1" Teles' AWP. A 1v1 ensued between the Brazilian AWPer and in-game leader of Gambit Esports, Daniil "Zeus" Teslenko. The Ukrainian was dinked in an exchange, leaving him with less than half HP. A chase was seen with just ten second left in the round, with the Brazilian unable to tag the Counter-Strike veteran in a smoke, conceding the round at 3:2.
A full buy from both teams in the following round saw A split advance from Immortals, where an A hit was baited, only for three members of the team to pour out into an empty B site, securing a bomb plant. Two remaining members of Gambit opted to save their M4s at 2:4. 
Another spectacular A take from Immortals, as an A long hit coupled with pressure in middle led to a completely dismantled A defence on Gambit's side. Four members died in the attempted retake, leaving Mikhail "Dosia" Stolyarov saving an AK-47. Four pistols and an AK-47 saw the X GOD step up massively, absolutely destroying three members of Immortals that rushed out onto B plateau from tree, granting his team a foot into the round. The Russian accrued one more kill, ending his round run with four prior to falling to Ricardo "boltz" Prass. It was down to Henrique "HEN1" Teles, who managed to secure four kills of his own, clutching a round for his team against all odds at 6:2.
Gambit sustained a reset following the bitter loss, as a B site hit was once more successful for the Brazilians. A few upgraded pistols didn't yield much for Gambit, worsening their deficit to 2:8. Finally success struck, as the CIS mix was able to secure their third round of the map at 3:8, in part thanks to a 2k from Mikhail "Dosia" Stolyarov. 
Momentum was not accrued by Gambit off the back of the previous round victory, as a favourable round that saw the team convert a 5v5 to a 2v1 was subsequently lost, clutched by Vito "kNg" Giuseppe. Inspired by their teammate's performance, the Brazilian roster continued their dominant stint, on this occasion they hit the A site, dispatching both defenders in swift fashion. Working with a weak economy, the three remaining members of Gambit pulled back saving weaponry for times to come at 3:10.
Two rifles, a MAG-7 and two pistols were unable to produce results against a fired up Immortals, conceding a further round at 4:10. Yet again a hindered economy for Gambit with three SMGs and two upgraded pistols in the concluding round of the first half, however it proved to be significantly more effective, as the fifteenth round came down to a 1v1 between Rustem "mou" Telepov and Henrique "HEN1" Teles, where the Brazilian came through for his team, concluding the half at 11:4. 
Gambit's aggressions were aimed at the A site, with Rustem "mou" Telepov and Mikhail "Dosia" Stolyarov able to amass a frag each. When attempting to get onto the actual bomb site from A long, the team was utterly decimated by Lucas "steel" Lopes, landing three kills with his USP-S, stopping Gambit in their tracks. A clean-up kill from Henrique "HEN1" Teles closed the round, with Immortals just three rounds from a map victory. Lucas "LUCAS1" Teles and Vito "kNg" Giuseppe utilise their UMP45s to great effect in round seventeen, shutting down two and three members each, respectively, not only farming up a grand total of $3,000 in-between them, but also pushing their team to a 14:3 score line.
A desperate force buy from Gambit was shut down once again, as the team spiralled further into the abyss, conceding map point to the Brazilians. Somewhat of a miracle for Gambit in the following round, as Rustem "mou" Telepov accrued three kills with the Tec9, which were preceded by two kills from Mikhail "Dosia" Stolyarov and Abay "HObbitt" Khasenov, allowing the team to just about hang in there at 4:15. Round twenty was the final round of the map, as a failed A hit saw Gambit frag a single member, all the while sustaining four fatalities of their own, leaving Rustem "mou" Telepov alone in a 1v4. An attempt was made by the Kazakh, unfortunately shut down on A long by Lucas "LUCAS1" Teles, leading to a strong 16:4 victory for Immortals. 

GAME TWO: GAMBIT de_train -  16:11 (9:6; 7:5) by Tim Masters
Game one was not close, and the start of game two had the potential to decide the outcome of the match. Train was the location, and with Immortals in the lead they started out on the CT side. Early contact in brown halls saw damage sustained by both sides, but nothing more, and when the push came on A site Mikhail "Dosia" Stolyarov was able to plant. Abay "HObbitt" Khasenov cleared things up to give Gambit the round, and the chance to make a first real impression on the match.
A plant in round two suggested Gambit had got themselves together, but a double from Lucas "steel" Lopes on ramp took them back apart again, and Lucas "LUCAS1" Teles was able to defuse in the end. Dauren "AdreN" Kystaubaev got a nice kill through the smoke to start round three, and despite some shaky stuff from Daniil "Zeus" Teslenko his team were able to drop the Brazilians and take their second round, and first lead in the final.
This brought the force buy from Immortals, who set up initially with three on A, but when Gambit pushed the European mix were able to cut through the defence like a knife through butter, going 3-1 and finally looking like themselves. Abay "HObbitt" Khasenov dropped Lucas "LUCAS1" Teles and Ricardo "boltz" Prass on A in the next, and before we knew it Gambit were 4-1 up and seemingly ready to forget the first game.
It was the A game again in round six, and early contact saw a plant for Daniil "Zeus" Teslenko and Henrique "HEN1" Teles left all alone, clasping his famas. He managed to swap it for an M4A4 before the round was out, but that was small consolation, and the timeout was called as his team tried to stem the flow of rounds against them. It was apparently not enough this time though, as Lucas "steel" Lopes was dropped, followed by Henrique "HEN1" Teles and Vito "kNg" Giuseppe, with Daniil "Zeus" Teslenko once again getting the lucrative plant before they went hunting, successfully.
At 6-1 up and enjoying the economic advantage, Gambit got their first Train taste of the double AWP from Immortals, and it was Vito "kNg" Giuseppe that started the carnage, before his teammates mopped up. The gap had closed to four, but the money for Immortals was still desperately poor, with $4k and change left after they had rebought the weapons lost previously.
Ricardo "boltz" Prass fell to Abay "HObbitt" Khasenov in brown halls at the start of the ninth, giving Gambit another advantage, which they took to A and tried to exploit. However, the snipe twins Vito "kNg" Giuseppe and Henrique "HEN1" Teles were ready to respond, making it a 3 v 2 in Immortals' favour, and with two kills each they closed Gambit down to take a third round. Now it was the Europeans that were worried about the money, while Immortals started to feel themselves.
Lucas "steel" Lopes and Lucas "LUCAS1" Teles fell to Daniil "Zeus" Teslenko and Dauren "AdreN" Kystaubaev when we began round ten, but Ricardo "boltz" Prass woke up and got two kills on the A site to make things interesting. It wasn't enough though, as Daniil "Zeus" Teslenko was able to get the flank and finish a very shaky round in his favour, no doubt frustrating the Brazilian IGL. A close play at the start of eleven saw Daniil "Zeus" Teslenko pick up another kill, and this time quick contact on A was enough to get the plant, but Boltz did more damage from ivy and his team were able to retake, defuse the bomb, and save this version of the world.
Now it was 7-4 for Gambit, and time to test just how 'back' in the match they were. As it turns out, not entirely, and the Brazilian AWPs sang once more as Vito "kNg" Giuseppeand Henrique "HEN1" Telesshared five kills. As far as gut-checks go, this was a big one for Gambit, and an eco in the next for them should have ended in more defeat. As it was, Mikhail "Dosia" Stolyarov was able to pick up a gun, and even the plant, before Henrique "HEN1" Teles and Lucas "LUCAS1" Teles sent the X GOD back to the realm of the all-too mortal, and close the gap to just one round.
Gambit could buy again, and at 7-6 it was clear they needed to turn guns into a round win to try and slow the Brazilian charge. Rustem "mou" Telepov and Mikhail "Dosia" Stolyarov obliged and the plant came on A, and eventually Gambit took their first round in a while with relatively little stress. With one round left in the half it was 8-6 to Gambit, and they had the stronger buy into 15 as well, allowing for a strong push onto A, a plant, and a lead of three at the halfway point.
Boltz was the star of the show when pistols came out at the start of the half, and some disgusting aim gave Immortal's their seventh round, and first on the T side. Gambit half bought into the next and paid for it, but Immortals could not leave Dosia alone and he made them pay, dropping two post plant and costing his opponents a pretty penny.
Immortals went to A once more, with steel the main damage dealer, and going into the first gun round it was nine apiece and anyone's game in theory. In reality, though, Gambit looked shaken, and Immortals seemed to smell blood. This led to an over extension from Boltz, before Adren picked up a kill or two, potentially exposing the weakness in the Immortals mindset, a lack of experience. It would be up to Gambit to exploit that, but there was a chink in the Brazilian armour.
Out came the double-AWPs from Immortals, but Mou got the first kill before Hen1 tok out Zeus. The trades on A were not kind to Immportals though, and it took a clever play from Steel to bring it back a touch. Sadly for Steel, Dosia and Mou were able to keep cool heads and extend the Gambit lead to two again, and when Mou got Hen1 through the smoke at the start of the next it seemed like things were finally going in their favour again. The round unfolded relatively smoothly for Zeus and co, and they were four from taking their first match in the final and levelling the score.
Immortals sent three to ivy at the start of the 22nd round, with five AKs on the table, and Hobbitt could not deny them long enough to stop Boltz and co from rushing the site and getting the plant. Immortals quickly finished their food to take a tenth round, then slowed things down in 23 before executing onto A. Adren and Zeus fought manfully to hold them off before Mou turned up to help, and Hen1 was only able to secure a consolation kill with his friends all dead.
This meant a weak buy from Immortals, and a chance for Gambit to take control of a game that was ready to be won, but a push down ramp onto A gave the Brazilians the plant after Hen1 got two to open the site up. With two left, Immortals won the round, but the money was still not great and the game was perfectly poised as the tactical time out came in from Gambit.
Immortals only took one AWP at the start of the 24th, but the first kill came from kNg before Lucas1 joined in the fun. Mou and Dosia came to the rescue once more for Gambit though, wrecking Immortals' money again, and going two rounds from taking game two. Knowing their opponents could afford little more than pistols, Gambit took no risks in the next round, waiting on A, but it turned into a far more complicated affair as Boltz got two. Even so, it was a futile effort, and Gambit won their 15th round, giving them a game point.
With Immortals still having no guns or money, that was far simpler than it could otherwise have been, and we had a tied grand final after it had looked like a potential blowout. If it was to go Gambit's way, they would need to maintain their composure, but going into the last match it was truly anyone's game.
GAME THREE: GAMBIT de_inferno - 16:10 (11:4, 5:6) by Bolor 'Sapho' Enkhbold
The last map began with the Brazilians on the T side and the CIS team on the CT side. Dauren "AdreN" Kystaubaev took the first pick, followed up with a kill from Rustem "mou" Telepov. Immortals attempted to wrap into the A site but Gambit continued to pop off their heads one by one. Ultimately, all five players of Gambit found a kill of their own onto Immortals and the pistol round concluded. Immortals brought out TEC-9s and a CZ while the Gambit players utilized four Submachine guns and a Scout. Dauren "AdreN" Kystaubaev took Banana control early on, just behind the Smoke in the Banana entrance chokepoint. When Immortals tried to push, Dauren "AdreN" Kystaubaev found three kills with the MP9 before going down. His teammates cleaned up the last two Immortals players and Gambit took another on the board. Dauren "AdreN" Kystaubaev dropped his MP9 to Abay "HObbitt" Khasenov, who found four kills with the said gun, farming up dank cash.
When Immortals finally earned enough economy to buy in, Dauren "AdreN" Kystaubaev crushed them with an early pick in Banana. The Brazilians tried to put some presence in Banana in the form of Lucas "LUCAS1" Teles, he failed to check the sandbags in lower Banana and Abay "HObbitt" Khasenov capitalized off the mistake with his MP9 from the previous round. Immortals lost another opportunity and were forced to eco in the following round. Gambit played the subsequent anti-eco to perfection and found their fifth in the map while IMT sat with zero.
In the sixth round, Immortals had a decent buy. Dauren "AdreN" Kystaubaev and Abay "HObbitt" Khasenov stacked Banana with HE grenades, blowing up Henrique "HEN1" Teles and dealing a fair amount of damage onto Ricardo "boltz" Prass. But the advantage didn't pay off when Immortals attacked the A site. They found crucial opening frags on the A site and survived the round with three players alive, earning their first on the board. However, the next round was a nightmare for the Brazilians. Daniil "Zeus" Teslenko took the first pick while Dauren "AdreN" Kystaubaev shut down Immortals' B site attack with three kills.
Immortals' economy was reset, however they made the brazen choice of forcing in with a few AK-47s and upgraded pistols. Lucas "steel" Lopes started the risky round well with an opening pick in the A site, but Gambit countered the push strong. In the midst of all the chaos, Immortals managed to get the bomb down but Lucas "LUCAS1" Teles was stuck in a corner against three players. He found two and showed light of hope but Rustem "mou" Telepov's AWP brought Lucas "LUCAS1" Teles' demise and Gambit got to 7:1.
The economy of Immortals was once again in shambles, with each players having around 2k in the bank. But they forced back in once again. Though Lucas "LUCAS1" Teles found a sick kill with the Deagle, that wasn't enough to get his team the round. Finally, they decided to eco and rushed B in hopes of a fast bomb plant. But Abay "HObbitt" Khasenov mowed down all five players and earned himself the ace.
In the next round, Immortals finally found some success at A. They took over the site with three players alive and Mikhail "Dosia" Stolyarov left to save his weaponry onto the next round. The three Immortals players stacked up in right corner of Pit to save their weapons but little did they know, Mikhail "Dosia" Stolyarov had other plans for them. Right before flying off to save his rifle, Mikhail "Dosia" Stolyarov dunked a grenade to where the Immortals players were, dealing great amount of health damage onto two Immortals players. When the bomb blew up, the two tagged players died with it. This put a dent on Immortals' economy as the two players were forced to buy back.
The Brazilians went for the A site once again and took it over impressively after Henrique "HEN1" Teles opened it up. But they had to deal with Rustem "mou" Telepov on the defence, who picked off four Immortals players inside the site and Gambit took another. But Gambit weren't as clean in the following rounds as the Brazilian team managed to get two rounds on the board with sheer gun power. Unfortunately, Immortals couldn't get the last round of the half and Gambit ended it with 11:4.
In the second half of the game, Immortals picked up the pistol round after Ricardo "boltz" Prass and Lucas "steel" Lopes found two kills each with the USPS. The CIS squad forced-in with five TEC-9s and Mikhail "Dosia" Stolyarov took the initial kill. He got smoked up in Apartments but Rustem "mou" Telepov followed it up and Gambit had a 3v5 player advantage. They took over the B site but Henrique "HEN1" Teles turned the tides of the round by mowing up three Gambit players with the UMP while Lucas "steel" Lopes chimed in with two. With no money to buy in, Gambit were forced to eco. The eco wasn't successful as Gambit hoped and Daniil "Zeus" Teslenko called a time-out to plan for the coming round.
At 11:6, Gambit were left with money too small to buy-in but too large to full-eco. They opted for a partial force-buy and successfully got the bomb planted on B. However, the post-plant defence was unsuccessful and Immortals retook the site with no trouble. The main hero of the round was Vito "kNg" Giuseppe, who found three kills. In the next round, Gambit were finally able to have a decent buy and opted for the B site. They planted the bomb but were left in a difficult post-plant as Lucas "LUCAS1" Teles started a monstrous retake with three kills. However, Abay "HObbitt" Khasenov had a triple kill spray down of his own, clutching a crucial round for Gambit.
Immortals force bought with two rifles, SMGs and upgraded pistols. When the Gambit guys pushed the B site once again, Lucas "LUCAS1" Teles took two with the Deagle and amidst the chaos and the rest of Immortals ripped apart the T players. Energizing off the said round win, Immortals proceeded to get nine on the board. It was time for another buy round and another B push by Gambit. Like many of the previous rounds, Gambit took over the site and planted the bomb. But that was the easy part for the CIS guys, for post-plant defence is the real challenge. So far, Immortals were successful in the retake as Daniil "Zeus" Teslenko was left in a 1v2. After putting a smoke on the Bomb, Immortals tried to ninja defuse. But the veteran Daniil "Zeus" Teslenko wasn't having none of the sneaky play. He killed the low health defuser and hid in the smoke that Immortals put down. Immortals' own decision to smoke the bomb turned out to be their poison, as the Gambit IGL stalled the time perfectly, making sure the remaining player runs out of time to defuse.
In the next round, Immortals had a horrendous buy and Gambit easily got their fourteenth round. At 14:9, Immortals forced again with a bunch of UMPs. This time, Gambit entered the B site and even trade frags occurred in the round. Ultimately, it was a 2v2 retake for Immortals. After a misplay from Dauren "AdreN" Kystaubaev, Immortals successfully retook the site and brought themselves to ten rounds. The next round was crucial for Immortals.
The 25th round came down to a 2v2 retake once again. The Immortals guys picked off Mikhail "Dosia" Stolyarov, who was hiding amidst smoke with low health. Abay "HObbitt" Khasenov was left in a 1v2 clutch situation. One Immortals player tried to ninja defuse but received a headshot, courtesy of Abay "HObbitt" Khasenov. Abay "HObbitt" Khasenov played the time afterwards and the remaining Immortals player was, again, left with no time to defuse. Gambit reached map point and Immortals' economy was completely destroyed.
Constant trade frags plagued the next round. Ultimately, it was a 2v2 post-plant retake. After a brawl, it was none other than Daniil "Zeus" Teslenko who took the last kill of the map against Lucas "LUCAS1" Teles, who was absolutely monstrous in the grand finals series. Gambit took the map, ending the series with a 2-1 score and reigning as the eleventh CS:GO major champions.
Congratulations to Gambit Esports, who dropped only two maps in the PGL Major Krakow 2017 overall and lifted up the trophy in sheer dominance, strategic mastery, X GOD sensuality and other worldly firepower.
Image courtesy of PGL