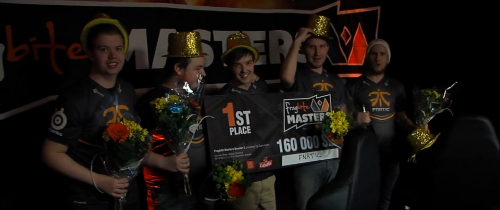 Fnatic takes the Fragbite Masters Season 3 title
Fnatic demonstrated their dominancy once again by defeating Team LDLC in the grand finals with the score of 3-1 to take away the Fragbite Masters Season 3 title and ~$22,000.
The Swedes got their third consecutive LAN title in less than a month. After winning FACEIT and ESWC they've also managed to score first place at Fragbite Masters Season 3. Although, Team LDLC knocked down Fnatic from the upper bracket during the online phase, the Swedes didnt mind it much and have just stomped their way through to the finals where they got their 'sweet' revenge without much resistance.
For coming from the upper bracket, Team LDLC had a veto advantage where they banned de_cache and picked de_dust2 and de_inferno. Fnatic went for a de_cobblestone ban and de_mirage, de_overpass picks. The deciding map would have been played on de_nuke.
The opening map, de_dust2 started well for the French team where they took a lead on the CT side with an 8-7 scoreline, however on T side they got completly shut down and Fnatic walked off in the end with a score of 16-9. The next map, de_mirage, had Team LDLC starting as CT, the more favored side on this map, which again wasn't enough since Fnatic played perfectly, 10-5 and 6-1 by halves to make it 16-6 in the total.
The third map finally brought some excitement to the series we saw a nice comeback and an amazing overtime played by Team LDLC. Fnatic had a nice half on T side where they got 5 rounds, which at that point was looking like enough to close out the match, however once they scored their 15th round they just couldn't stop Team LDLC pushing over and over again at the B bomb side, which brought the French team an overtime. In the overtime LDLC won all 3 rounds on T side and 1 on their CT side to prolong this match into the fourth map. On the fourth map, de_overpass Fnatic kicked off on their CT side winning only 9 rounds on CT side, which is definitely more favored on this map. However, they won the pistol round on T side which started a nice snowball which rolled to a 13-6 scoreline. The French team was struggling with their economy which caused them to lose three rounds where they killed all the opponents but had no defuse kits to remove the bomb. At this point they started winning rounds on their CT side which brought them close to the tie, but Fnatic pulled some nice plays to close this match out with a score 16-11.
Upper Bracket
Round 2 - Best of 3
Round 3 - Best of 3
Lower Bracket
Final
1.
Fnatic ~ $22,000
2.
Team LDLC ~ $10,000
3.
Virtus.pro ~ $5,000
4.
Team Dignitas ~ $2,500
Click here for results, VODs and all the other information