Do-or-die time for Alliance and Dignitas in TPL

A pickle of a situation in The Premier League today for Alliance and Team Dignitas. Both teams will be fighting over a spot in the final game of the season with Alliance having the slight upper hand.
It is do-or-die time for Alliance and Team Dignitas in The Premier League as their next win, the final game of the season, will determine who will be taking up the final spot in the playoffs.
So far, Fnatic.EU and Team Liquid has secured their place in the playoffs and the final game tonight will decide if Virtus.Pro and Alliance make it through, or if the league goes into a four-team tiebreak.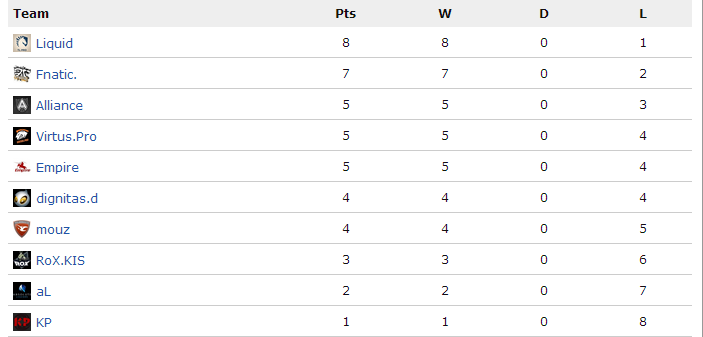 According to Premier League's rules, a point tie is solved by the result of the game between the two tied teams. With Alliance being in front of Dignitas by just one point, a win by Dignitas will result in 4-team tie. Considering that Empire had beat Alliance and Dignitas but lost to Virtus.Pro in the season, the tie cannot be broken. Therefore, the teams proceeding will be settled by additional matches.
Possible scenario:

Alliance wins:
Final four : Team Liquid, Fnatic.EU, Alliance, Virtus.Pro

Dignitas wins:
4-team tie between Empire, Virtus.Pro, Dignitas and Alliance
Laurent 'Ange' Blum, tournament organizer confirmed with Gosugamers moments ago that assuming the tiebreaks do happen, they will run on the 24th and the 25th of April. The playoffs are scheduled to begin on the 26th.
The game will begin at 20:00 CEST and be streamed on
The Premier League
Twitch channel.
Alliance versus Dignitas

    Gosubet    


20:00