Mouz defeats VP to move into second round of G-1

Mousesports beats Virtus.Pro 2-1 to move onto round two of the G-1 League EU/NA qualifiers. Mouz will be facing Alliance next in a best-of-three on the 17th of April
Mouz successfully beat VP in a three game thriller with Black carrying Mouz to victory. With the win in hand, Mouz will be moving on into the second round of the Winner Bracket and face Alliance, Star Series V champion. VP on the other hand, gave Mouz their blessing as they called the gg and has been eliminated from the tournament.
Day two of the G-1 League European and North American qualifiers will start tomorrow with Kaipi first taking on Empire at 10:00 CEST followed by QPandas versus Dignitas at 14:00 CEST. All the games will be played in a best-of-three format.
You can visit G-1's official site
here
.
Live broadcasting will be provided by
Ayesee and BeyondTheSummit.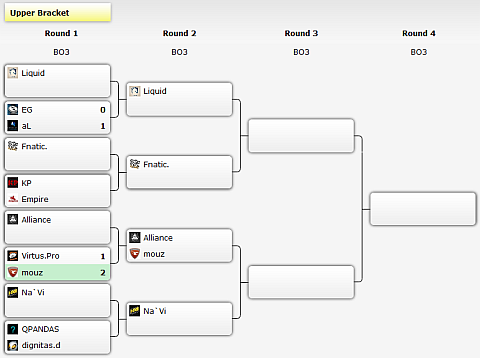 | | | |
| --- | --- | --- |
| VP |       1:2       | Mouz |
Game 1


Despite Mouz picking up a very defensive farming line-up, Mouz decided to go offensive tri-lane with Treant Protector, Jakiro and Dark Seer. Virtus Pro with a strong mid game ganking line-up decided to go defensive trilane with a farming Night Stalker, which left Black to rice freely with his signature Anti-Mage. A fast first blood went to Virtus Pro, as Furion teleported top for an easy kill on Dark Seer. The early game strongly favoured Virtus Pro's tri-lane, Virtus Pro's strong nuking power simply punished Mouz with simple pick offs. This enabled the Virtus Pro's support heroes to get farm and levels, whereas Mouz's supports were dead poor.

For the mid game, Virtus Pro immediately gave the farming role to ArsArts' Gyrocopter once Night Stalker started roaming for kills. By the 20th minute mark, Virtus Pro had an aegis, a three tower lead and was 11 kills ahead. The Russian Powerhouse demolished Mouz in team fights with better items and higher levels on most heroes; it was also greatly helped with Rubick skilfully stealing Reverse Polarity.

Virtus Pro takes the first set of barracks straight after taking down Roshan for the second time. Mouz failed badly in trying to defend middle with Magnus blinking into Rubick's lift to be killed instantly without casting any spells. Five minutes later, Mouz bottom barracks was taken down. Once the Dire's side started spawning mega creeps, Mouz calls the 41st minute GG.


Game 2


Game two eventually began after a long wait due to bad internet connections from both NS and Airman. In the end, Virtus Pro decided to play with two standins.

The game started with both teams content farming their lanes. The first blood came from Puck trying to grab the top rune; however he was ganked by the cheesy combination of sleep followed by stun from Bane and Alchemist. Despite dodging the stun from Alchemist, the Puck could not dodge the shockwave from Magnus.

The first real team fight between the two teams occurred at the 20th minute by the Roshan pit. Night Stalker with the greater vision due to his Aghanim Scepter initiated on Bane, however due to the lack of damage from Virtus Pro, they were unable to burst down anyone. Magnus quickly daggered in for his ultimate, but reverse polaritied no one. Despite a failed ultimate from Magnus, Anti-Mage was able to clean up the Virtus Pro back lines, Mouz coming out on top of that fight three to one. Mouz grabbed Roshan straight after winning the fight.

After Black faming up his Manta, Battlefury and Heart, the team decided to kill Roshan for a second time. With an aegis on Anti-Mage, Mouz felt comfortable go for the GG push. Virtus Pro tried to defend by forcing a team fight under their own bottom tier three tower, however both Antimage and Furion were simply just too farmed. Mouz managed to team wipe Virtus Pro without a single casualty. Mouz played a safe and passive game, never gave a chance for Virtus Pro to snowball out of control in the mid game. The game looked grim for Virtus Pro. They called the GG.


Game 3


Game three started off in a similar fashion to game two. Both teams opted for the defensive tri-lanes with both carry heroes farming at ease. First blood came from picking off Shadow Demon while the hero was completely out of position from trying to courier snipe.

Virtus Pro looked for ganks when both Storm Spirit and Naix hit level six. An infested storm jumped Jakiro, but Shadow Demon reacted quickly with disruption. Mouz's support came extremely fast with Magnus skewering in with a three men reverse polarity. Gyrocopter's split shot completely annihilated the Virtus Pro squad, achieving a team wipe. With the team wipe, Mouz takes an uncontested Roshan. Five minutes later Mouz managed another team wipe on Virtus Pro with Black's Gyrocopter getting a rampage, once again, Magnus was the x-factor in the team fights, blinking in for a massive reverse polarity. Virtus Pro really lacked AOE damage in team fights.

Virtus Pro defended vigilantly, however once the core heroes from Mouz got BKBs, Virtus pro has no chance. Mouz goes for the GG push, taking down the middle barracks. Virtus Pro calls the 31st minute GG.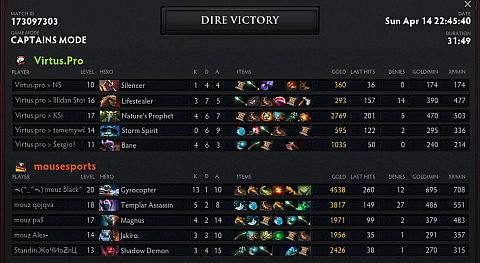 G-1 EU/NA qualifier 15-04-13

Kaipi vs Empire

      Gosubet      


10:00



QPandas vs Dignitas

      Gosubet      


14:00
Schedule (CEST)

14th April - 10:00 - EG vs aL
14th April - 14:00 - VP vs Mouz
15th April - 10:00 - Kaipi vs Empire
15th April - 14:00 - QPandas vs Dignitas
16th April - 10:00 - Liquid vs EG/aL
16th April - 14:00 - Fnatic.EU vs Kaipi/Empire
17th April - 10:00 - Alliance vs VP/Mouz
17th April - 14:00 - Na`Vi vs QPandas/Dignitas
23rd April - 10:00 - LB round 1
23rd April - 14:00 - LB round 1
24th April - 10:00 - WB semis
24th April - 14:00 - WB semis
25th April - 10:00 - LB round 2
25th April - 14:00 - LB round 2
26th April - 10:00 - LB round 3
26th April - 14:00 - WB final
27th April - 10:00 - LB final