LGD.cn's win eliminates Rattlesnake and ends group A

LGD.cn beats Rattlesnake today and placed second in G-1 Asia group A. Rattlesnake has been eliminated from G-1. NeoES.Orange topped group A and will qualify directly to G-1 League offline event later in the year. Much anticipated Zenith vs iG will begin tomorrow.
LGD.cn's 2-0 win over fellow countrymen, Rattlesnake has signified the end of group A in G-1 Asia Phase 3. With the first group all said and done, NeoES.Orange has qualified into the offline final of G-1 League while LGD.cn will have to play the second placer of Group B to proceed.
LGD.Int just made the cut with a third place finish in the group and will be seeded into the lower bracket of the mini playoffs. The European mix will be DK
You can visit G-1's official site
here
.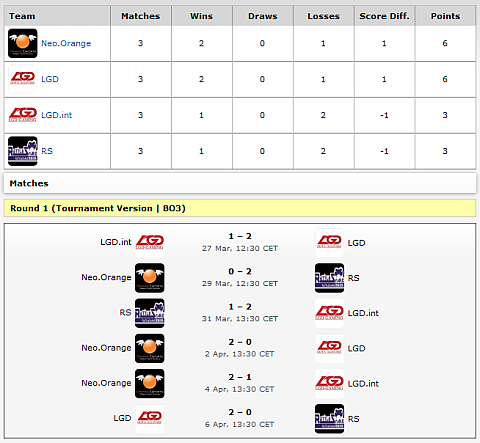 | | | |
| --- | --- | --- |
| Rattlesnake |        vs        | LGD.cn |
---
Game 1
---
LGD.cn got off to a very good start in game one, winning all of their lanes. Dragon Knight, Silencer and Shadow Demon managed to get first blood on Dark Seer. DDC's middle lane Queen of Pain completed dominated Kabu's famous Clockwerk, also Yao's Naix was able to leech some easy experience due to poor lane control from the Morphling. However Batrider still managed to farm up at a rapid rate despite most of the jungle camps being blocked off with some clever warding from LGD.cn.
Due to the lack of experience of the new team Rattlesnake, they were heavily punished for their over aggression on a fight that occurred on the top lane; with LGD.cn winning a 2-0 fight. With the early game advantage from LGD.cn, they controlled the tempo of the game.
We often associate DDC as a hard support player, however today, he showed us how to solo middle with Queen of Pain. DDC's Queen of Pain initiated couple of successful ganks on Carry Morphling.
By the 20th minute the score was 11-0 in favour of LGD.cn. Rattlesnake had lost all hopes in a comeback. They surrendered straight away.
---
Game 2
---
Game two started with a quick first blood on Leshrac as Rattlesnake three men dived the tower, however Juggernaut lost his own life in the encounter. The game got extremely heated, with exciting team fights lasting up to two minutes.
13 minutes into the match, the game was still very close with the score 7-8 in favour of Rattlesnake. However by the 13th minute mark, DDC's Magnus had already farmed up his blink dagger. This was a surprise factor for Rattlesnake. The blink dagger Magnus hit a three man Reverse Polarity, immediately followed up by Yao's Queen of Pain's ultimate, completely team wiping Rattlesnake. LGD.cn played a game with very few mistakes. After each kill, they took down one to two towers. The reshuffle in the roles of LGD.cn really paid off. In both games, DDC's solo middle really helped LGD.cn to control the tempo of the game with important ganks.
By the 26th minute mark, LGD.cn was already breaching the high ground. Rattlesnake called GG.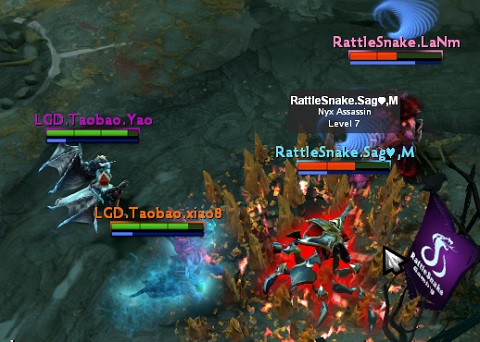 ---
Schedule (19:30 SGT):

27th March - LGD.cn vs LGD.int
28th March - iG vs Chain.Stack
29th March - RSnake vs Orange
30th March - Zenith vs DK
31st March - LGD.int vs RSnake
1st April - Chain.Stack vs Zenith
2nd April - LGD.cn vs Orange
3rd April - iG vs DK
4th April - Orange vs LGD.int
5th April - DK vs Chain.Stack
6th April - RSnake vs LGD.cn
7th April - Zenith vs iG
9th April - 2nd placer Group A vs 2nd placer Group B. Winner qualifies to LAN
10th April - 3rd placer Group A vs 3rd placer Group B
11th April - Loser of 9th April vs Winner of 10th April,Winner qualifies to LAN finals
G-1 League Phase 3 groupstage will conclude tomorrow with the much anticipated match between iG and Zenith. The game is scheduled to begin at 13.30 CET on their respective days.
Live broadcasting will be provided by
Ayesee and BeyondTheSummit.