Line-ups announced for the special HotS Proleague event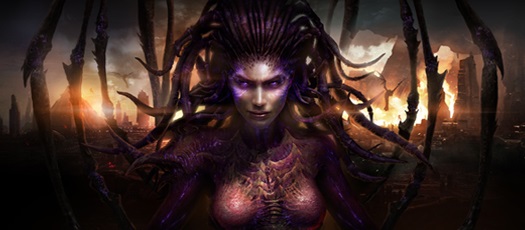 As we reported last week, KeSPA is to hold a special HotS show tournament where coaches build their own teams anew. Today, we get the eight full line-ups.
The only thing that has changed between the announcement and today's team drawings is the elimination of the "at least one of each race" restriction. As a result, the tournament will see an all-toss, all-terran and all-zerg team (as well as the ultimate dream team).
HotS special tournament: The Lineups

Team "Taekbang Leessang"
Sang Yong Han (Team 8)

Bisu
Flash
Stork
Jaedong

Team "Cute 4"
Ga Eul Kim (Samsung KHAN)

Effort
Bravo
herO
BeSt

Team "People who don't understand SC2 well"
Jae Kyun Lee (Woongjin Stars)

Jangbi
HerO
Stats
Argo

Team "CJ Stars"
Dong Woo Kim (CJ Entus)

sOs
Soulkey
ZerO
Light

Team "Masters"
Yo Hwan Lim (SK Telecom)

TRUE
JYP
Hydra
Bbyong

Team "Booster"
Yong Woon Park (EG-TL)

Major
Baby
Bogus
Last

Team "Captain of the Swarm"
Min Ki Kim (STX Soul)

Hoejja
Free
Sang
s2

Team "RorO, who is in eternal misery"
Ji Hoon Lee (KT Rolster)

Odin
Calm
HyuK
Roro

Although the rule about races has been discarded, the match format, the bracket and the dates remain the same. The teams will play matches that feature both Proleague format (for the first sets) and Winners League format (for the final sets). Quarter and semifinals are Bo5, grand final is Bo7 and all games will be streamed
here
.
Here are the brackets themselves: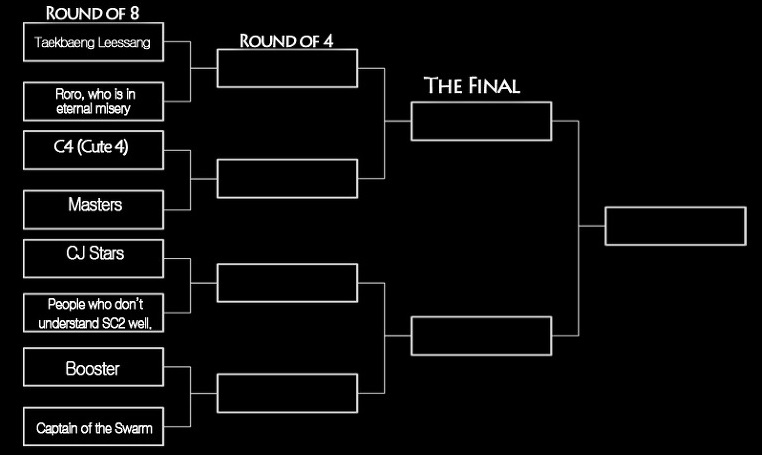 Links
TL.net
- Source
GosuGamers.net
- Announcement and more information