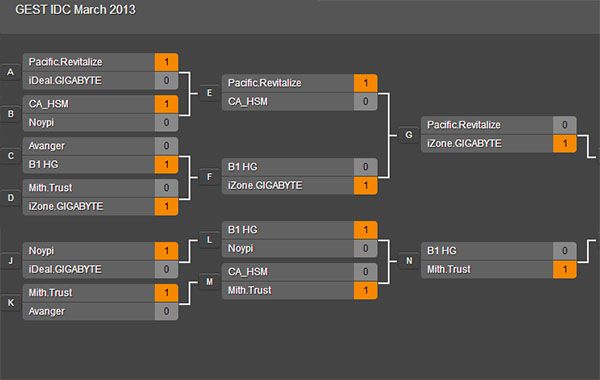 iZONE continues their dominance on DotA
The hot streak of iZONE.GIGABYTE continues, as they won the first edition of GEST - IDC 2013.
Fresh from winning the first two editions of Philippine's DotA Gigabyte Mineski Pro Gaming League (GMPGL), iZONE claimed the March edition of Gigabyte E-Sports Tournament - International DotA Competition (GEST - IDC) by defeating MiTH.Trust in the finals. iZONE finished the 8-team tournament undefeated, as they need not use their WB advantage in the finals to secure the title. MiTH.Trust, also a very active Dota 2 team, was able to reach the finals after defeating the last GEST Champion, Pacififc. Revitalize, on the LB Finals.
 With the win, iZONE has clearly established themselves as the the team-to-beat on DotA. GEST - IDC is a monthly tournament between the winners of the offline GMPGL qualifiers.

Prize: iZONE.GIGABYTE - $700 MiTH.Trust - $500 Pacific.Revitalize - $300
Links: GEST IDC coverage