SK Telecom triumph in Cologne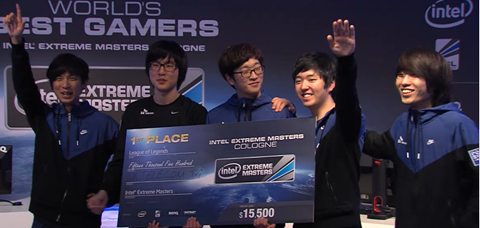 Picked up mere days before IEM Cologne, the roster under the colors of SK Telecom took home the competition in the ESL studio in Cologne in a 2-1 grand final against Fnatic.
Built around personalities like ex-Blaze top laner Reapered and former Xenics Storm jungler H0R0, the SKT flew to Germany without any previous event experience as a team and ended up second in group A, losing to tournament favorites and 4th in the GosuRanking Fnatic.
Faith decided that the two teams will have to meet again, however, and on Sunday evening, SKT clashed with Fnatic for the second time after beating MYM and CJ Entus in the semi-finals, respectively.
The group stage tides turned for SKT and they opened the series with a victory, largely thanks to H0R0's textbook Amumu play in combination with stacked up Zyra and MF ults. Getting many of their signature heroes in game two helped Fnatic even out the score but the history from game one repeated itself in the closing set. With H0R0 on Amumu, Reapered on Olaf and StarLast on Zyra, SKT pounded the Europeans into defeat, taking another championship for Asia.
IEM Cologne standings
1.
SK Telecom T1 - $15,000 + IEM Worlds seed
2.
Fnatic - $8,500
3-4.
Meet Your Makers - $4,500
3-4.
CJ Entus - $4,500