IefNaij joins up with FnaticMSI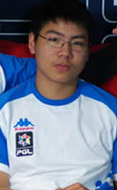 The former Broodwar player Jian Fei 'IefNaij' Wang joins one of the top StarCraft 2 teams in the world at this point: FnaticMSI. He will be the the 9th player in their strong roster.
IefNaij was one of the strongest Protoss players in Brood war for a long time, he has now switched to StarCraft 2 and he joins up with the FnaticMSI team who just last week signed the Spanish top player Pedro 'LucifroN' Moreno Duran.
FnaticMSI.SC2 LINEUP
Pedro 'LucifroN' Moreno Duran
Andre 'Gretorp' Hengchua
Lok-Yin 'KawaiiRice' Kwong
Wojciech 'Funkyy' Komincz
Jian Carlo 'Fenix' Morayra Alejo
Payam 'TT1' Toghyan
Kristjonas 'Krr' Barisas
Jian Fei 'IefNaij' Wang
James 'Moutas' Moutafidis
Links
FNATIC.com
- IefNaij join FnaticMSI