MorroW takes down Socke to win ZOTAC #15
The Swedish terran player takes down Socke with 3-2 to win the grand final of the ZOTAC StarCraft II Beta Cup #15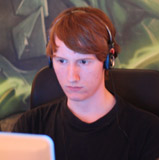 ZOTAC isn't wasting any time waiting, just a few days after the StartCraft 2 beta returned in Europe the ZOTAC cup is back with a 100€ prize pool. 532 players signed up for this tournament and in the end there was only one man standing, the Swedish terran player MorroW manage to take yet another ZOTAC cup win.
On his way to the victory MorroW took down players like GoOdy and PredY to finally beat Socke in a 3-2 match.
The next ZOTAC Cup will be played next
Sunday at 14:15 CET
. Don't forget to sign up or tune in to any stream that will be broadcasting this event for some good entertainment.
Links
ZOTAC Cup
- MorroW wins ZOTAC #15
Sign up for the next
- ZOTAC cup
GosuGamers
- Download the final replays