GosuGamers and SteelSeries present HoN World Cup with $40,000 prize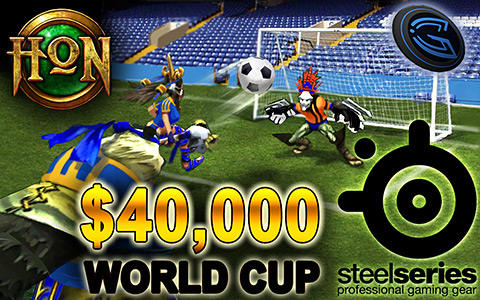 In celebration of the launch of Heroes of Newerth and the upcoming 2010 FIFA World Cup, SteelSeries and GosuGamers are proud to present the SteelSeries HoN World Cup.
As players of national football teams around the world prepare for the premier competition in their sport, you can prepare for and take part in the premier competition of our very own eSport. The
SteelSeries HoN World Cup
boasts a whopping $40,000 prize pool, and offers chances to win cold hard cash for top competitive players, casual gamers, replay enthusiasts, and soccer fanatics alike.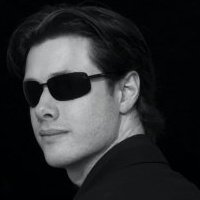 No World Cup would be complete without spectacular coverage and commentary. So, in addition to the exciting launch of our
HoN section
on GosuGamers, we can announce that the one and only
Toby "TobiWanKenobi" Dawson
will be partnering up with
Honcast.com
as a guest on the live shoutcasts of the tournament's most anticipated matches!
Each week Honcast will be taking votes from the GosuGamers community on the most popular match to shoutcast from a selection of that week's most anticipated matches. Now without further ado, here are the details of the SteelSeries HoN World Cup.
HoN World Cup Format
Qualification
GosuGamers will be holding qualifiers for each of the 5 main regions:
- Southeast Asia Qualifier *
- Eastern European Qualifier
- Western Europe & Africa Qualifier
- North & South America Qualifier
- Asia, Oceania & Mixed Qualifier
* = Singapore, Malaysia, Vietnam, and the Philippines through Garena
Tournament registration will begin on May 19th and close on June 1st so don't be late in registering!
Registration for the Southeast Asia Qualifier will be on a first-come, first-serve basis with a maximum of 128 teams composed of 5 members each. We will be receiving and distributing Closed Beta keys from Garena to those 128 teams so they can compete in the tournament once registration closes.
A select number of top teams from each qualifier tournament will be admitted to the Group Stage of 64. Each region's number of qualification slots will depend on the proportion of registered teams that belong to that region and will be determined once registration ends, so help make sure that your region is well-represented to get the maximum amount of qualification slots!
Group stage
The 64 qualified teams will battle it out "World Cup-style" in 16 groups of 4 teams with a Bo1 format, and the top 2 teams of each group will advance to the next phase, the playoffs!
Playoffs
A bracket featuring the remaining 32 teams will give us the thrills, excitement and drama that only elimination playoffs can provide, and through the chaos we will crown the HoN World Cup Champions! The playoffs will be played in a double-elimination tournament bracket. Best of three (Bo3) for all rounds in the Winner Bracket, while the first two rounds of the Loser Bracket will be best of one (Bo1). All the rounds thereafter are best of tree (Bo3). The Grand Final is played best of five (Bo5) with the winning team starts up 1-0.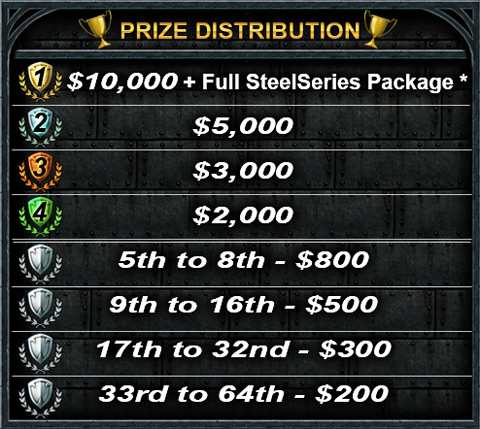 * = (Choice of Headset, Keyboard, Mouse and Mousepad)
5 SteelSeries Siberia v2 Headsets for each regional qualifiers winners will be handed out.
Some of you will realize that the total prizes outlined above fall just short of $40,000. Don't worry, you will not be short-changed! In addition to the run-of-the-mill prizes awarded to the tournament's standout performers, we will be awarding cash prizes to the winners of three fun side competitions!
SteelSeries Mousepad Design Contest
In addition to the upcoming announcement of their HoN-themed product line, SteelSeries will be offering GosuGamers members the chance to immortalize themselves on one of their custom HoN QCK mousepads. Registered members of the GosuGamers community will be able to submit their HoN concept artwork to SteelSeries and one lucky person's fan art will be chosen! Full contest details will be announced soon on
http://www.facebook.com/SteelSeries
so become a fan and don't miss out on this one time rare opportunity!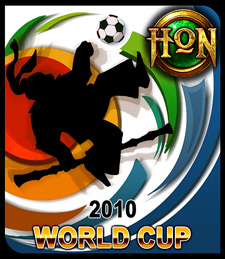 World Cup Pick'em
We know a lot of you are excited about the upcoming World Cup in South Africa, and there's nothing more fun than supporting your nation or favorite team by picking it to win it all. Each participating team in the HoN World Cup will be asked to pick the nation that they think will win the 2010 FIFA World Cup this summer upon registration. The teams which correctly pick the World Cup Champions will automatically be entered into a random lottery in which one lucky team will win $1000!
2 additional community contests with prizes will be announced in the next few weeks, so stay tuned to GosuGamers.net for more information on upcoming events!
Tournament rules
A detailed list of the tournament rules and complete registration instructions will be announced in the next few days!
With 64 paying placements and ways for even the spectators and football hooligans to net some prizes, the SteelSeries HoN World Cup is certain to be a fun, memorable, and profitable celebration of the launch of Heroes of Newerth and this summer's World Cup. So team up with your friends, prepare for the imminent Pandamonium, and follow the event on our new Heroes of Newerth section to find out which teams can bend it like Ophelia!