Grubby with 26-point lead in GosuGamers Rankings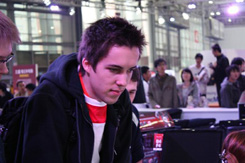 Evil Geniuses captain Manuel "Grubby" Schenkhuizen tops the GosuGamers Ranking after successes in the last two ZOTAC Cups and in the WC3L playoffs.
The Orc Dutchman is ahead of Sky by 24 points holding a total of 1560 points with 506 wins and 196 losses.
Dong Hwan "ViOlet" Kim skyrocketed to sixth place after last month's first place in the sixth XPLeague season.
Koreans and Chinese players split the first place of number of players on the list, both at 9 each. Sweden, Spain and Russia share the second place with two players each.
Orcs continue to dominate the Warcraft world, with ten of the 30 players playing the Greenskins. Humans and Night Elves are split second on seven each while Undead only flag six.
GosuGamers Rankings Top 30 03
#
Player
Team
Pts
#1
Grubby (Manuel Schenkhuizen)

EG

1560
#2
Sky (Xiaofeng Li)

World Elite

1536
#3
Infi (Xuwen Wang)

World Elite

1498
#4
Moon (Jang JaeHo)

Wemade Fox

1494
#5
Lyn (Park Jun)

WeMade Fox

1493
#6
ViOlet (Kim DongHwan)

Serious Gaming

1493
#7
Soccer (Yoon DeokMan )

Wemade FOX

1492
#8
ReMinD (Kim SungSik)

MYM.WC3

1456
#9
Happy (Dmitriy Kostin)



1444
#10
LucifroN (Pedro Moreno Durán)

MYM.WC3

1435
#11
TeD (Zhuo Zeng)

World Elite

1411
#12
WhO (Jang DuSeop)



1403
#13
Like (Kejing Li)

World Elite

1394
#14
FoCuS (Eom HyoSub)

Mojawi Gaming

1386
#15
Fly100% (Wei Liang Lu)

EHome

1386
#16
suhO (Hao Su)

World Elite

1345
#17
Sai (Chenglong Zhou)

EHOME

1345
#18
Check (Lee HyeongJu )



1338
#19
VortiX (Juan Moreno Durán)

x6

1318
#20
ToD (Yoan Merlo)

Mill

1316
#21
DowaQ (Hjalmar Högberg)

Serious Gaming

1315
#22
TH000 (Huang Xiang)



1311
#23
Future (Shenghui Li)

World Elite

1307
#24
KaS (Mihaylo Hayda)

Poff

1285
#25
Space (Park SeungHyun)

Mojawi Gaming

1263
#26
Thorzain (Marcus Sebastian Eklöf)

Raptor

1258
#27
iXi (Daniel Spenst)

ALTERNATE aTTaX

1245
#28
Cash (Artem Schirobokov)

Raptor

1245
#29
ThomasG (Thomas Glinski)

GaB

1243
#30
DeMusliM (Benjamin Baker)

MYM.WC3

1237

Links
GosuGamers.net
- Full ranking