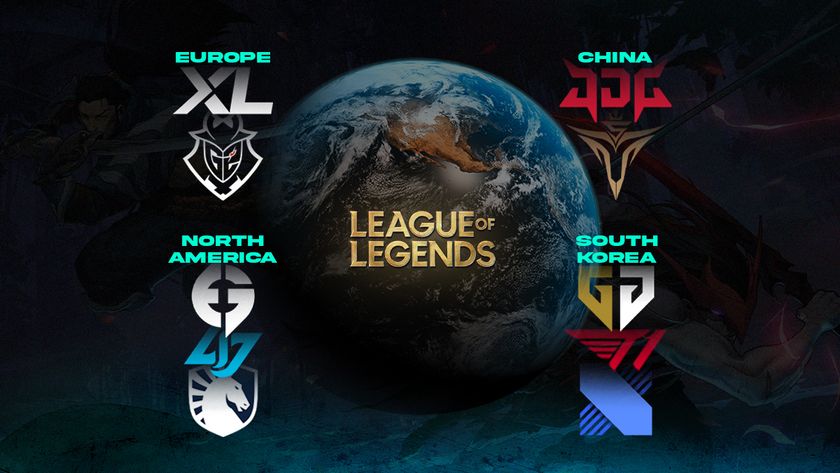 The best teams across the major regions in League of Legends so far
The road to Worlds 2022 is well underway with the best teams around the globe.
We are a little over three months away from the biggest League of Legends tournament of the calendar year, the world championship. More commonly known as Worlds, Riot Games' biggest yearly tournament is just mere months away from happening and is expected to take place around October if history is any indication. With Reykjavík, Iceland playing host last year for both the Mid-Season Invitational and Worlds, it appears that North America will now be playing host to the game's biggest stage.
The last time this happened was in 2016 with the likes of San Francisco hosting the group stage matches while Chicago, New York, and Los Angeles was the host city for the playoffs. This time, the play-in stage will be held in the Mexico City Liga Latinoamerica (LLA) competition arena. From there, both the group stage and quarterfinal matches will be played in New York City at the Hulu Theater in Madison Square Garden. As for the semifinals, that will take place at the Scotiabank Arena in Toronto, Canada before moving to the Chase Center in San Francisco to cap it all off.
As it stands, most regional leagues worldwide are currently going through their summer split campaigns. The only exception is the PCS, which covers the Southeast Asian, Taiwan, and Hong Kong regions of Asia Pacific and will only begin in July. With that said, we'll be leaving out the teams from the PCS for now.
The unpredictability of the LPL

With LPL teams taking the last three major LAN events (two MSI titles and one Worlds title), the likelihood of the region making it four Riot LAN events wins in a row seems pretty sure. The likes of EDward Gaming and Royal Never Give Up have been the region's strongest teams by far over the past two years with RNG winning back-to-back MSI titles as well as being the first team to claim three LAN victories at MSI. As for EDG, they won Worlds last year after a nail-biting series against DWG.KIA.
And due to the LPL's dominance in League of Legends in recent years, it's no surprise that they will most likely get four slots to Worlds 2022, much like they did last year. With that said, it's anything but easy to determine who will make it to the playoff portion of the summer split with many teams in the LPL finally finding their footing. While it's still early days, the likes of JD Gaming and Victory Five lead the table at 5-0 and 4-0 respectively while last year's Worlds winners EDG sits at fourth place in the standings at 4-1 while RNG settles in at eighth with 2-1.
After three weeks' worth of games, we're now in week four with both JD and V5 in spectacular form. The former has been a step above everyone else so far with key victories against Top Esports and EDG proving to be vital in the team's performances so far. Not to be undone, the latter has also been keeping up by defeating the likes of FunPlus Phoenix and RNG in a space of a few days of one another. With week four's games coming up, it will be interesting to see who comes out on top.
JD will be going up against ThunderTalk Gaming as well as FPX with both games looking to be fairly straightforward for the top-seeded team at the moment. As for V5, they've got games against Team WE and Anyone's Legend. While Team WE sit second from the bottom, AL could prove to be a tricky fixture as they're currently sixth in the standings.
Three-way dogfight in South Korea

South Korea has always been seen as the pinnacle of professional League of Legends with the region boasting the likes of T1 as the world's most recognisable team in the game. However, the last time the LCK reigned supreme was back in 2020 when DWG took Worlds that year. But aside from DWG's dominant display that year, the LCK has not fared well on the international stage with their supremacy only lasting from 2013 - 2017, which included five consecutive titles. With the likes of DWG losing two finals last year as well as T1 losing at MSI earlier this year, the LCK still has plenty of ground to cover if they want to catch up to the LPL.
As for the LCK Summer Split, three teams are currently battling it out for the top seed with Gen.G Esports and DRX sharing the first-placed spot with T1. All three teams are currently 4-0 after two weeks' worth of games with nothing pulling them apart from one another. DRX's last four games seemed fairly easy for the team as they only dropped a single match in four best-of-threes. However, the same can be said for both Gen.G and T1 as well. The only key difference here is that Gen.G and T1 have had to play against DWG last week, which they won rather convincingly.
Both T1 and DRX will break the deadlock this week when they play one another on July 1 to determine who will come out on top. As for Gen.G, they will be looking to take advantage of the situation as they will be facing off against Nongshim RedForce and Kwangdong Freecs, two games they will be hoping to take without much resistance and head straight for the number one spot.
It's also a tight battle for the fourth seed with three teams currently tied at 2-2 apiece. The likes of DWG, NS RedForce, and SANDBOX Gaming will be looking to improve on their performances over the last few weeks. One team in particular that many will be paying attention to is DWG, who just a year ago, was the LCK's best team. But now, they are currently struggling with inconsistencies in their performances.
EU's redemption arc

While the LPL and the LCK have dominated the international stage in recent years, there was once upon a time when the LEC were the top dogs. Sadly, those days are long gone and the hopes of reviving them grow fainter with each passing year. The LEC has never been able to dethrone either of the top two regions, having to always settle for third while constantly battling the LCS for the bronze medal. Fnatic remains the only team from the LEC to win a world championship with G2 coming close on several occasions.
And with the LEC Summer Split in full swing now, both G2 and Excel Esports sit at the top of the standings, sharing the same 4-1 scoreline. Both teams have had a great two weeks so far, winning four of their five games. However, G2 has the upper hand over XL after defeating them a few weeks back, giving themselves the advantage over their tied scoreline. G2 will be looking to redeem themselves on the world stage once more after coming up short at MSI, even if their performances didn't necessarily reflect their standing.
As for XL, they will be hoping to keep this positive run going as it's the best performance the team has put up to date. The fact that they managed to take down the likes of Fnatic and MAD Lions this early on is a sign of things to come for the London-based organisation. With their next two games against Team BDS and Rogue this week, many are expecting XL to extend their run to keep the pressure on G2. Speaking of which, G2 will be busy having their hands full with games against Fnatic and MAD. If they can replicate XL's performances, we will be in for an entertaining next few weeks in the LEC.
As for MAD and Fnatic, they will be looking to get their tournament lives back on track. They are currently tied for fourth place alongside Astralis and Rogue with all four teams sharing the same 3-2 scoreline. The LEC is likely to receive at most three slots to Worlds 2022 this year and it'll be interesting to see which of the four teams vying for that last slot will take it. Historically speaking, both MAD and Fnatic have a good shot to make it to Worlds given the level of experience both teams contain within their ranks.
Can NA finally step up?

The LCS has always been a roller coaster ride of emotions with many teams constantly fighting for the top spot. The likes of TSM, 100 Thieves, Cloud9, and Team Liquid are just some of the big names from the region who have made a name for themselves over the years on the international stage. However, teams like Counter Logic Gaming and Evil Geniuses are finally crawling out of the woodwork and are prepared to step their game up. The LCS in general has always been perceived for its lack of finesse and end-game product, which has been one of the reasons why teams generally underperform on the world stage.
But with the LCS Summer Split, teams like CLG, EG, and Liquid are currently tied for the top seed with the same scoreline of 4-1. 100T separates the top seed from the fifth with C9, FlyQuest, Golden Guardians, and TSM vying for a top-six spot in the playoffs. Lastly, there's Dignitas and Immortals, two LCS teams who for the most part, haven't been at their best this season. But with EG, CLG, and Liquid sharing the top spot, it makes for an interesting read on the shift in power dynamics within the LCS.
CLG is known as the oldest active professional LoL team, having been a part of the scene for more than a decade. But even with its history, it doesn't allude to the fact that CLG has underperformed over the last five to six years without any major appearances aside from the LCS Regional Finals. The team's heyday was back in 2016, which included a second-place finish at MSI. However, CLG is looking to restore their name to its former glory with a strong start to the Summer Split.
But it wouldn't be just another walk in the park as they will have to fend off the likes of EG and Liquid. While Liquid has been a mainstay at Worlds for the past four iterations, they have never managed to make a mark on the world stage. Having been one of the LCS' better teams for some time now, Liquid has always been able to dominate regionally, but the same can't be said elsewhere. As for EG, however, this is arguably their best season yet having made it to their first international LAN since returning to the LCS. They will be hoping to make it two-for-two this season with a trip to Worlds as well.
---
While most games this week wouldn't necessarily determine which team will qualify for Worlds, it will set the tone on what to expect for the next few months. With regional finals set to take place once the playoffs have been concluded, it's only a matter of time before we can determine which teams will be heading to North America for Worlds 2022. Be sure t o check back again for more updates in the coming days!