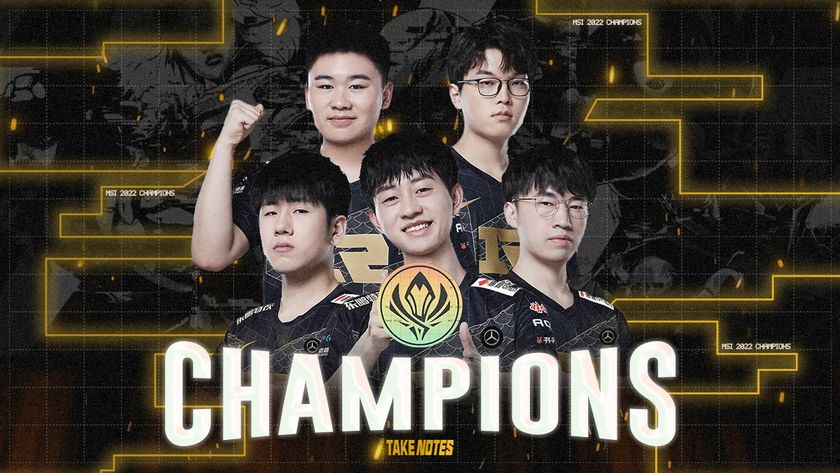 MSI 2022: Royal Never Give Up make it three MSI titles after defeating T1
Royal Never Give Up brings T1 to the distance to take them out after five games.
In the land where many were expecting T1 to dominate on home soil, it has since been tarnished by the LPL and Royal Never Give Up, claiming their third MSI title while also doing it in back-to-back years. RNG took T1 to all five games in the grand finals held in Busan, South Korea where the LCK champions were left stunned by RNG in the last and final match. The Chinese giants are now the first team in League of Legends history to claim three MSI titles.
Of course, one cannot overlook the fact that RNG played with virtually no real life disturbances as well as undoubtedly, without much pressure. Playing from a remote location, RNG looked way more comfortable in the best-of-five as opposed to T1, who had to play in front of a roaring home crowd. While it was a tightly-contested affair with each team getting a win over the other, it all came down to which side the momentum had shifted during those five games.
Game one was close to being a near-perfect game for RNG, who managed to not only claim first blood but kept the momentum going from there. For most of game one, RNG was in cruise control while still keeping T1 at arm's length for the majority of the match. Chen "Bin" Ze-Bin was the standout performer in game one, going 13/0/3 on Gwen and showcasing his true potential in the top lane. Unfortunately for T1, there was very little chance of them getting back into the game once RNG hit their peak levels in record time.
As for the second game, it was T1's time to shine as the pendulum swiftly shifted in their direction from the early game onwards. T1 managed to win most of their early game skirmishes as they were determined to not allow RNG time and space like the previous game. They also had superior map movement and rotations, which allowed for smarter plays to be made to give themselves the advantage. One such occasion was T1's Baron fight while having two members down with Sang-hyeok "Faker" Lee rolling back the years on his Lissandra by getting the perfect initiation. To top off a perfect response, Lee "Gumayusi" Min-hyeong was on a tear with Jinx, going 8/0/2 to tie up the series.
Sadly, the momentum wouldn't stay with T1 for long as RNG got off to a perfect start in game three, which was a solid enough foundation for them to build upon. It got even better heading into the mid-game with Yan "Wei" Yang-Wei grabbing an early triple kill on his Viego. He was the difference maker in the third game for RNG, rotating very early on to get his team on the board with some key kills. While T1 did come back swinging in the third game, it wasn't enough for RNG to take the win with Wei being the only member of the team to not die while still walking away with eight kills to his name.
The fourth game was wildly different from the first three with both teams playing it extra safe and taking little to no risks. Both teams were content with sitting back and farming with T1 having the slight edge in terms of gold while RNG had the only two kills of the game by 20 minutes. However, they were playing right into T1's hands with the LCK champions playing it smart and safe, managing to out-farm RNG while still having map dominance. They were even able to team wipe RNG while fighting for a drake with Faker's Leblanc going to town. From that fight on, it was all T1 as they soon made their way into RNG's base without much resistance.
In the fifth and final game of the series, the momentum had firmly shifted between both teams twice now and if history was any indication, it was going to be RNG's game and they could sense it from China. They even capped it off by getting their fifth first blood of the series, getting the jump on T1 in every match. It also didn't help that Faker wasn't himself in the last game, getting caught out on more than one occasion and putting his team in a bad spot. For the most part, it was a seemingly one-sided game with RNG cruising to victory with ease to claim their third MSI title.
This puts the LPL champions as the first team in the world to claim three MSI titles. RNG also became only the second team to be able to defend their MSI title, winning it in back-to-back attempts. With their latest international win under their belt, this puts RNG in good stead for Worlds, which they will also be looking to reclaim for the LPL.