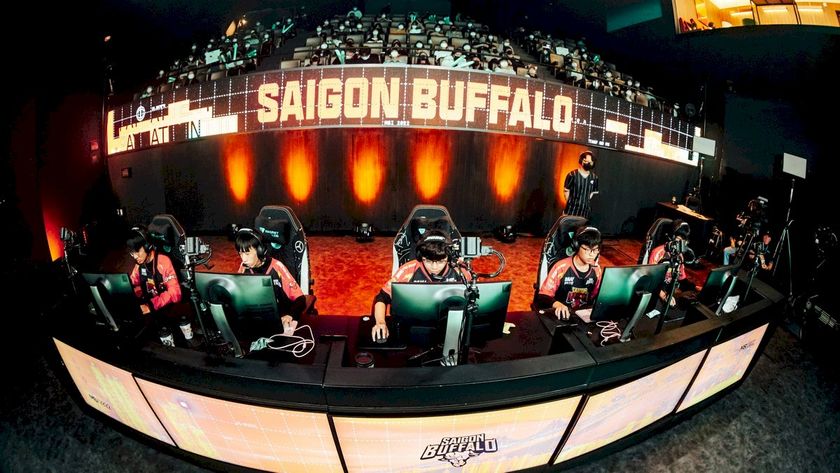 Day 2 of MSI 2022 continues with Saigon Buffalo and T1 picking up key victories
T1 remains the second undefeated team of MSI 2022 with Saigon Buffalo picking up a key win.
With G2 Esports going 3-0 in Group C, we turn our attention to Group A with both Saigon Buffalo and T1 taking key victories against Detonation FocusMe and Team Aze respectively. SGB finally got their tournament ball rolling after falling to the LCK champions yesterday. Speaking of which, T1 remains the second undefeated team at MSI while also having one foot in the door to the Rumble Stage.
Being one of the MSI sweethearts last year, DFM came out this year to prove that they aren't just a one-trick pony. After claiming their first victory yesterday, they were looking to make it two wins in a row but SGB had other ideas. While DFM did lead for the majority of the early game, it was SGB's team composition that allowed them to hold it out and come back during the mid-game. As the game wore on, DFM was unable to contain SGB's aggression, which resulted in them getting key kills to bring the game level.
Come the late game, both teams looked poised to take the win with neither of them giving an edge away. Unfortunately, it was SGB who had all the momentum with Sylas and Lucian putting in the grease work to grind out the win. With SGB finally getting a win, this leaves the second seed in Group A wide open to see who will claim it.
As for T1, their dominance over Group A continued with Team Aze the next team in the firing line. After swiftly dismantling SGB the day before, T1 did not let their foot off the gas and went full throttle. Starting from the get-go, T1 took complete control over all three lanes, not giving Aze any time to get comfortable.
T1's rotations in the early and mid-game were crucial in building the team's ever-expanding lead, coupled with their high burst damage composition. While Aze did all they could to mitigate the damage but T1 was too much for them. So much so was their dominance that they kept Aze to just three kills while T1 racked up 24 with Ahri going full ham from the very start.
With Group C and A now officially done with, day two ends with Group B with the Royal Never Give Up and PSG Talon ending the night in what will be a game to watch for the MSI 2022 group stages.