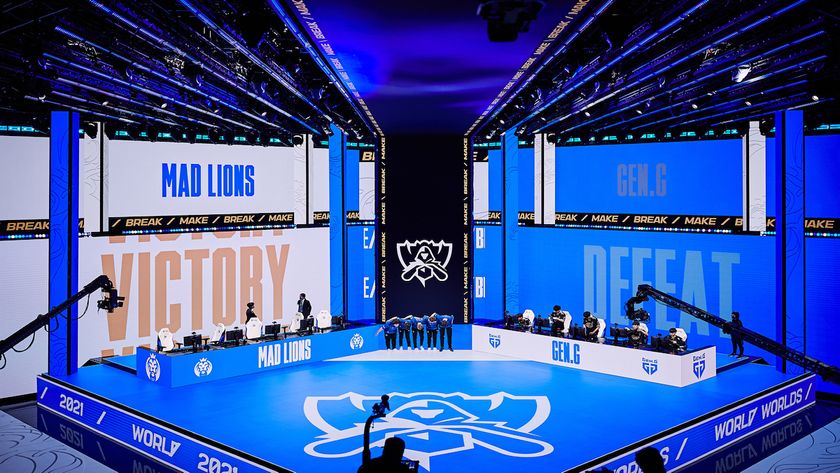 Our thoughts on Day 2 of the Worlds 2021 Group Stage
The second day of the group stage at Worlds 2021 brought even more action-packed games to Iceland as the race to reach the playoffs starts to heat up.
It's only the second day of Worlds 2021 and already we're getting a clearer indication on which team will make it through to the playoffs. Group A has DWG.KIA is at the top while both EDward Gaming and Royal Never Give Up top Group B and C respectively. It's not the same in Group D, however, as all the teams are currently tied.
Day three will be the last and final time all groups will play two matches a day as, after a 24-hour break on Thursday, we will commence with the final leg of the group stage with every group playing six games throughout Friday and the weekend. This will put us in good stead to see who is on track for the playoffs.
Both the LEC and LCS falter
For a region that boasts many top talents, it's hard to find any reason to support any team from the LEC or the LCS. With teams from both regions still struggling for form, it's hard to see many of their biggest name making into the playoffs. The likes of 100 Thieves and Team Liquid have managed to keep themselves all square at one apiece while teams like Cloud9 have had a torrid time so far at the tournament after an emphatic Play-In Stage.
As for the LEC, it is Fnatic who have suffered the worst recently. After losing their AD carry, the team went on to lose both of their first two games. This leaves the team in a vulnerable position heading into day three as it will not get any easier from here on out.
The PCS represents
PSG Talon has finally made itself known to the rest of the world after taking down one of the LCK's top teams. It took a while for the PCS team to get themselves on the board and they did so convincingly. While the game was marred by various technical issues that caused a lengthy game delay, it wasn't enough to deter the PCS representatives from grabbing their first win on the group stage.
With Beyond Gaming already out of the conversation, it's up to PSG Talon to bring home glory for the PCS region. While it's hard to picture the team going all the way, one can't help but wonder just how great their chances can be of winning.
LCK feeling the heat
After a successful first day, the LCK has since stumbled. All four teams claimed opening day victories but have since tripped up with only DWG.KIA is capable of maintaining a perfect record. The likes of T1, Hanwha Life Esports, and Gen.G all lost their game today, which will make things even more interesting for tomorrow.
While there's still time to catch up, the clock is ticking with the games coming thick and fast. DWG.KIA is expected to top Group A while T1 and HLE are currently mid-table in Group B and C respectively.
All square in Group D
Speaking of Group D, it appears that all four teams have managed to win and lose one match, making it a complete stalemate as we head into the last two days of games. It will be interesting to see who comes out on top tomorrow as it can be anyone's game at this point. MAD Lions finally notched up their first win alongside LNG Esports but will now play each other whilst Team Liquid goes up against Gen.G.
It will be interesting to see who from Group D makes it to the playoffs as all four teams are very capable of lifting the Summoner's Cup. However, no team from Group D has ever lifted a major international trophy before, giving each team good reason to push through to the final day.
Yuumi making headway
Ever since DWG.KIA's first-pick Yuumi against FPX, the magical cat has since been picked up five more times while being banned on six separate occasions. It has also won four of its six games, making it a very potent pick in the right hands. Her support plays have allowed her to be an ever-present force in shaping the game's meta.
But that doesn't mean that Yuumi is the top pick of the game as well with the likes of Miss Fortune, Graves, and Jarvan IV who have featured the most during the group stages. While Miss Fortune's presence has been expected, it is both Graves and Jarvan IV who have managed to slip under the radar.
What Day Three brings
Group A looks pretty straightforward with DWG.KIA expected to top the group and with FPX finally getting themselves on the board, will probably clinch second place. As for Group B, EDG looks to be in fine form while the likes of 100 Thieves and T1 are close behind. Group C looks locked and loaded for RNG who are leading the way while PSG and HLE are following behind. Lastly, there's Group D where everything is all even at the moment, making it even harder to determine who will make it through.