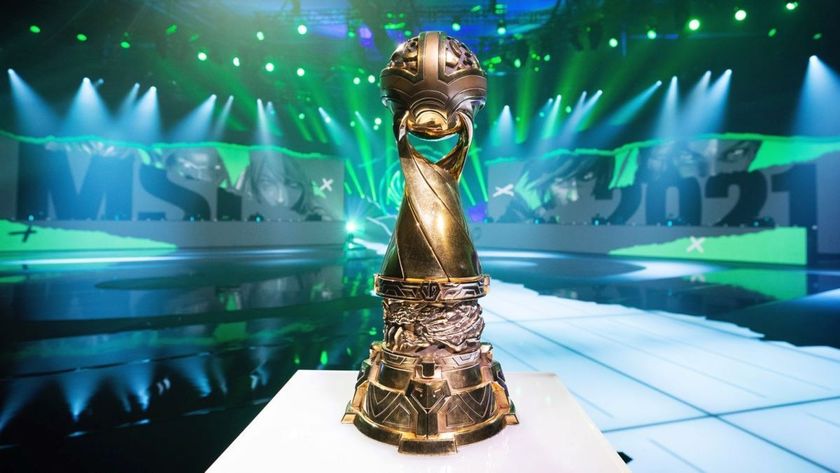 Mid-Season Invitational 2021: Day 2 of the Group Stages
Day two of the Mid-Season Invitational showed just what we all needed, some great League action.
Like clockwork, day two began to great anticipation with Group A frontrunners

Royal Never Give Up taking two games in a row. Group C was next as
DWG KIA increased their lead while
DetonatioN FocusMe managed to cover some ground. We round up the night with Group B where
MAD Lions proved why they deserve to be here and

PSG Talon pulled a win back.
Royal Never Give Up vs Pentanet.GG
The Chinese titans took their second match with

Pentanet.GG in their stride by firing on all cylinders. The early game saw plenty of action with 10 kills spread across the board and seven going to 

Royal Never Give Up . RNG kept up the kill lead to go along with its gold, farming and hunting whenever possible.
While PGG did try their best to keep up, RNG was just too composed and methodical.  Chen "GALA" Wei couldn't be stopped, picking up a quadra kill at the 22-minute mark. With four dead, this gave RNG the freedom of the map and ended the game with a push that decimated PGG's base.
Royal Never Give Up vs Unicorns of Love
In the second game, RNG extended their lead as they faced off against

Unicorns of Love . However, RNG was riding on momentum from their first game, taking the second by storm from the start. Building a good gold lead in just 10 minutes and slaying the Dragon just minutes later.
What followed was a precise and controlled game from RNG, picking off UOL all around the map time and time again. Even before 25 minutes, RNG was breaching the base and taking over in a blink of an eye.
Infinity Esports vs DWG.KIA
The leaders of Group C, 
DWG KIA built upon their lead from yesterday, dismantling
Infinity Esports . DWG's YongJun "Ghost" Jang was not to be messed with in the bottom lane, taking three kills in the opening six minutes. The next 10 minutes were just a steamroll by DWG all over the Rift.
After taking the Baron, it was Heo "ShowMaker" Su 's time to shine and started their demolition of Infinity by picking them off over and over. The bleeding could not stop and DWG decided to end Infinity's misery by pushing the Nexus in under 25 minutes.
Detonation FocusMe vs Cloud9
Day two was not kind to

Cloud9 as [team7469[/team] managed to cover up some ground by picking up the win. They start the game off on the right foot with Geon "Steal" Yeong Moon picking up the first blood. But thankfully, Jesper "Zven" Svenningsen did manage to take one back.
It was a very tight knit game for the most part with both DFM and C9 trading kills back and forth. C9 tried to go for a fight at the bottom lane river and Ibrahim "Fudge" Allami came up clutch with a triple kill. Sadly, it didn't work out too much as Aria showed off great skill to clean off C9 in the river. DFM then ran down mid lane and took the Nexus.
Istanbul Wildcats vs MAD Lions
MAD Lions were another team that are looking to book their slot into the Rumble by taking apart

İstanbul Wildcats in a highly entertaining match. But the Wildcats weren't going out without a fight, proving that they deserve to be here too. At the 16-minute mark, Wildcats caught MAD out of position and team wiped them, reducing the gold lead as well.
The mid-game was tightly contested as MAD managed to secure the Baron and soon after take out three from the Wildcats in the middle lane. After grabbing another Baron, they head towards the Wildcat's base and managed to take out the bot lane structures but couldn't sustain the push. The Wildcats soon caught Norman "Kaiser" Kaiser out of position and after taking him out, took MAD's mid structures and Marek "Humanoid" Brázda too. But MAD did eventually fight themselves out, securing the Baron again and gave Matyáš "Carzzy" Orság the perfect platform to go wild.
paiN Gaming vs PSG Talon
SEA's best and brightest face off against SA's top talent.

paiN Gaming still has something to prove to the rest of the world while

PSG Talon took the opportunity to kickstart their campaign. brTT styled on PN in the early game, taking a quick double kill at the bot lane. However, Yi-Tang "Maple" Huang one-upped him after overturning while defending his tier one tower.
There was no coming back for PN soon after as they could not keep up with PSG's tempo of gameplay. Their Nexus soon after with PSG taking down the base in just 25 minutes.
Still to come...
It's time for UOL to have their two-game series to start off day three, followed by DK versus DFM with C9 against Infinity. To end the night, MAD go up against PN to further solidify their place PSG face off against the Wildcats.