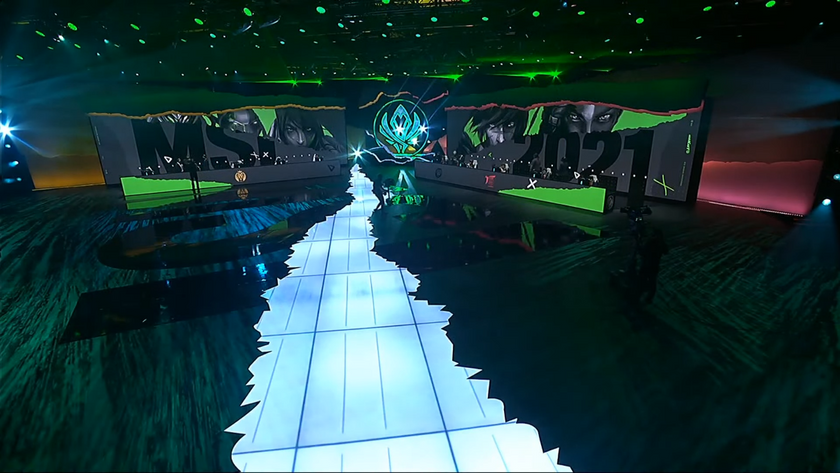 Mid-Season Invitational 2021: Day 1 of the Group Stages
Day one of the Mid-Season Invitational 2021 is off to a great start with insane matchups.
Right off the bat, day one of MSI 2021 starts with a bang in Group C for 
DWG KIA and

Cloud9 , the number one team in the world versus the best team in North America. Straight after, it was
Infinity Esports taking on
DetonatioN FocusMe .
Group A follows suit, especially for

Pentanet.GG who have to play two matches back-to-back. First up, they face off against

Royal Never Give Up , one of the best teams in China at the moment and

Unicorns of Love , the CIS dark horses.
We round off the night with Group B.

İstanbul Wildcats going up against

paiN Gaming , arguably the best thing to come out of South America. Ending it with a nightcap, it's the second game of the night: 
MAD Lions , the underdogs that took the LEC Spring 2021 by storm versus

PSG Talon , one of Southeast Asia's best and brightest.
DWG.KIA vs Cloud9
The mid-lane match-up did not disappoint as Heo "ShowMaker" Su and Luka "Perkz" Perkovic went at it. However, the first blood went to 

Cloud9 . Showcasing their might on the international stage, C9 takes the first of many skirmishes to come, taking two kills while managing to flee from a 
DWG KIA . Be that as it may, DWG.KIA has managed to kill a slim gold lead ahead, taking out the first set of towers. 
it was a Mexican stand-off at the Dragon's pit and while C9 did manage to secure it, it was DWG.KIA came out on top by continually pushing out the lanes and taking out the second middle tower. Thankfully, C9 have the tools to slow the game down while DWG.KIA have tried time and time again to press the issue.
But in a blink of an eye, DWG.KIA caught C9 off guard at the bottom side jungle and took out three in quick succession. They proceeded straight to the Baron and took it down with ease. With that said, DWG.KIA has built a strong gold and kill lead, slowly poking into C9's base from the sides.
Sadly, C9's valiant effort was for nought as DWG.KIA found the perfect initiation when all of C9 were crowded around their Nexus and in the end, it was way too much. DWG.KIA opens up their account with a perfect start by taking the W.
Infinity Esports vs Detonation FocusMe
In the second game of Group C, we had 
Infinity Esports taking on
DetonatioN FocusMe . Arguably South America's best team has shown that it has what it takes to perform on the main stage. It was a disappointing start to the team from the LJL Spring 2021,
DetonatioN FocusMe .
For a team that started the game well into the mid-game, 
DetonatioN FocusMe were always on the front foot, able to gain a slight gold advantage the entire time. It all culminated in one single team fight with Sebastian "Cody.cl" Quispe claiming a triple kill in the process.
This resulted in a heavy push on the top lane and after breaching the base, 
Infinity Esports dealt the fatal blow and took out four with ease. It was only a matter of time before DFM called the GG, which they did just minutes later.
Royal Never Give Up vs Pentanet.GG
It was always going to be a rough day one for 

Pentanet.GG and it proved to be so with the team dropping two straight games to start their campaign at MSI 2021. Their first game with

Royal Never Give Up started off sluggishly as they weren't able to keep up with the pressure from the Chinese giants.
Heading into the mid-game, RNG had already gotten a stable gold lead and this culminated in a tower defence on the bottom lane. What looked to be a good push turned into a disaster as Yan "Wei" Yang-Wei picked up an Ace in the process. Minutes later, they got caught out in the middle lane, which resulted in PGG losing another three.
It was a steamroll from then on as RNG found their footing and didn't hold back. Another dreadful defence of their second tower cost PGG the game by getting themselves wiped once more.
Pentanet.GG vs Unicorns of Love
In their second game of the day, PGG met 

Unicorns of Love in what turned out to be a slow start for both teams. First blood was only drawn after nine minutes with Vladislav "BOSS.LoL" Fomin claiming that kill on Gnar. All this while, UOL has managed to build a huge gold lead to keep themselves comfortable.
Amidst a few small skirmishes here and there, PGG never really managed to force themselves into the game. Come to the 20-minute mark and the score was still at 1-3 but it didn't stay that way for long as PGG got caught out in the mid lane and Stanislav "Lodik" Kornelyuk got the double kill for his troubles. They then head straight to the Baron and in just a matter of matters, made their way into PGG's base.
It only got worse from there as they were unable to withstand UOL's pressure and eventually crumbled with their entire team getting wiped. To double down on their misery on the first day, they only had one kill the entire game, which goes to Mark "Praedyth" Lewis . While there is still plenty to play for, PGG has to come back tomorrow with a fresh mindset.
Istanbul Wildcats vs paiN Gaming
Pitting the best of Turkey and Brazil in one match looked to be great on paper and it did not disappoint. The game started off tense quick and precise with

İstanbul Wildcats claiming the first blood in less than three minutes. Soon after, Soner "StarScreen" Kaya added a double kill to his game on the top lane with some beautiful plays.
With 10 minutes gone, IW had built a sizeable advantage heading into the mid-game with a 3K gold lead as well as having 10 kills on the board as compared to PN's three. The mid-game didn't feature much action with both teams content with sitting back and farming. Soon after, a fight broke out in the 22-minute that saw IW lose the entire team as PN were able to stand their ground and sustain themselves in the team fight.
Slowly but surely, PN was able to claw themselves back into the game. After wiping out two from IW as they tried to push top, PN rotated straight to Baron and cut the gold deficit back to even. After taking out all the outer towers, PN went for the jugular and decided to push into IW's base. A fight broke out soon after right at their doorsteps. While IW was able to hold off PN and take three in the process, the same couldn't be said as the Nexus was slowly being chipped away. 
With only one tower remaining in their base, it became a do-or-die situation for IW. They went with the former, able to keep out PN once again and wiping four from the Rift. PN was able to keep their composure and secure the next Baron before heading into the base once more and this time, they came through with the win.
MAD Lions vs PSG Talon
In what was touted to be one of the games to watch of the day, both
MAD Lions and

PSG Talon really went at one another. MAD were definitely within a shout for this game, taking the LEC Spring 2021 by storm. PSG came into MSI 2021 with high hopes as well, sweeping the PCS Spring 2021 season with ease.
MAD opens the game up in just three minutes by taking two swift kills thanks to Matyáš "Carzzy" Orság and Javier "Elyoya" Prades respectively. Few minutes later, PSG attempted a three-man gank onto  Matyáš "Carzzy" Orság and were successful in taking him down. But in doing so, they lost three for that costly engagement. From then on, it was a slow and painful process with MAD continuously building on their lead and PSG trying to keep up.
It went from bad to worse in the 19-minute mark when PSG got caught out in the river by the mid-lane and ended up losing four. As PSG try to push their lanes out, they got caught out once more, gifting a double kill to the already deadly  Matyáš "Carzzy" Orság . With an 11K gold lead and fresh from taking Baron, MAD went straight down the middle and took out two more of PSG alongside two turrets. Heading down bot, MAD decided to end it once and for all. This was a statement showpiece by the EU champs and they ended it with style, surprising Doggo in the Spawn after initially letting him live, thus accepting the bait.
MAD Lions were impressive throughout and let's hope to see them carry this form forward. 
Still to come...
We'll be back tomorrow, same time same place. This time, Group A will start us off with RNG taking on a double-header, followed by Group C with Infinity facing DK as well as DFM and C9. Group B ends the night once again with MAD going up against IW and topping off with PN versus PSG.