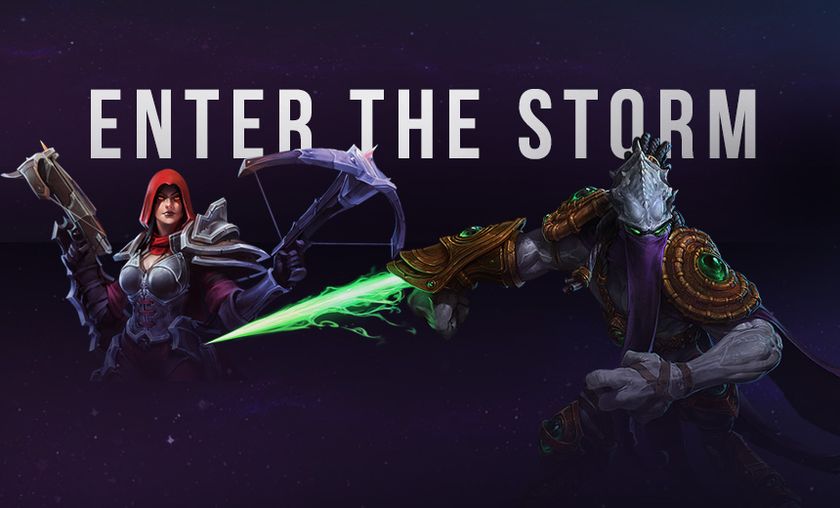 Five game grand finals caps a great end to ETS NA #2.
Team Blaze shows off it's new look, fans are treated to a game 5 grand finals, a bloodlust comp, and we say hello to some old friends in Valla and Brightwing.
Enter the Storm NA Cup #2 coverage hub
The final day of the ETS NA 2 Cup #2 would showcase NA's top two tiers of teams in a BO3/BO5 throwdown to sort out who would be in best position to face Cloud9 in the grand finals. Rehgar would continue to see lots of play but also watch his win rate decline, further impacted by nerfs in the latest balance update. 
Team Blaze continued to show of the strength of its new lineup as they would hold off Naventic to face Cloud 9 in the grand finals. Team Blaze and Cloud 9 would go all five games with Cloud 9 being crowned champion after turning back an all or nothing aggressive comp by Team Blaze in the final game of the night.
 
Upper Bracket
Round 2 - Best of 3
Round 3 - Best of 3
Lower Bracket
Final
Final day meta and team highlights
Tempo Storm slipped a bit from the progress they had been showing, losing to COGnitive 2-0.
Gust or Bust continued to show it is a team to watch going toe-to-toe with Naventic but falling short losing 1-2. Check out the new Greymane build Tomster is sporting and the nasty damage it's doing by watching the game 2 replay.
COGnitive had a chance to take game 1 off but would lose it to Naventic, and their 1% core, by a critical Glaurung mistake to chase Tassadar while his team pushed. Watch the replay to see the spectacular throw into reverse throw. Naventic would handle COGnitive in game 2 and advance.
Brightwing continues to show up more and more and her win rate is up to 56% at the NA competitive level since the March balance update.
Xul saw lots of play and bans. The power is there but he felt forced in certain comps.
Valla came back being picked/banned in 10 of the 14 games played. Only grabbing 3 wins may indicate people are not quite sure what the correct build is for her in the current meta.  
Rehgar's win rate overall in NA is down to 52% and while he performed in the right hands and comps on the day, he also looked lackluster at times as the nerfs continue to drive down the effectiveness of his playmaking abilities.
Kladeous with Stitches posted the line of the day going with a slam build, see the stats for yourself.
 

Cloud9 vs. Team Blaze - grand finals game 2

Semifinals: Team Blaze defeats Naventic 2-0
In game 1 Team Blaze takes control early in the game and never really lets go. Team Blaze's new lineup continues to show improved ability in team fighting. 
Game 2 took place on Battlefield of Eternity and Team Blaze breaks out the no warrior/tank Bloodlust comp. In the 4 team fights where bloodlust was used Team Blaze went 2-1-1.
Team Blaze's bloodlust comp had a huge damage potential and this was shown off by burning down immortals quickly and in a key pursuit by Naventic after a bot push by Tam Blaze. Team Blaze turns around and re-engages on the back of Valla's Reign of Vengeance and took the fight then the core. 
 
Bans
* This player was a stand-in for this match
Grand finals: Cloud9 defeats Team Blaze 3-2
Cloud9 dominated games 1 and 4. Game 1 they used The Lost Vikings to control XP on Towers of Doom and win 32 hit points to 0.
Game 2 sees Team Blaze showing good patience to let their comp develop into it's late game potential and be able to out damage the double support/double warrior comp by Cloud 9. (See game stats above in Kladeous/Stitches highlight). 
Game 3 showed off the excellent synergy forming with the new Team Blaze roster as they were very strong in team fights. Strong play by bkid on ETC.
Game 4 was Tomb of the Spider Queen and was the shortest game of the tournament.
Game 5 on Battlefield of Eternity found Team Blaze going again with its no warrior/tank comp, however, with a Rehgar ban by Cloud9 they have to replace with Brightwing. Did not have the same effect as Cloud9 gets up on kills early, and after getting the first two immortals Team Blaze does not take another and is bullied around for the rest of the game.
Bans
* This player was a stand-in for this match
Cloud9 still is king of the hill after ETS NA #2 is all said and done and are the clear NA favorites to contend for the world championship in Korea. There are now two clear tier 1 contenders with Naventic and the new and improved Team Blaze, as Cloud9's own KingCaffeine remarked in a recent tweet this past weekend.
Follow us on Twitter @GosugamersHotS for more Heroes of the Storm esports news