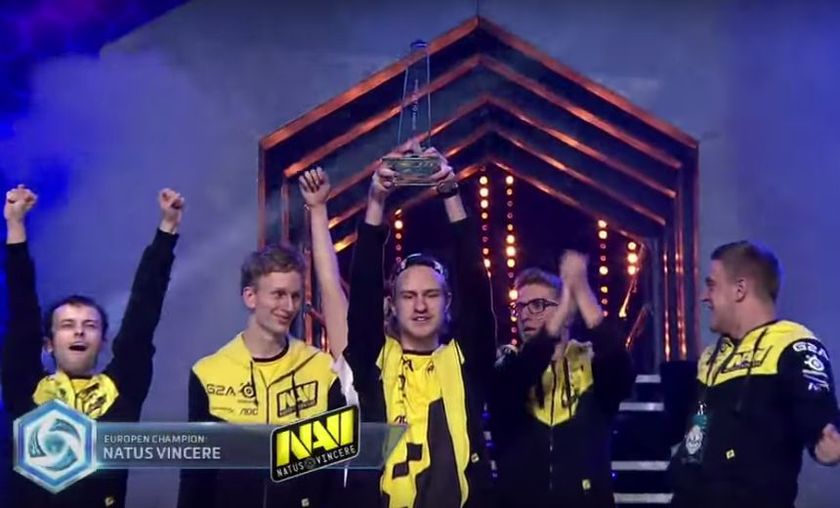 JayPL: "We are lucky Breez left for Fnatic, we started playing better with Alex."
Our own Broeder and JamesDickens sat down with Ethernal and JayPL moments before their final series in Prague to get their impressions from the event, future expectations and team stories.
After a dominant first day, without dropping a single game, Na'Vi were getting ready to face Dignitas in the final. In an improvised press conference alongside their opponents, they spoke about their innovative picks, expectations for Blizzcon and how roster changes affected them as a team. Note that this interview was conducted before they won the Europe Championship.
What did you guys think about the groups when they were announced, namely the group of death?
Ethernal: I didn't particularly like the groups, because we (Team Liquid, Na'Vi and Dignitas) are arguably the best teams in Europe, so one of us had to go before the finals which was bad for the audience and bad for that team.
JayPL: I liked it because we managed to win it.
You guys just went 7:0 to qualify for Blizzcon. How does that feel?
Ethernal: We got really good games, we played well, the competition was also high level, but we played accurately and came out on top.
What is your confidence level before the final series?
JayPL: We still have secrets and I am pretty confident.
What are you excited about for Blizzcon?
Ethernal: We are excited for the experience. We want to go to America and we want to compete internationally. It's the first time we do that and we want to prove that EU is better than NA!
Do you scrim a lot for tournaments, specifically with Dignitas?
Ethernal: Yeah now we do, we've settled it on a team level to do so.
Which teams will be challenging at Blizzcon?
Ethernal: The Korean Team DK will be the team to beat because they beat MVP.
So you seemed like the most innovative team here, you brought some cool new things. Was this all planned or did you just figure it randomly?
JayPL: Actually we just found it out randomly. It always worked in scrims so we brought it here. We will do it again after, we will see.
This video shows the biggest innovation of this event in action: the combination of The Butcher's Lamb of the Slaughter and Falstad's Mighty Gust.
What do you think about Rexxar?
Ethernal: We didn't see much of Rexxar because of an exploit, some teams had a Rexxar draft but couldn't use it. I really think next patch will be better, Rexxar should be in the meta then.
Is it difficult to get used to the new arena, new stage and get ready for the games?
Ethernal: We have a lot of experience playing offline, from the two Dreamhacks and the WCA qualifiers so it wasn't a problem. We are confident on stage.
How important is it for a Heroes team to find the right people to synergize?
Ethernal: I think Breez leaving was a wakeup call. We started tryharding more, everyone started contributing more. We just started dedicating more energy and more time to the game. AlexTheProG is really good so we are really happy with him.
JayPL: We are lucky Breez left for Fnatic, we started playing better with Alex. I want to say thank you Breez.
Final words to the opponent?
JayPL:  Good luck.
Interviewed players:
 Na'Vi Ethernal
 Na'Vi JayPL
Follow us @GosuGamersHotS for more eSports news.
---