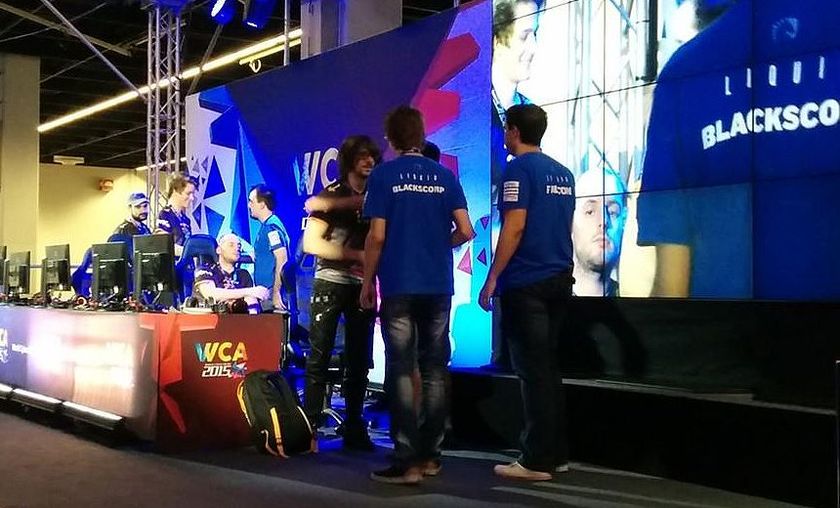 Team Liquid defeated Fnatic in the WCA EU Qualifiers, winning the ticket to China.
WCA EU qualifiers at Gamescom concluded today. Despite a rough start, Team Liquid defeated Fnatic and is now qualifid for the WCA finals in China.
After five days of Heroes of the Storm matches, today the finals of the WCA EU qualifiers took place at Gamescom. Earlier we reported on the uncharacteristic start of Team Liquid, losing a match for the first time at a LAN-event ever by not taking a single game versus both Natus Vincere and Fnatic on the opening day. But after that start, they never lost confidence in their play again for the rest of the event. Team Liquid easily took care of ATN Fancy in the Loser Bracket Finals, after which they moved on to battle Na'Vi for a chance to steal away the ticket to China from Fnatic.
In this series of games, Team Liquid showed again their mastery of the pick and ban phase. Allowing Zeratul as a pick for Na'Vi, but quickly countering with a solid double tank composition, TL took control of the match to come from the start. The Lost Vikings, a Team Liquid favorite, filled up their final pick, historically being a very valuable hero on the map they were going to play on: Garden of Terror. And this proved key for Team Liquid's first victory. The Lost Vikings provided them with the solid income of experience from minion waves that allowed TL to always be ahead in levels; giving them that important tier advantage in crucial moments in the game. Team Liquid confidently ended the game after 22 minutes through a bold but calculated march straight to the core of Na'Vi. Even with all 5 players of Na'Vi alive, they could not defend against the steady damage of Team Liquid.
For game two, Team Liquid went for another double warrior set-up, this time prioritizing Tyrael and Arthas on Tomb of the Spider Queen. Meanwhile, Natus Vincere opted for an Azmodan and two warriors of their own in the form of Leoric and Johanna to help Azmodan build his Taste for Blood damage. For a period of time in the game, it looked like Na'Vi was about to even up the series 1-1. But one crucial teamfight quickly turned the tide when the combination of a Devouring Maw by FalcoN and the damage of Tyrael's Archangel's Wraith left Team Liquid with the four versus one advantage.
This moment in the game rewarded Team Liquid with a big boost in experience, as well as the possibility to hand in their gems. They built from this deciding moment and kept controlling the battlefield until finally taking the victory for a 2-0 result over Na'Vi. Not even well-aimed maximum damage Globes of Annihilation by JayPL could stop TL from executing their gameplan.

Meanwhile, Fnatic had a great tournament. Losing only to Na'Vi in the round robin phase did not stop them from crushing that same team in the winner bracket. This got them a spot in the final series with the right to perform in China on the line, which brought us to the final showdown between Fnatic and Team Liquid.
Game 1 again saw Garden of Terror as the battlefield of choice. Fnatic went for a double melee assassin strategy, picking up both Illidan and Kerrigan. Team Liquid countered with a similar strategy to the earlier game versus Na'Vi, prioritizing again a double warrior setup. After an early death of Kerrigan, Fnatic seemed hesitant to contest the seeds during the first night phase. Team Liquid took grateful advantage of that, farming 149 out of the available 180 seeds to secure an uncontested plant terror and early game advantage.
At level 10, Divine Storm was notably picked up by Team Liquid's Uther. GranPkt realizes that there were no real targets for Divine Shield while Divine Storm was capable of efficiently countering the two melee assassins on Fnatic's team. After 18 minutes of repeated Plant Terror mayhem, Team Liquid won a crucial teamfight through their level advantage to push for the game 1 victory.
The second game of the series, and matchpoint for Team Liquid, took place on Dragon Shire. Team Liquid managed to secure the Kael'thas/Jaina combination, particularly strong on this battlefield because of the importance of the shrine capture points. Fnatic on the other hand ended up with a very solid composition in the form of Zagara, Johanna, Uther, Valla; the composition was finished off with a surprising Tyrande pick. These days Tyrande mostly sees play for her synergy with melee assassins like The Butcher, but Fnatic valued the vision of her Sentinel as well as its potential to stop any Dragon Knight captures.
Sadly, Fnatic got surprised by Team Liquid's aggressive roaming in the early game, quickly giving up a Dragon Knight to Team Liquid after two quick deaths on the side of Fnatic.
Team Liquid, through solid strategical play, also captured the second Dragon Knight of the game and used its power and size to win an important team battle (killing three heroes of Fnatic while only losing Jaina themselves). This moment secured a 1.5 level lead for Team Liquid 8 minutes into the game. Following this rhythm, Team Liquid again secured themselves a Dragon Knight after decisively winning another teamfight, growing their experience lead to more than three levels. By this point it was already clear that Team Liquid had complete control over Fnatic.  And so unsurprisingly the game ended not much later. Congratulations to Team Liquid, 2-0 versus Fnatic.
And that is how the WCA EU Qualifiers at Gamescom ended. Team Liquid showed they are not infallible, but also proved to their fans that they have the mental strength to bounce back from a bad day. This last week also gave us insight into what the changed team compositions of most notably Na'Vi and Fnatic are already capable off. They will soon have another chance to prove themselves, in the upcoming European Road to Blizzcon Qualifiers.
Follow us @gosugamersHotS for more eSports news.