Most of MYM's players to leave, mention differences with team and Azubu sponsorship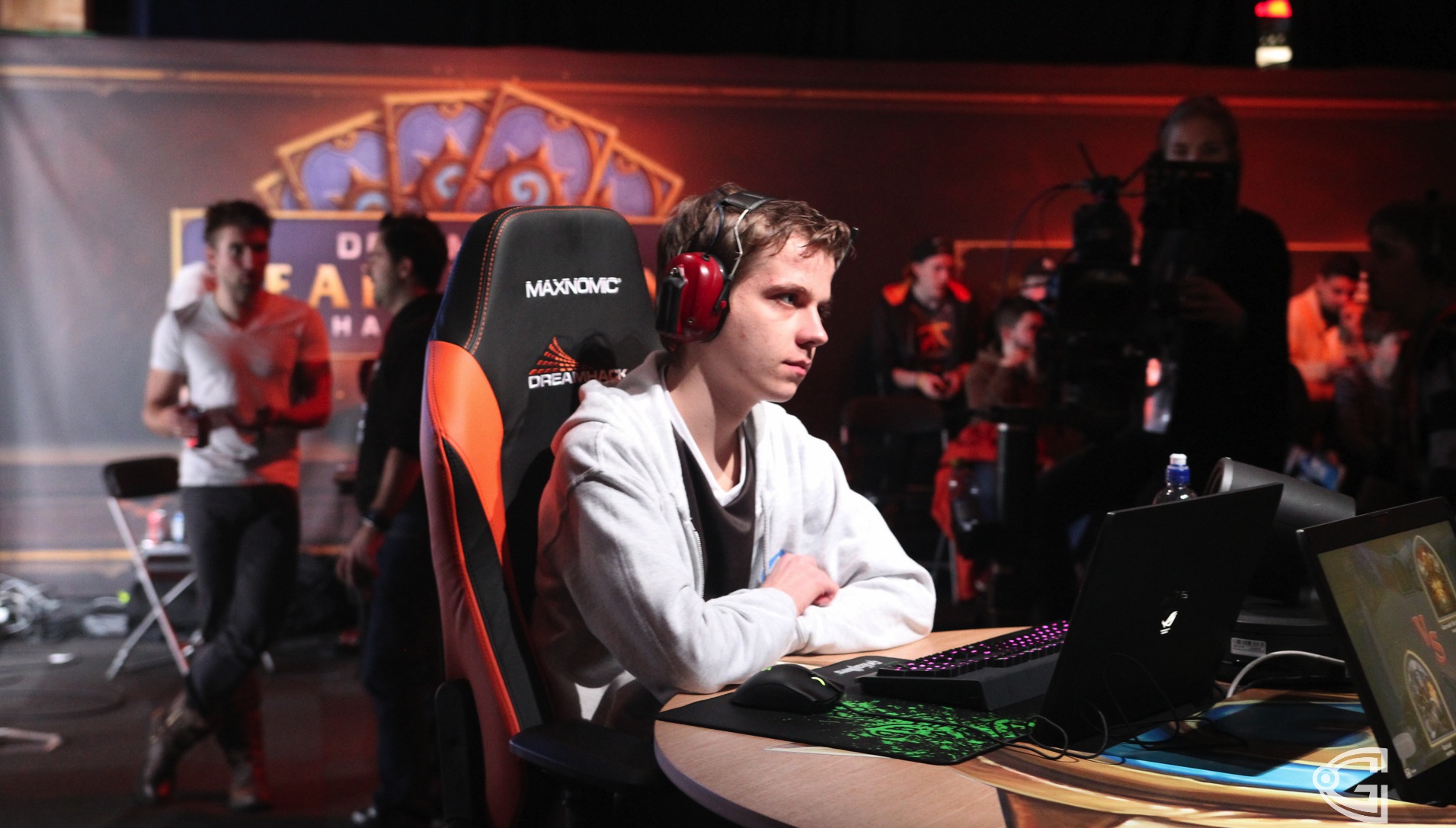 DreamHack Bucharest champion Thijs "ThijsNL" Molendijk will remain MYM's sole player for the time being
It's the start of December and one of the leading Hearthstone teams, Meet Your Makers, is about to lose all of its players bar ThijsNL.
After being operational and in full force since April this year, the Hearthstone roster of MYM is going to be reduced to just one player. According to GosuGamers sources, Anton "Semijew" Holm and Jan "Skip" Birkmeyer have already signed their release from their contracts with MYM and are to become free agents. Team's spearhead Dima "Rdu" Radu will remain with the team until the end of this month and will no re-sign for the next year. Tobias "Kunzi" Kunzweiler who's been inactive in tournaments since October is also likely to leave.   
A couple of factors are being brought up as the reason for the massive exodus. According to Semijew, MYM was a team for the already known players and wasn't a place for someone looking to break out. This notion was repeated by Skip as well, who also said that the team's attention fell on top performers ThijsNL and Rdu. DreamHack Summer winner Rdu, on the other hand, will find a new home, as MYM are not able to match the offers the Romanian prodigy has received. 
Reached out for comment, however, several of MYM's players also mention the sponsorship deal the team signed with Azubu.tv, one of Twitch's main competitors. Scared of being locked down to a platform with much lower viewership and as a result hurting their careers, the card slingers started considering other options.
According to MYM CEO Khaled Naim, the new sponsorship deal shouldn't be seen as the driving decision for players' departures, as  it doesn't affect them directly. Even though Azubu is MYM's sponsor, the Hearthstone players are not required to exclusively stream on it and can choose to go on Twitch if they want to, Naim told GosuGamers.
Other sources state this wasn't always the case, though, and exclusivity with Azubu was initially part of the partnership, something which was changed at a later point of time. 
The only player to remain on the team for the time being is DreamHack: Bucharest champion Thijs "ThijsNL" Molendijk, who's also currently in talks with the team. 
This wave of departures creates a big question mark of what the future of MYM Hearthstone will entail and how a potential new roster will compete with the rich list of achievements that the quintet has brought. Between its top guys Rdu and ThijsNL, MYM hold the gold medals from DreamHack Summer, DreamHack Bucharest, three online invitational tournaments and six ZOTAC cup victories, as well as the silver from the recent DreamHack Winter. The rest of the quintet in Kunzi, Semijew and Skip, on the other hand, make for a solid trio of online cup contenders.  
While there seem to be other things to blame for the emptying of the MYM HS roster, the recurrence of newly-established deals with Azubu.tv and the effect they have on various Hearthstone divisions is certainly a curious one. The streaming platform has been cooperating multiple teams and many sponsorship deals are currently in place but the matter of the fact is that none of these teams have managed to keep a Hearthstone team for more than a few months, sometimes even less.
The first big organization to part ways with its card slingers was Curse Gaming. Curse signed with Azubu on April 14th this year, just one week after they opened their division by signing Finnish player Janne "Savjz" Mikkonen. Over the next half a year, Curse lost every single one of their players one by one, starting with Andrew "Kitkatz" Deschanel in late June and followed by Savjz a month later. In October, the departures of Johan "Darkwonyx" Hansson and Dan "Alchemixt" Walton left the Hearthstone roster of the flames absolutely empty.
In the wake of leaving Curse, tweets and statements by these players often mentioned that they'll be back to active streaming schedule on Twitch.tv, which was a very strong indication that it was Azubu's sponsorship and the fact they were prohibited from streaming on the leading platform that drove the players away. In his interview upon joining Complexity Gaming this November, Alchemixt confirmed that, saying he "decided to leave Team Curse in order to stream again on Twitch and not "disappear"". Reached out by GosuGamers, Alchemixt elaborated:
"
[Signing with Azubu] is the worst thing you could ever do as a team in terms of your players. I would get 20 viewers on a good day and Savjz would maybe get 100 or 200. They pay you a set rate no matter how much you stream or how many viewers you get, which gives no motivation. At first it seems like a good deal because of the money but over time you realize nobody is watching.
"

"It might not be bad as in other games, but as far as Hearthstone is concerned it's awful," adds Alchemixt.
With Hearthstone being a budding eSport that's less than a year old, one can understand Alchemixt's reasoning. Competitive players still can't make enough money from tournaments to make a good living so regular streaming is their best option, the thing that builds their careers, wins them fans and gets them invited to events.
While the exodus of Curse's happened over time, it was the other way around with team Coast. In November, the American organization lost all of its four players overnight, including Josh "Impact" Graham, James "Twisted" Neumann, Justin "Luffy" Dizazzo and Keaton "Chakki" Gill.
In a post on LiquidHearth, former Coast player Sebastian "Eggy" Swierad stated that the reason for quartet's departure was team's newly established deal with Azubu.tv. However, in a talk with GosuGamers, sources within Coast mentioned that there's already been disharmony in the roster due to internal conflicts and the arrival of Azubu was simply the thing that decided whether the players stay or go their separate ways.
Is being on a team under Azubu sponsorship all bad, however? Fnatic member Jökull "Kaldi" Jóhannsson, a player with history of streaming on multiple platforms including Twitch, Azubu and Hitbox, told GosuGamers that in his eyes, "Azubu is a better platform than Twitch in every regard except numbers". The latter part doesn't worry Kaldi too much.
"
I've always been more of a player than streamer, so I don't feel numbers are that important for me. What I also found is that it's easier to get stuff fixed than on Twitch and it feels like very streamer is a priority.
"

Though Kaldi puts competing before streaming, it's safe to say the majority of the Hearthstone player base is the other way around. While there are multiple examples where teams sponsored by Azubu function perfectly well, they are mostly from bigger, more developed scenes. Until Hearthstone players can earn a living by practicing their profession without necessarily entertaining Twitch chat patrons – e.g. how professional League of Legends players pull decent salaries from RIOT Games as well as their teams – exclusive, lock-down Azubu deals will continue to haunt organizations willing to invest the Blizzard's card game and rosters will continue to empty.