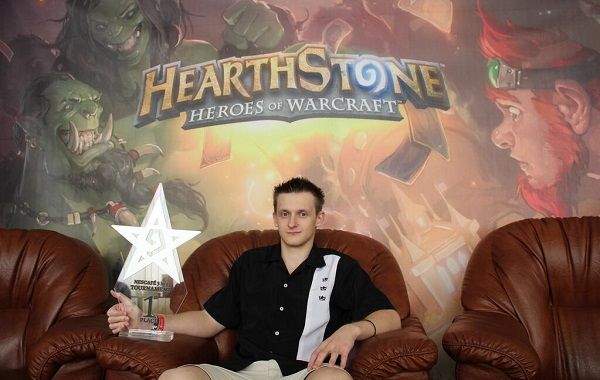 Gaara crowned first DreamHack champion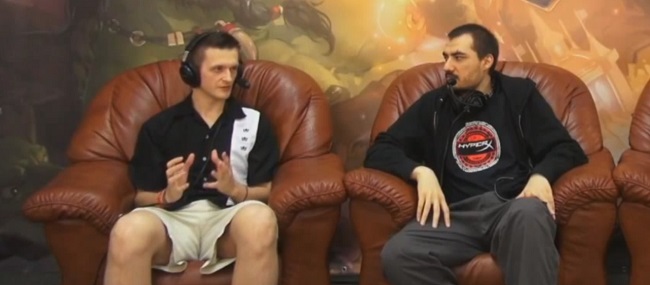 Gaara (left) talking to Kripparrian after his semi-final win against Amaz
Gaara from Reynad's team Tempo Storm takes the $4,000 of DreamHack Bucharest after going 7-2 in the final three rounds, putting local hero Danielctin14 as second.
After a long day of matches on Saturday and the grand finals today, the tournament of upsets is over. 128 players travelled to Bucharest, Romania for what would become a war between aspiring players and local heroes and the known streamers.
The first rounds were cruel to some of the biggest names in Hearthstone. Curse's Savjz and DogeHouse's Gnimsh were upset without winning a single game. Soon, established pro-gamers and regular weekly cup winners like Ostkaka, Spo, Wampie and Alesh followed, leaving the audience wondering who could possibly take the $4,000 home.
There were still several names left in the tournament who continued the battle between the established and the newcomers but they too met their end at one point or another. Tempo Storm founder and fan favorite Reynad dropped out in the Ro32. Planetkey Dynamics' and IEM Katowice participant Lothar was slain in the Ro16. The two TakeTV champions Ek0p and StrifeCro never made it past the Ro8, losing to Amaz and eventual finalist Danielctin14, respectively. 
MORE: DreamHack Bucharest day one live blog
This formed a top 4 line-up of Tempo Storm's Gaara, ROOT's Amaz and hometurf competitors Rdu (a top 4 finisher in the 2P EU vs CN Masters qualifier) and Danielctin14, arguably the least known player of the gang. On stream, DreamHack viewers saw Gaara's ramp Druid dismantle Amaz's Hunter and Handlock with the Hong Kong player not getting the luck of the draw this time, discarding his Faceless Manipulator and Alexstrasza in game two. Off stream, Daniel prevailed over Rdu 2-1 and the grand finals were set to begin.
Game one started with Gaara's go-to ramp against Daniel's Zoo, a game that easily went to Druid's favor once he stabilized the board. The series got tied as Daniel pulled out a mid-range Shaman and considering his choice of class no one was surprised to see a Savannah Highmane Hunter coming out of Gaara.
Although being considered one of the most consistent decks in the current meta, the Hunter barely edged out game three, killing the Shaman just before Daniel could unload his lightning burst damage to Gaara's face. Gaara had luck in game four as well, getting two Huffers in a row and receiving no removal from Daniel's rogue, creating a beat-down tempo which the Romanian couldn't stall. With Rexxar's back-to-back victories, the German player was crowned champion.
Round 2 - Best of 3
Round 3 - Best of 5
DreamHack Bucharest final standings

1st
Gaara
$4,000
2nd
Danielctin14
$2,000
3-4th
Amaz
$1,000
Rdu
$1,000
5-8th
Linessa
$500
Ek0p

$500

StrifeCro

$500

Buksna

$500
Rotator photo: Twitter