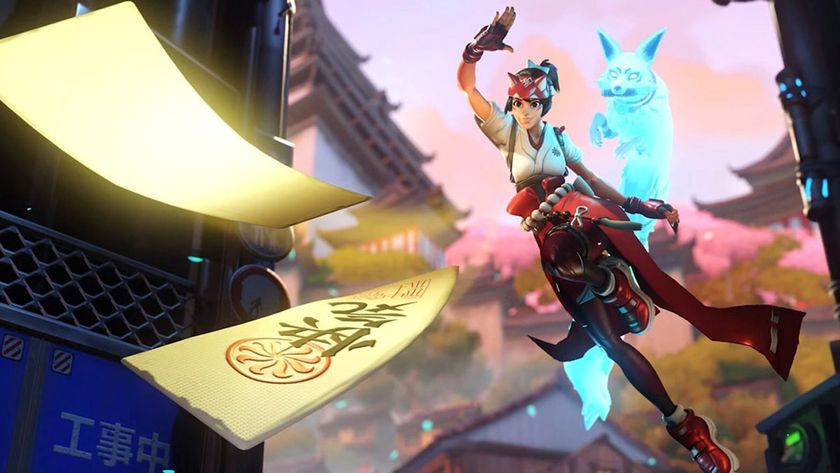 Overwatch 2 reveals new Support Hero Kiriko with a gameplay trailer
Image: Blizzard Entertainment
Overwatch 2's third and final launch hero Kiriko will reportedly be locked behind an in-game battlepass. 
Blizzard Entertainment took to Tokyo Game Show 2022 to reveal Overwatch 2's latest Support Hero: Kiriko, a Japanese ninja who wields kunai and uses Kuji-kiri hand gestures to help her team out in combat. Joining her on the battlefield is a fox-like Kitsune spirit. 
Watch her gameplay trailer below:
We didn't get a ton of lore details on Kiriko in this reveal, but a voiceover hints that her family has, "served and protected," her city by following tradition - the city in question being Kanezaka, an existing Deathmatch map. Kiriko clearly has a rebellious streak, as she's determined to protect her city regardless of tradition and her family's old rules. Just as Hanzo and Genji wield the power of dragons in battle, Kiriko summons a fox spirit to help her out - and that's no coincidence. Her mother trained her and the two brothers from youth. Now, she's joined a group called the Yokai to protect her city. 
Kiriko seems to have two weapons - one of them being throwable kunai, and the other being paper talismans that she flings at teammates to heal them. She also has a familiar mix of abilities under her belt. Much like Genji, she can wall climb and like Moira or Reaper, she can teleport across the map. She also has a more mobile version of Baptiste's Immortality Field, allowing her to render teammates invulnerable for a few seconds at a time. 
We'll probably learn more about Kiriko when her cinematic reveal trailer drops - though it has already leaked online in Spanish if you're willing to look around. Last week, a leak revealed that Blizzard plans to lock Overwatch 2's new heroes behind the free track of its seasonal Battle Pass, meaning that you will have to grind out matches to unlock new heroes in your roster. That, or you can do what Blizzard probably prefers, and purchase the premium Battle Pass to unlock these heroes straight away. 
Fans on the Overwatch subreddit are not taking this news well, seeing as a core aspect of the gameplay meta is being able to counterpick heroes. If players haven't unlocked any of the battle pass heroes after entering a match, their team could end up suffering for it. The leak also states that players will be locked out of Competitive Mode until they collect all heroes for this exact reason, which means that most people will be stuck in Quick Play until they grind out the battle pass. 
However, Blizzard confirmed today that Kiriko will be immediately unlocked for players who already have Overwatch at launch. New players will have to go through the battle pass to get her - but we have no word on if existing Overwatch players will also get access to new heroes Sojourn and the Junker Queen at launch too. 
Overwatch 2 launches in early access on October 4, 2022. 
Update: A new Season 1 battle pass trailer confirms that Sojourn and Junker Queen will be free at launch for all players. Watch it below: