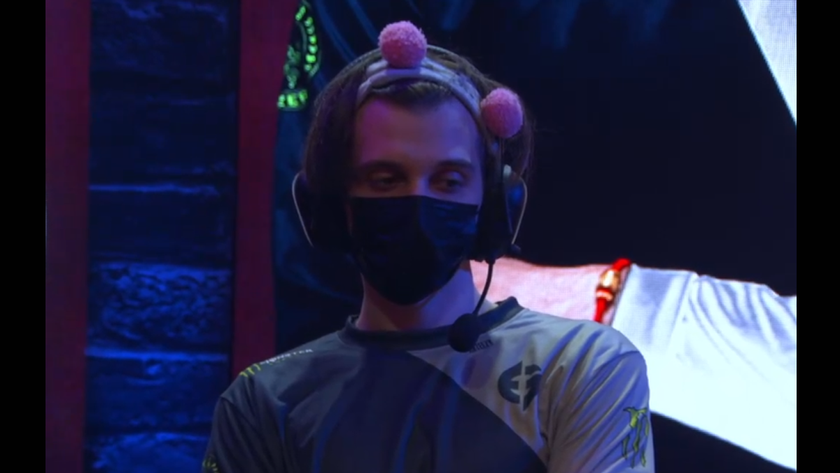 Arteezy gets a one match ban at the ONE Esports Singapore Major for his questionable hairband
Evil Geniuses' carry Arteezy has been banned for one game for his questionable hairstyle and hairband in the game against Fnatic.
Evil Geniuses may have won their first game of the ONE Esports Singapore Major quite easily, but it came at a cost.
The North American team's carry, Artour "Arteezy" Babaev, displayed a very questionable hairstyle and hairband, and it did not go well with the management of the ONE Esports. After a lot of deliberation, the management team has made a decision to ban Arteezy for Evil Geniuses' next game against Invictus Gaming in the upper bracket semi-finals of the Singapore Major. 
When GosuGamers reached out to the people behind the decision, they had this to say:
We can understand the long hair because of the pandemic, but a great player like Arteezy should have better awareness about hairband fashion. Such bad fashion choices are frowned upon in Singapore and pretty much all over the world.
Arteezy himself admitted he hadn't put too much thought into it.
I found the hairband in the mall of a food court in Singapore when the team had gone out for dinner the previous night. A teenage girl probably forgot it there and I took it. Like Keeper of the Light says, finders keepers, right? Hopefully, the team can get through the next round with me, and I will be back for the upper bracket final.
Traveling without a substitute, Evil Geniuses will have to play with a stand-in for their next game, and it will possibly have to be a local. Rumors have it that they did reach out to the girl whose hairband Arteezy picked up, but as it turns out, she's a League of Legends player and is outraged that it will now be associated with Dota 2. She doesn't want it back either.
EG's search for a carry for the next game continues, and as soon as there is any concrete news, GosuGamers will be ready to report it.
April Fool
And yes, if you haven't guessed by now, it is April Fool's Day!