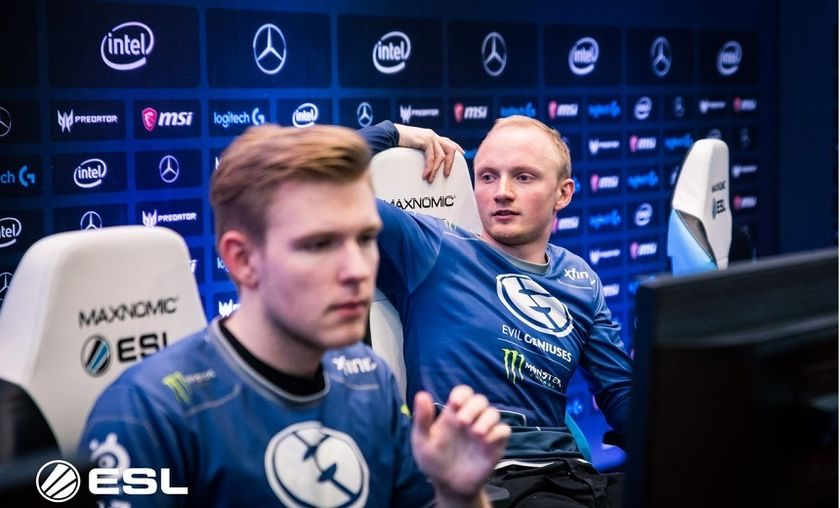 EG, VG make the cut; Final six playoff teams set for ESL One Genting 2018

Photo courtesy of ESL
Evil Geniuses and Vici Gaming survived for a playoff spot in ESL One Genting 2018, joining Team Liquid, Virtus.pro, Newbee and Team Secret.
The group stage wrapped up leaving only six of the original 16 teams standing when the dust settled. Most fans were not suprirsed to see the top four Pro Circuit teams making it into the playoff stage. Both Team Liquid and Team Secret were seeded directly into the semi finals with their first place results while Newbee and Virtus.pro will play in the first round of matches.
The last two places were scooped up by Evil Geniuses and ViCi Gaming after their triumphant runs through the lower brackets. They first both survived the deadly best-of-one first round series and then plowed through the rest of the brackets to emerge as each of their group's victors. 
Group A
A crushing loss in only 26 minutes to VGJ. Thunder was flanked by two heavily one sided wins for Vici Gaming. Although VGJ. Thunder had taken the Galaxy Battles Championship title just over the past weekend, the team was still no match for ViCi Gaming's experience and powerful team fights. ViCi Gaming's spectacular journey through the lower brackets were rewarded with a playoff spot.
Team Secret didn't come to be the Pro Circuit frontrunner by accident and continued to prove why they are at the top. Taking down Virtus.pro in a clean sweep, the European mix were able to overcome Roman "RAMZES666" Kushnarev who led in networth and Vladimir "No[o]ne" Minenko 's spectacular performance in order to claim the victory after a back and forth exciting first game. The second match Clement "Puppey" Ivanov's flawless execution of Skywrath Mage was paired with Marcus "Ace" Hoelgaard's heavily farmed Phantom Lancer for an easy win. Team Secret were granted a direct placement into the playoff semi finals and guaranteed a top 4 place decorated with more TI8 qualifying points. 
Upper Bracket
Round 2 - Best of 3
Round 3 - Best of 3
Lower Bracket
Round 1 - Best of 3
Round 2 - Best of 3
Round 3 - Best of 3
Group B
After knocking out TNC Pro Team in a convincing and clean 2:0 sweep, Evil Geniuses advanced further in the lower brackets to wait for their opponents. It was Natus Vincere who had prevailed in the other lower bracket series, taking the 2:1 victory over the regional's only other hope left in the event - Mineski. Na'vi showed great coordination and synergy with on point spells as they geared up for a rematch against EG. Earlier in the event, they had knocked the North American squad into the lower brackets with their one game opening victory. This time, EG seemed to have Na'Vi's number and completely destroyed the Ukrainian's. An overwhelming first game led into an absolute devestating and crushing loss as EG tore through Na'Vi in 20 minutes with a 16:2 record and 16k gold difference. Evil Geniuses secured their place in the playoffs and are primed to fight more for some additional qualifying points.
Newbee came out of the gates looking for blood and found it - taking the first game off Team Liquid with a flawless game by Xu "Moogy" Han and stellar performance by Song "Sccc" Chun. Team Liquid fought back hard to reclaim their footing in the second match. Almost faltering in their path to victory around 41 minutes in, they quickly recovered and went straight for the win soon after to tie up the series. The third game of the series was all for Team Liquid, ending with almost a 30k gold lead and decisive victory to be seeded directly into the semi finals of the playoffs and secure more TI8 qualifying points.
Upper Bracket
Round 2 - Best of 3
Round 3 - Best of 3
Lower Bracket
Round 1 - Best of 3
Round 2 - Best of 3
Round 3 - Best of 3
ESL One Genting 2018 playoffs:
Format
Friday to Sunday, January 26-28
Six team - top three from each group
Group winners are seeded directly into the semifinals
2nd/3rd placed teams seeded into quarterfinals
Quarter- and semifinals Bo3 - grand final Bo5
Round 2 - Best of 3
Round 3 - Best of 5
The playoffs will begin tomorrow, January 26th at 15:00 local time/08:00 CET with an all Chinese battle between Newbee and ViCi Gaming.