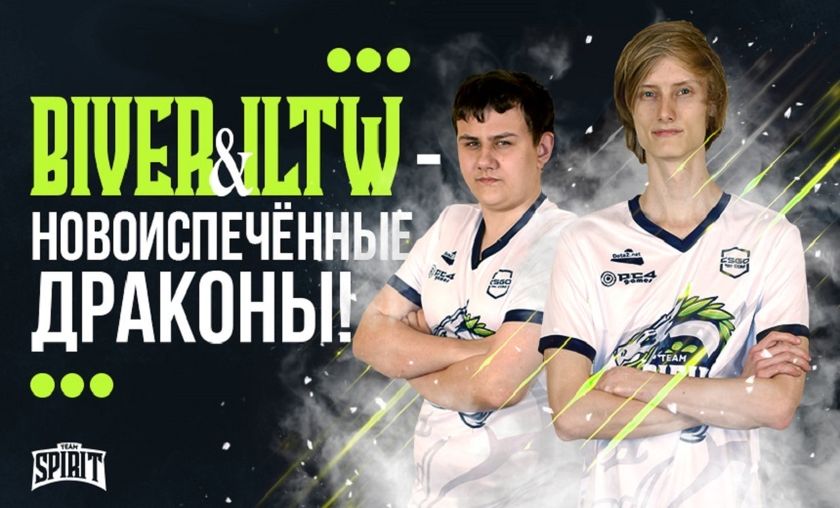 Team Spirit finalize roster with iLTW and Biver
Team Spirit have finalized their new roster for the upcoming season by bringing on board Igor "iLTW" Filatov and Malta "Biver" Winter. 
After over one month of searching and decision making, Team Spirit have officially replaced Stanislav "633" Glushan and Ivan "VANSKOR" Skorokhod who had been benched in July. At that time, the CIS team had a jump start on the reshuffle period, indicating they would like to be ready to go when the new season rolls out.
"
For 7 months our Dota 2 team has performed with the same composition. Stability, however, does not always lead to success - sometimes changes are necessary to achieve the results. After an unsuccessful season, the team had decided to replace the two players"
Bringing on board Igor "iLTW" Filatov doesn't seem much of a shock with a rising presence and fanbase in the region. Coming from M19, the Russian carry player has much promise and a low key demeanor - summing up his new venture in simple terms 
"
I will not let you down."
More surprising is the addition of Malta "Biver" Winter, the young Danish player who created a respected reputation during his time on Na'Vi. Biver will be the only European player on the team, a fact that doesn't seem to phase the support player. 
"
I'm very happy to be part of Team Spirit. I think that we have a good mix of young, talented players like Iceberg, iLTW and myself and experienced veterans such as DkPhobos and FNG. I can not wait to find out what awaits us in the future! "
The CEO, Nikita Chukalin, is confident in the lineup and also doesn't foresee any barriers in this team achieving success. 
"
We are aware of the risks that we expose ourselves by taking one foreign player. However, the professionalism of Malta and its competence in their positions allow you to close their eyes. Two weeks ago we stopped at an endless bootcamp in full force, and I have not yet seen such a fruitful atmosphere at the training camps of any of our squads. I hope this will bear fruit, and this season we will be pleased to please our fans and investors."
With a 4/5 ratio of CIS players, the team will be competing in the CIS qualifiers for the Minor/Major events. 
Team Spirit Roster:
 Igor 'iLTW' Filatov

Bogdan 'Iceberg' Vasilenko

Alexander 'DkPhobos' Kuchera

Artem 'fng' Barshak

 Malta 'Biver' Winter