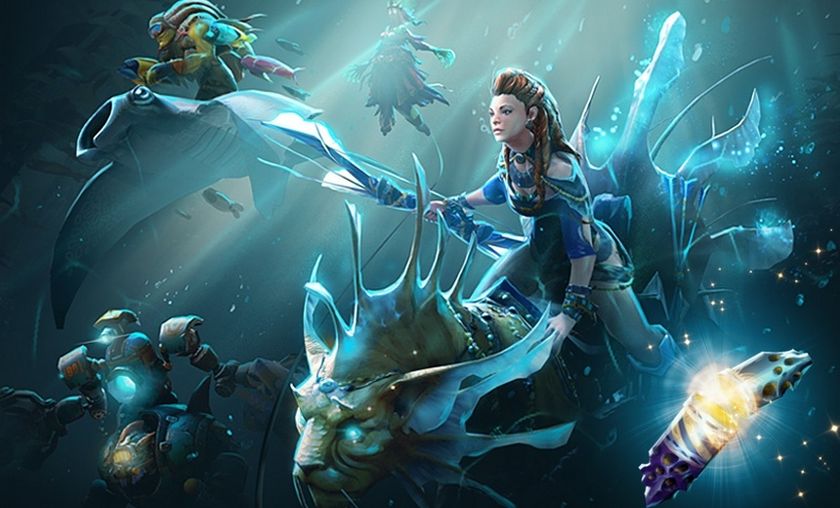 Pirates, crabs, sharks, and many other sea creatures featured in the TI7 Collector's Cache
This year's Collector's Cache contains 23 aquatic themed hero sets that will fit perfectly on the Reef's Edge terrain.
Unlike previous TI's Collector's Caches, the 2017 International one doesn't contain any couriers or wards, but despite the change, Valve made sure that there are plenty of reasons to make the $1.99 purchase. In this year's Collector's Cache, there are 23 community created sets, meaning seven more must-have sets than last year. While some workshop artists were lucky enough to score more than one set in this year's Collector's Cache, others were met with disappointment as they did not get enough community votes to see their work featured in the treasure. Over the past couple of weeks, we have tried to present you with as many sets submitted as possible, and here are the artist who have won your hearts and Valve's attention.
Katzeimsack, 3 sets approved:
Monkey King - King of the Dark Reef
Riki - Cunning Corsair
Pudge - Deep Sea Abomination
[AG] - LaughingSkyPig (associated artists), 3 sets approved
Sandking - Sovereign of the Kray Legions
Venomancer - Corruption of the Virulent Krait
Huskar - Samareen Sacrifice
Anuxi, 2 sets approved:
Winter Wyvern - Secrets of the Katekhein
Mirana - Heiress of the Coastal Kingdom (ultra rare drop)
DNADota, 2 sets approved
Clockwerk - Pressure Regulator
Batrider - Manta Marauder (very rare drop)
Toasty, 1 set approved:
Death Prophet- Eternal Testament
CTaKaH_MoJIoKa, 1 set approved:
Brewmaster - Pirate Cannoneer
Nateo, 1 set approved
Invoker - Covenant of the Depths
Attasik & keinhangia, 1 set approved:
Gyrocopter - Submersible Aircraft
sir_AXE, 1 set approved:
Keinhangia, 1 set approved
VLEK, 1 set approved
Witch Doctor - Spoils of the Vodou Rover
Yestar, 1 set approved
Kunkka - Seaborne Reprisal
青舞飞扬, 1 set approved
Undying- Seablight Procession
Style_d, 1 set approved
Tinker - Submerged Hazard (rare drop)
Hudston, 1 set approved
Nyx Assassin - Chitinous Stalker
SOLMIR, 1 set approved
Natures Prophet - The Dread Prophet
Hawf, 1 set approved
Each year, the Collector's Cache acts as one of the main boosters of The International prize pool, and with so many sets featured in the treasure this time around, we can expect a similar result. With 25% of each Collector's Cache purchase directed straight into The International 7 prize pool, and the treasure's release last night, the TI7 prize pool has reached almost $11,500,000.
Click here for results, VODs and all the other information