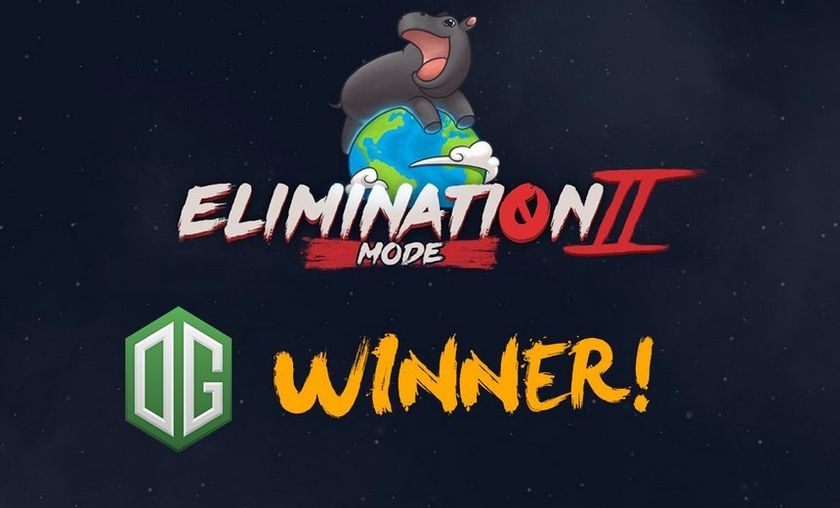 OG crowned Elimination Mode Champions

imge courtesy of MoodduckTV
The second edition of Moonduck's Elimination Mode tournament came to a close last night with a mesmerizing best of five grand final between Evil Geniuses and OG.
Last night's grand finals from Elimination Mode 2.0 was an unexpected gift for all those who in the past few weeks got fed up with the boring stats, safe strategies, and the usual meta pre-Boston Major.
With ten days between now and the opening day of the last Valve event of the year, two of the strongest teams going to Boston took a break from the standard Dota 2 and indulged themselves with an entertaining grand final for the viewers, a series that featured everything you might want to see in a whole year. From Arc Warden versus Underlord in game one, to long time buried mid lane Lina or Support Wrath King or the classic rat doto strategy perfectly executed by Johan 'N0tail' Sundstein on Lone Druid in the fifth match. The two teams went trading games all night, forcing a decisive game five in which the icing on the cake was Artour 'Arteezy' Babaev's core Visage.
If everything that happened before the last game of the series was not enough to make a memorable Elimination Mode grand finals, the fifth game lasted 86 minutes,  with Evil Geniuses fighting against mega creeps and forcing OG to retreat and defend their tier four towers.  In the end it was N0tail's bear who destroyed EG's throne, which keeps the Elimination Mode trophy on the European continent after the previous season was won by the now disbanded 4Clovers and Lepricorn.
Upper Bracket
Round 2 - Best of 3
Round 3 - Best of 3
Lower Bracket
Final
Elimination Mode 2.0 prize pool distribution
1st place, $10,000
OG
2nd place, $6000
Evil Geniuses
3rd place, $2,000
NP
4th place, $2,000
Digital Chaos